HOLLYWOOD SOUND SYSTEMS & THE AUDIO-TECHNICA 600 MHz TRADE-IN REBATE PROGRAM
Let us help with your transition to a new qualifying wireless system!
By now you probably already know that due to the FCC Spectrum Incentive Auction (which concluded on March 30, 2017), wireless systems operating in the 600 MHz band (frequencies between 614 MHz - 653 MHz and 663 MH - 698 MHz) will soon be prohibited by law. If you are currently operating a wireless system that operates in between 614 MHz and 698 MHz, it's imperative that you make the transition to a new system. The schedule for the changeover is highly unpredictable. Depending on where you are operating your wireless system — it may be necessary to cease operation for 600 MHz band use anytime from now until July 13, 2020. But — no matter what — all wireless microphones in the 600 MHz band frequencies are prohibited from operating after the July 13, 2020 deadline. And, according to the FCC regulations, the manufacture, import, sale, lease, offer for sale or lease, or shipment of wireless microphones or similar devices intended for use in the US that operate on the 600 MHz service band frequencies (614 MHz - 653 MHz and 663 MH - 698 MHz) is now prohibited.
AUDIO TECHNICA'S 600 MHz TRADE-IN REBATE OFFER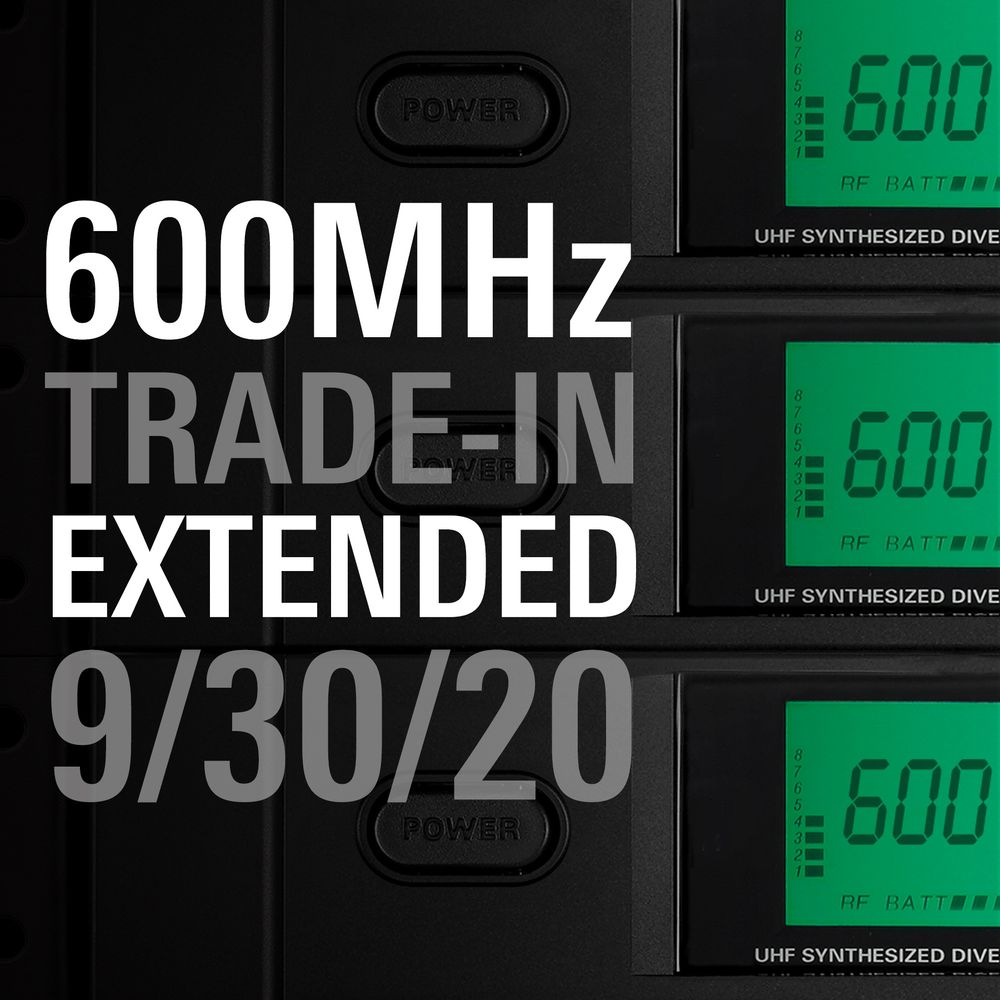 It's happening now! — In the past months, various manufacturers have provided rebate programs as a means of assisting users in making the transition away from the 600 MHz band as effortless as possible. You may not be aware that one of these manufacturers — Audio-Technica — has extended its trade-in program through September 30, 2020 — through its "TRADE-IN ON YOUR OWN TERMS" program — designed to give users the flexibility to budget, and to consider their options, before making the switch out of 600 MHz. The program allows you to trade in your qualifying system (regardless of manufacturer) and receive a rebate which you may apply toward the purchase of a new eligible Audio-Technica wireless system. Hollywood Sound Systems is taking the Audio-Technica Trade-In Rebate Offer one step further!
Hollywood Sound Systems can help with your transition to a new qualifying wireless system!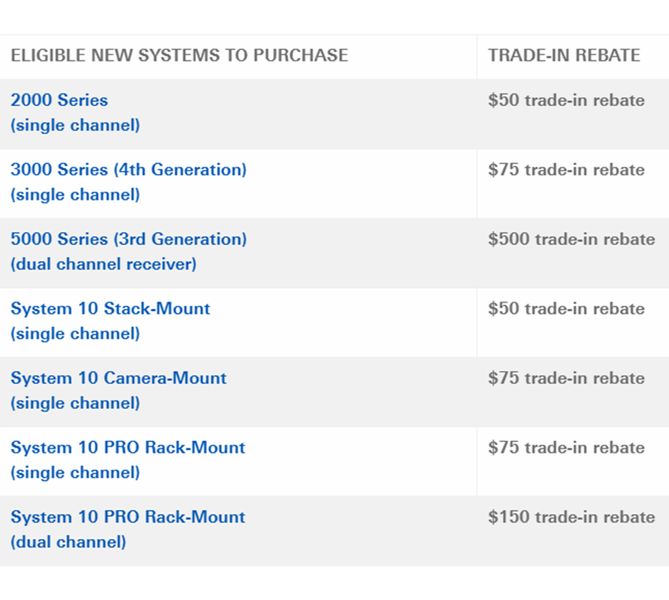 Hollywood Sound Systems is offering a solution to help make your transition completely hassle-free by taking Audio-Technica's offer one step further! When you purchase your new eligible Audio-Technica wireless microphone system from Hollywood Sound Systems, we will handle all the steps required for you to claim your rebate — including checking for rebate eligibility, advising on new Audio-Technica equipment to help you purchase with confidence, assisting with the completion of the rebate form, and packaging/shipping your eligible trade-in product (shipping costs may apply). Your rebate check will be sent directly to you from Audio-Technica. The rebate offer only applies toward the new purchase of qualifying Audio-Technica products — (as illustrated in the Audio-Technica chart to the right). For more information, we've added a series of helpful links below.
REMEMBER — TIME IS RUNNING OUT!
Audio-Technica's Trade-In Rebate Program is only in effect for purchases made between August 15, 2017 and September 30, 2020.
Call Hollywood Sound Systems for specifics and details –
Tel - (323) 466-2416
Email to John Conard: j.conard@hollywoodsound.com
Let us help to make your transition a smooth one!
HELPFUL LINKS -
Read the full terms and conditions for Audio-Technica's rebate program at their webpage.
You'll find a list of specific Audio-Technica model numbers that are eligible to purchase for the Trade-In Rebate Program here.
Trade-ins aren't limited to A-T models. Other manufacturers are included in the rebate program. Audio Technica has a list of common 600 MHz Wireless Systems that are acceptable. You'll find the list here. (Wireless systems from other manufacturers that operate within the 614 – 698 MHz range are also eligible.)
Find out more information from the FCC regarding the transition of Wireless Microphone Operations out of the 600 MHz Band (scroll mid-way down the main page) – here.