MICROPHOME™ IS AVAILABLE AT HOLLYWOOD SOUND SYSTEMS
There is a lot of discussion online right now about optimal methods for safely disinfecting professional audio equipment — particularly microphones, earpieces, headphones, headset mics, walkie-talkies — and even certain contact surfaces such as cellphones, tablets, and keyboards. Since its introduction at NAMM several years ago, Microphome™ has been endorsed by many industry notables — musicians, sound engineers, studio techs, and professional sound companies — as a must-have, alcohol-free, anti-microbial solution for routinely, safely disinfecting and deodorizing exterior microphone surfaces.
Ideal for all media outlets, radio stations, television studios, and other industry locations, Microphome™ also presents a healthy and safe community-wide solution for sanitizing microphones and other small audio gear in government buildings, academic settings, Houses of Worship, banks, restaurant drive-up windows, for language interpreters working in mobile booths, for first responders, and more — any location where sensitive smaller pro audio technologies, such as microphones, need to be constantly sanitized for the health and safety of users.
Microphome's™ official press release states that it "kills 99.9% of germs on contact — including the H1N1 virus — and has been declared stable and efficacious as an antimicrobial and germicide." One 50 ml bottle provides over 100 applications.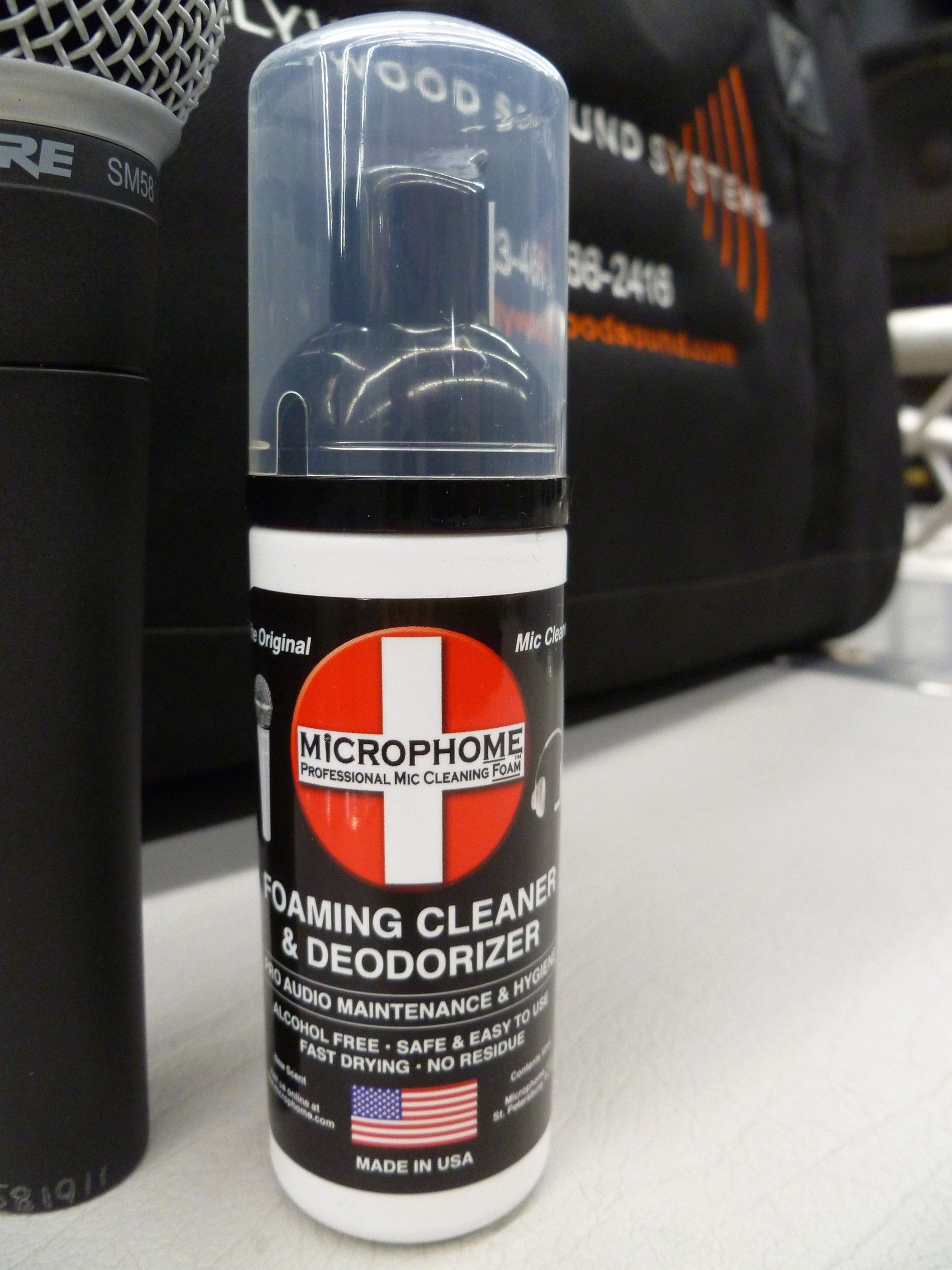 The pump dispenser delivers one pre-measured dose of aerated foam onto a lint-free cloth or the palm of your (gloved) hand — then gently rub it onto the microphone's grille. The product will momentarily cling to the external mic surface, without touching the internal mic electronics. The fast-drying foam dissipates in about 2 minutes, leaving the mic disinfected, deodorized, residue-free. It's also an effective cleaner, dissolving common residues like lipstick, and sweat, which can be easily wiped away.
At this extraordinary time, when everyone is looking for the best method to sanitize everything, Microphome™ is a product we have found to be well-suited to the task of safely, thoroughly, disinfecting and cleaning our microphones, headsets, earpieces, and other small electronically-sensitive pro audio products. Let us know what you've found! We presently have a limited supply available for sale — contact us for more information or to place an order — or, give us a call — 323-466-2416. We offer Microphome in a 3-pack at our Reverb shop.