Rentals - COMMUNICATIONS - WIRED AND WIRELESS
Hollywood Sound Systems has one of the largest pro audio rental selections in the Los Angeles region — including new and vintage audio equipment, microphones, PA and monitor systems, mixers, and so much more. Our online list reflects only a part of our full inventory — if there's a product you would like that isn't listed here, call us. Our rental agents are ready to assist you!
Weekly and monthly rates are available. You'll find information about the LES F. HARRISON MICROPHONE COLLECTION of rare and interesting mics here.
COMMUNICATIONS - WIRED & WIRELESS SYSTEMS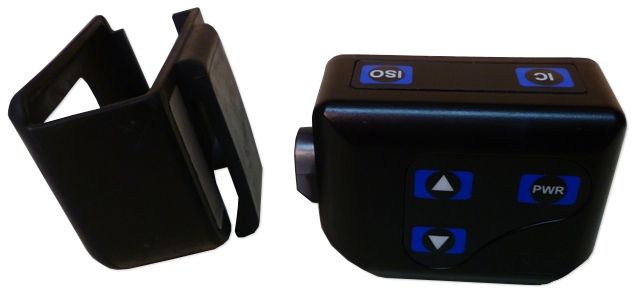 Clear-Com HME BP200 Beltpack
The Clear-Com HME DX Series BP200 beltpack features 2-Channel 2.4 GHz Wireless Beltpack and operation, ISO restrict mode, and selectable PTT or latching button modes – in a lightweight design that only weighs 7.4 oz.

Clear-Com HME DX-200 Wireless Intercom System
The Clear-Com HME DX-200 Wireless Intercom System features synthesized voice prompts, digital encryption, and lightweight belt packs and can be used with RTS and Clear-Com cabled intercom systems – on the intercom channel 2-wire and 4-wire cabled intercoms may be operated at the same time.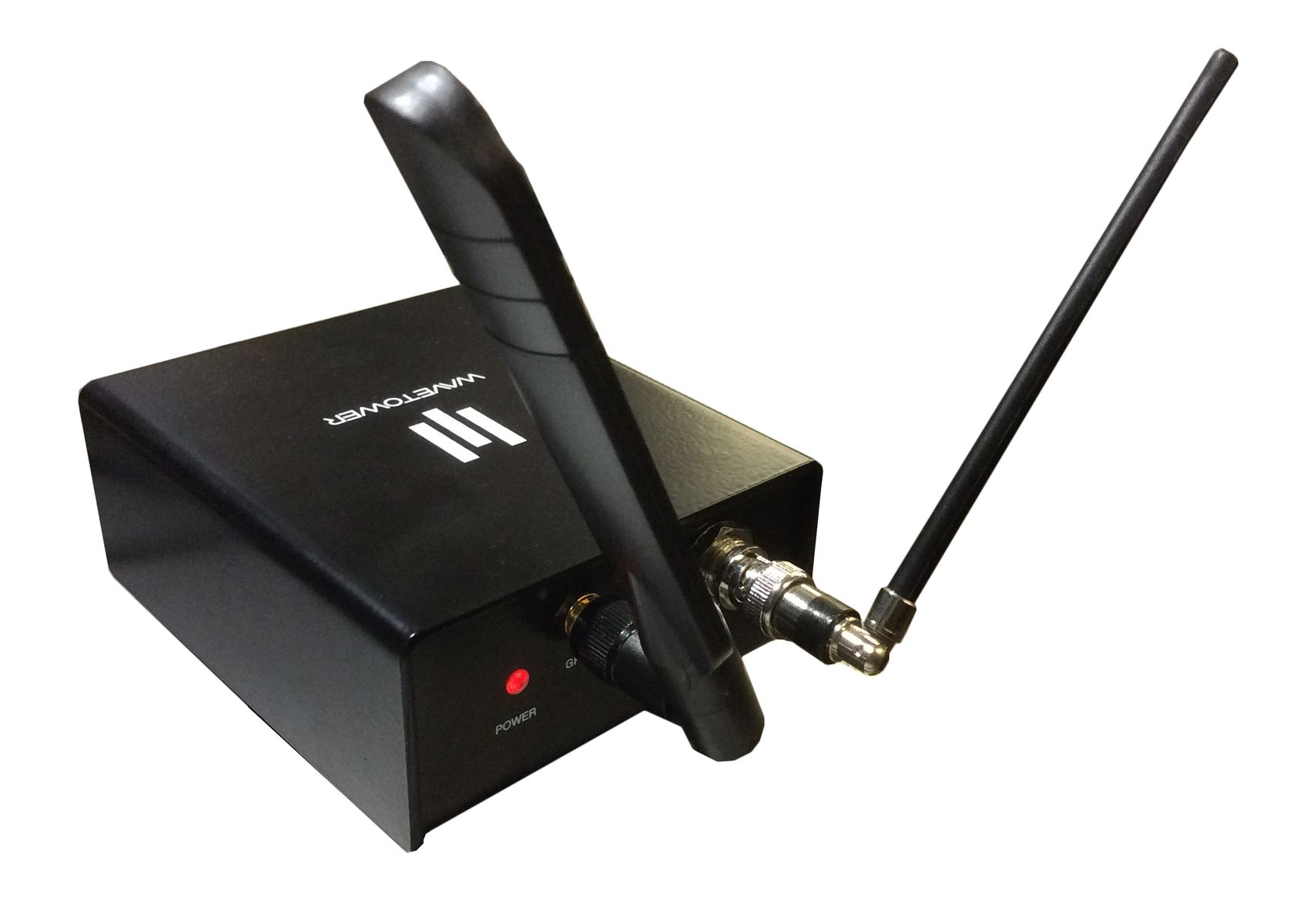 RF VENUE WAVETOWER Spectrum Monitoring System
RF Venue's WaveTower allows you to remotely monitor and manage RF spectrum activity over the web with their patented platform that connects the Tower Sensor to a LAN or cellular data modem and access near real-time and historical RF scan data in your web browser.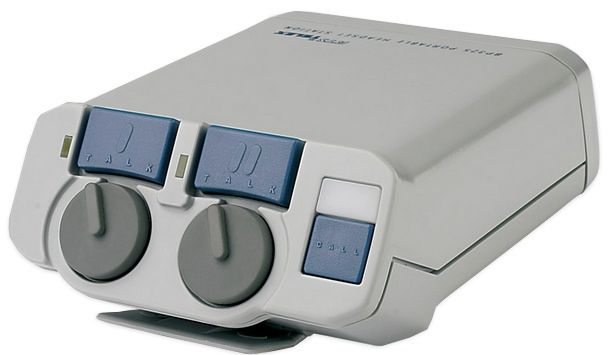 RTS BP-325 Dual-Channel Beltpack
The RTS BP-325 2-Channel Portable Beltpack works in conjunction with RTS 2-wire intercom systems and corresponding headset mics – features a call function, mic kill detect, and is powered externally.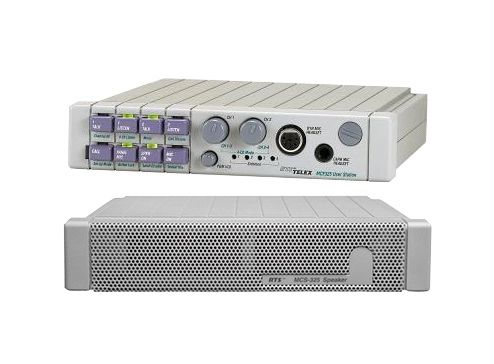 RTS MCE-325 User-Programmable Intercom Station
The RTS MCE-325 Intercom Station is a 2- or 4-channel user-programmable intercom station used to establish monitoring and communication within an RTS compatible intercom system – and may be used as a headset station or as a speaker station with the optional MCS-325 modular speaker.

RTS MRT-327 2-Channel User Station
The RTS MRT-327 Two-Channel User Station is a base station used for RTS TW Intercom Systems – featuring call signaling, flexible routing, dual-action momentary/latching mic switch, mic limiter – it may be used as a headset or a speaker station with the optional MCS325 Modular Speaker.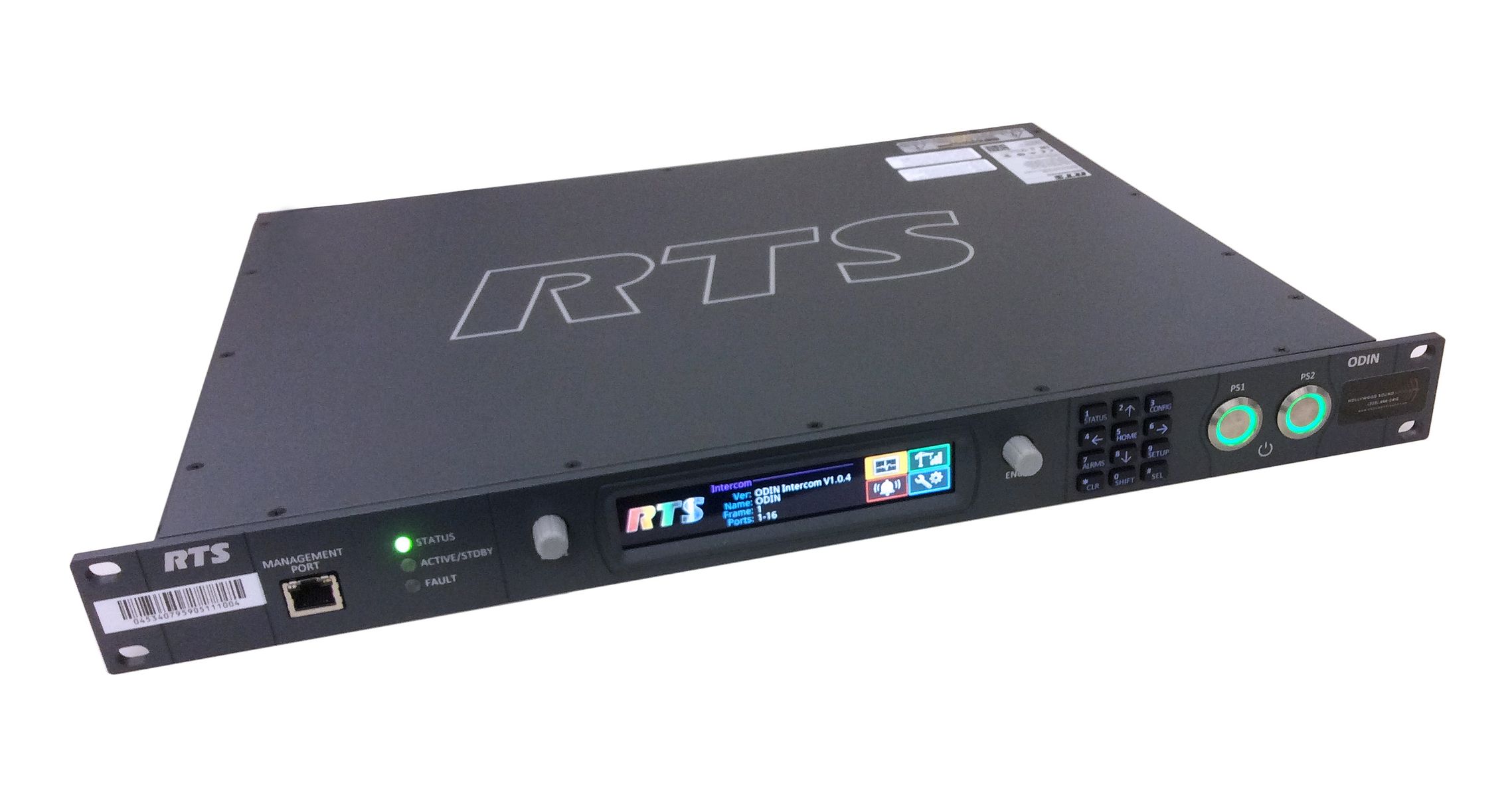 RTS ODIN OMNEO Digital Intercom Matrix System
The state-of-the-art RTS ODIN OMNEO Digital Intercom Matrix is a full-featured intercom system in a single rack space featuring IP-based Dante-compatible OMNEO technology that connects seamlessly to both digital devices and analog two- and four-wire devices, accommodating up to 128 ports; provides broad integration with future, current and legacy RTS products.

RTS PS-20 Power Supply
The RTS PS-20 Power Supply is an independent power supply with two- and four-channel operation – featuring audio linking, intercom channels connections, and three modes of operation - RTS 2-channel, RTS 4-channel and Clear-Com mode.

RTS RMS-300 Rack Mount Speaker User Station
The RTS RMS-300 Rack Mount Speaker User Station – used in the TW Intercom System – is a communications unit along a multi-unit conference bus – with features such as a bilateral current source line driver and mic preamplifier with limiter; the Channel Selector Switch selects the channel on which the user will talk and listen.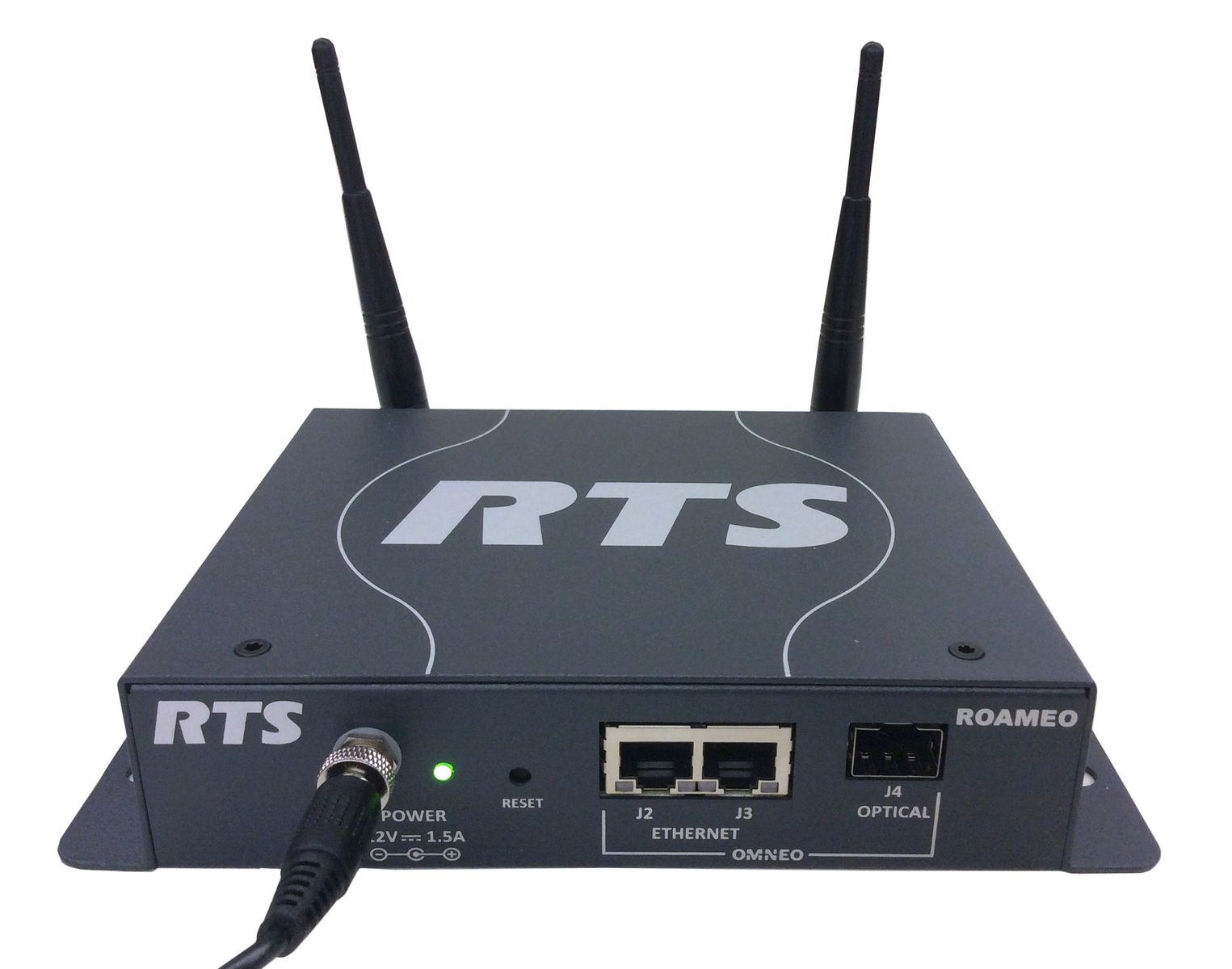 RTS ROAMEO AP-1800 DECT-Based Wireless Access Point
The RTS AP-1800 4-Channel DECT-Based Wireless Access Point is part of the RTS ROAMEO system and features a built-in IP switch that adds multiple streams together in the same cable and will configure itself automatically.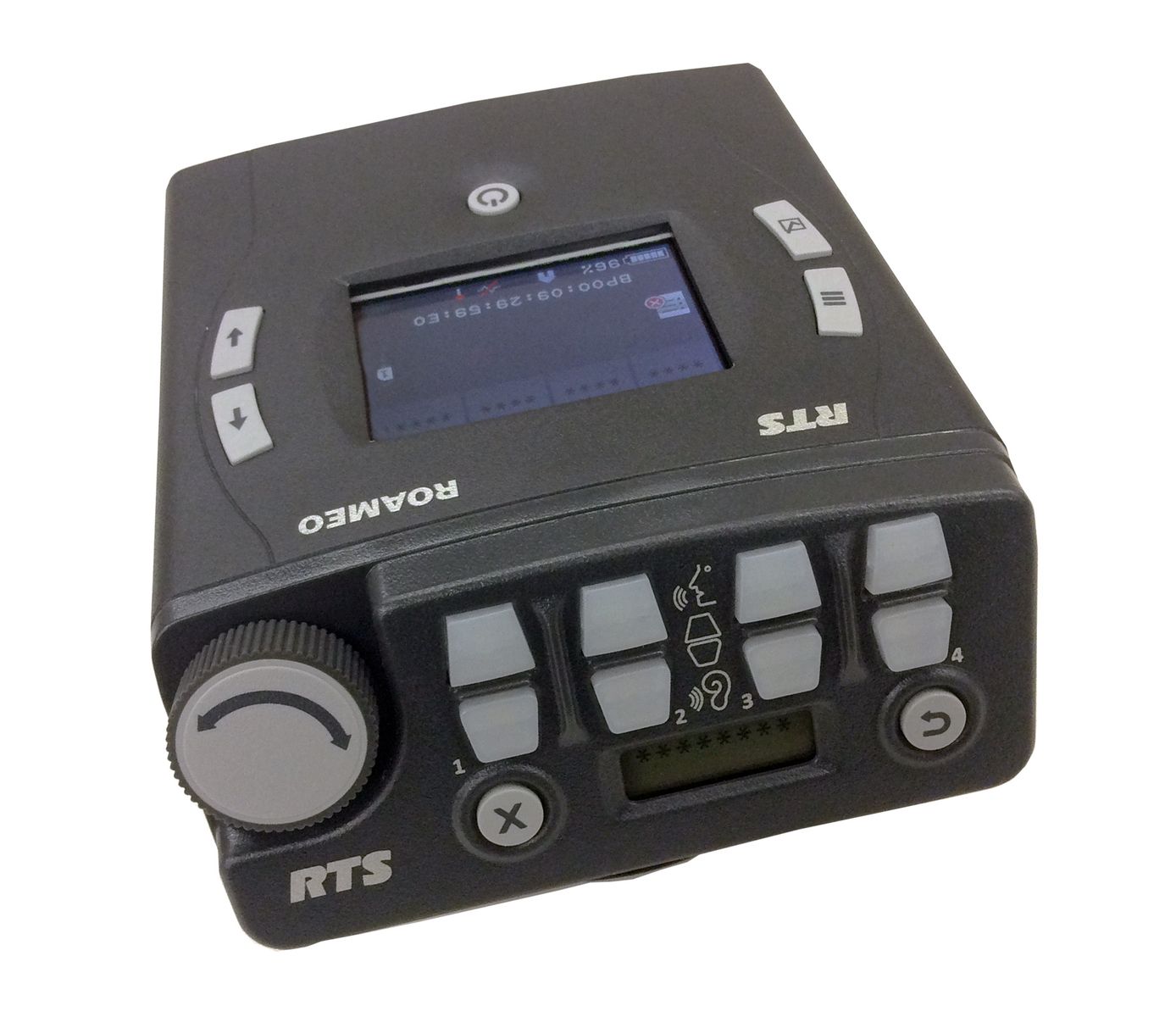 RTS TR-1800 ROAMEO Beltpack
The RTS TR-1800 ROAMEO Beltpack and the RTS AP-1800 Access Point combine to create the latest in RTS ROAMEO Wireless Intercom System Technology – offering an integrated digital professional wireless intercom system using DECT technology – a license-free globally-accepted standard for wireless communication. The TR-1800 provides "roaming" ability between access point locations with seamless communication, and is programmed using the same software as for RTS wired key panels.

RTS PS-15 INTERCOM POWER SUPPLY
The RTS PS-15 Intercom Power Supply is a self-contained unit that works within the TW Intercom System – featuring 2-channels – one wet channel with 24 to 32 volts DC and one dry channel without voltage potential; 15 stations.

RTS PS-60 POWER SUPPLY
The RTS PS-60 Power Supply provides 6 channels of wet intercom power with up to 20 belt packs per channel; 60 stations.

RTS SAP-612 SOURCE ASSIGNMENT PANEL
The RTS SAP-612 Source Assignment Panel independently assigns each of 24 TW channels to any one of 6 busses or common channels – all channels assigned to a common buss channel can intercommunicate and exchange call signals.

RTS Telex BTR-800 2-Channel UHF Base Station
The RTS Telex BTR-800 Two-Channel UHF Synthesized Wireless Intercom Base Station is frequency agile with channel access from each of 4 full-duplex belt packs, wireless talk around, and Enhanced ClearScan channel search.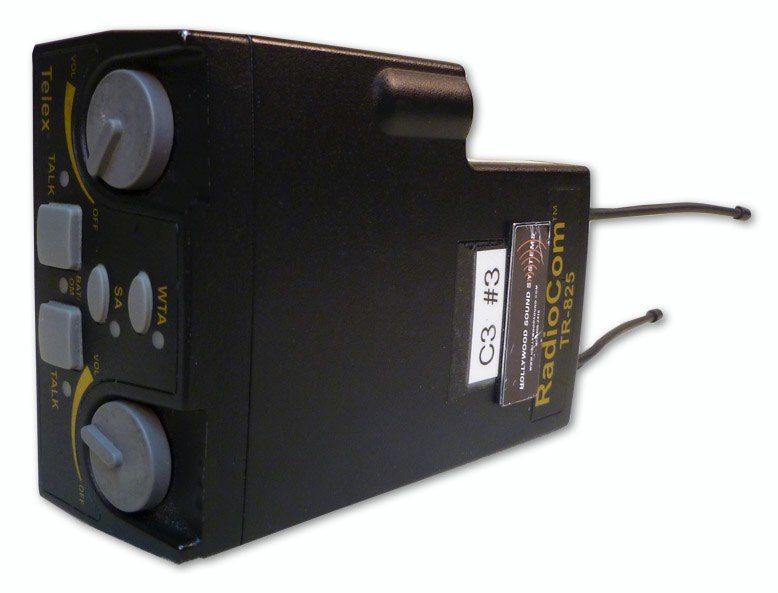 RTS Telex TR-825 2-Channel UHF Trans
The RTSTR-825 2-Channel Binaural UHF Transceiver is a frequency agile beltpack for use with the RTS Telex BTR-800.
IN-EAR MONITORS, IFB, TRANSLATION, TOUR GUIDE & ASSISTIVE LISTENING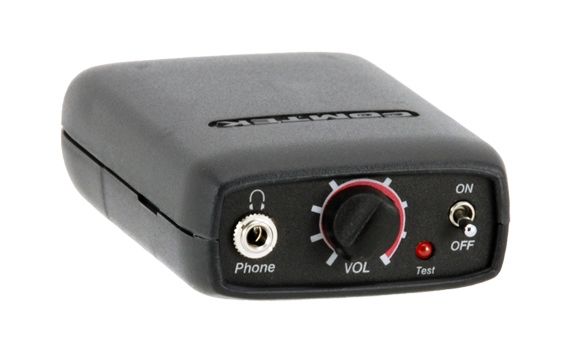 Comtek PR-216 Personal Monitor Receiver
The Comtek PR-216 Personal Monitor Receiver is a versatile professional personal monitor receiver featuring full fidelity frequency response and automatic audio processing with high audio output power and multi-channel compatibility.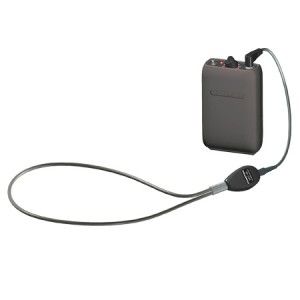 Comtek NTC-102 Flexible Neckloop Transductor
The Comtek NTC-102 Flexible Neckloop Transductor is intended for use with Comtek receivers – such as the PR-25 or PR-216 – and sends the received signal to a personal ear inductor.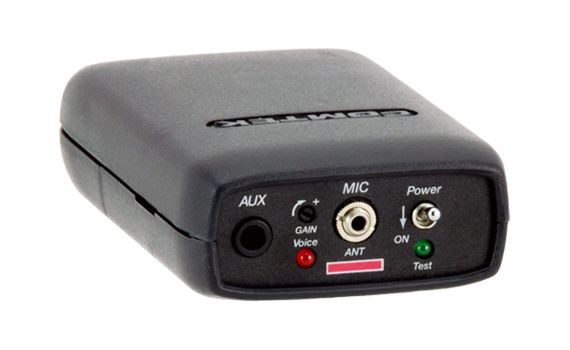 Comtek M-216 Transmitter
The Comtek M-126 Option P7 Transmitter is a field transmitter providing reliable and superior wireless program monitoring – built to withstand the most demanding needs of location sound monitoring; use with the PR-216 or PR-216 Option 7 wireless receivers.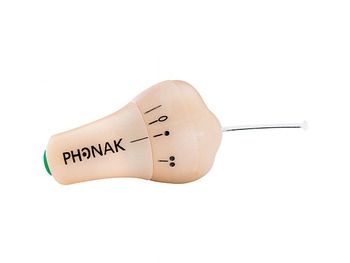 Phonak Invisity single channel VHF in ear RF receiver
The Phonak Invisity ear prompter is the smallest in-ear RF receiver in the world and the perfect choice for presenters and performers who require crystal clear audio prompts.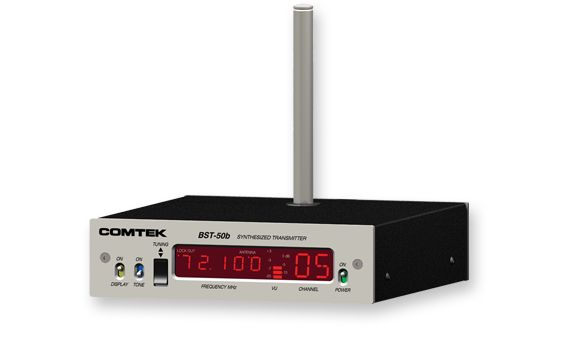 Comtek BST-50B Base Station Transmitter
The Comtek BST-50B Synthesized Base Station Transmitter is a professional quality base station transmitter designed for assistive listening and language translation, and remote monitoring applications.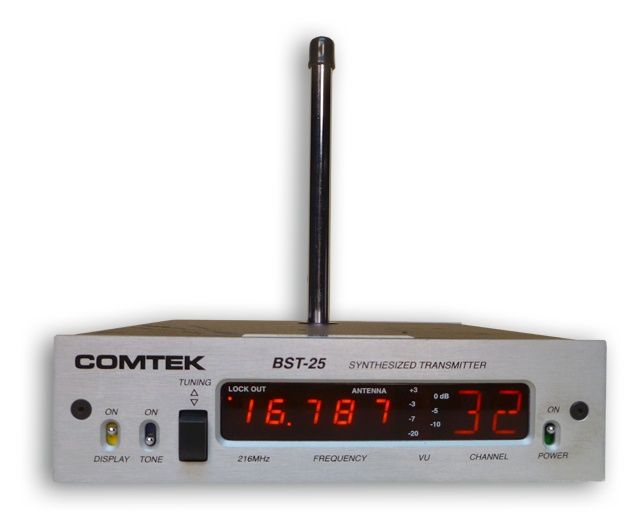 Comtek BST-25/216 Base Station Transmitter
The Comtek BST-25/216 Base Station Transmitter provides remote program monitoring, personal cueing, and assistive listening capabilities, incorporating digital and analog technologies to produce low residual noise and extended frequency response to render the most natural sound possible in a wireless system.

Comtek M-72 Wireless Transmitter
The Comtek M-72 Wireless Transmitter is well-suited in both professional and nonprofessional applications – featuring a soft compressor system and low residual FM noise to deliver the most natural sound possible from a wireless mic; (185.400 & 186.200 MHz).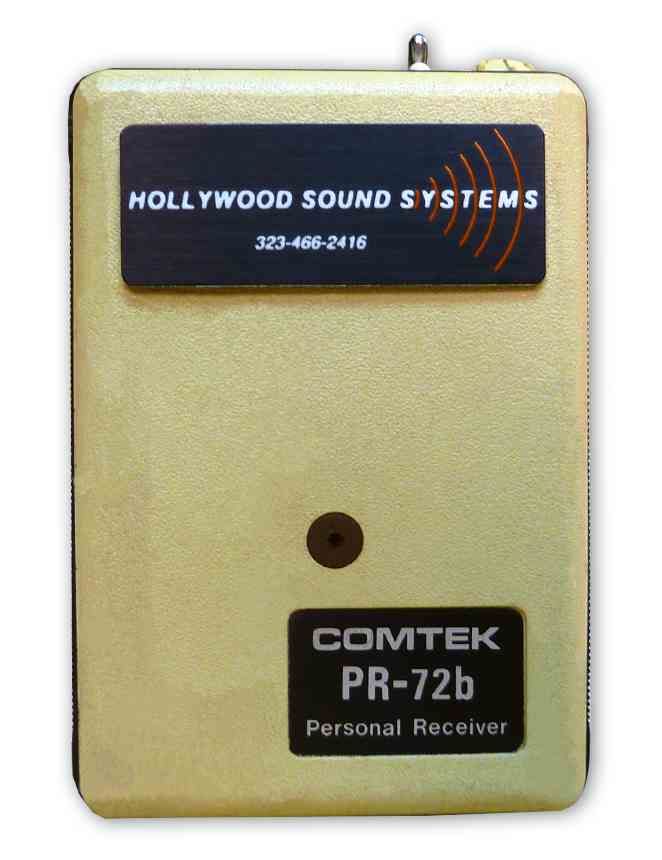 Comtek PR-72B 2-Channel Receiver
The Comtek 72B 2-Channel Personal Companion Receiver is used for a range of applications – such as IFB and professional studio communications, personal cueing, industrial communications, and individual auditory assistance – the small size and lightweight qualities make it easy to carry in a pocket or pouch..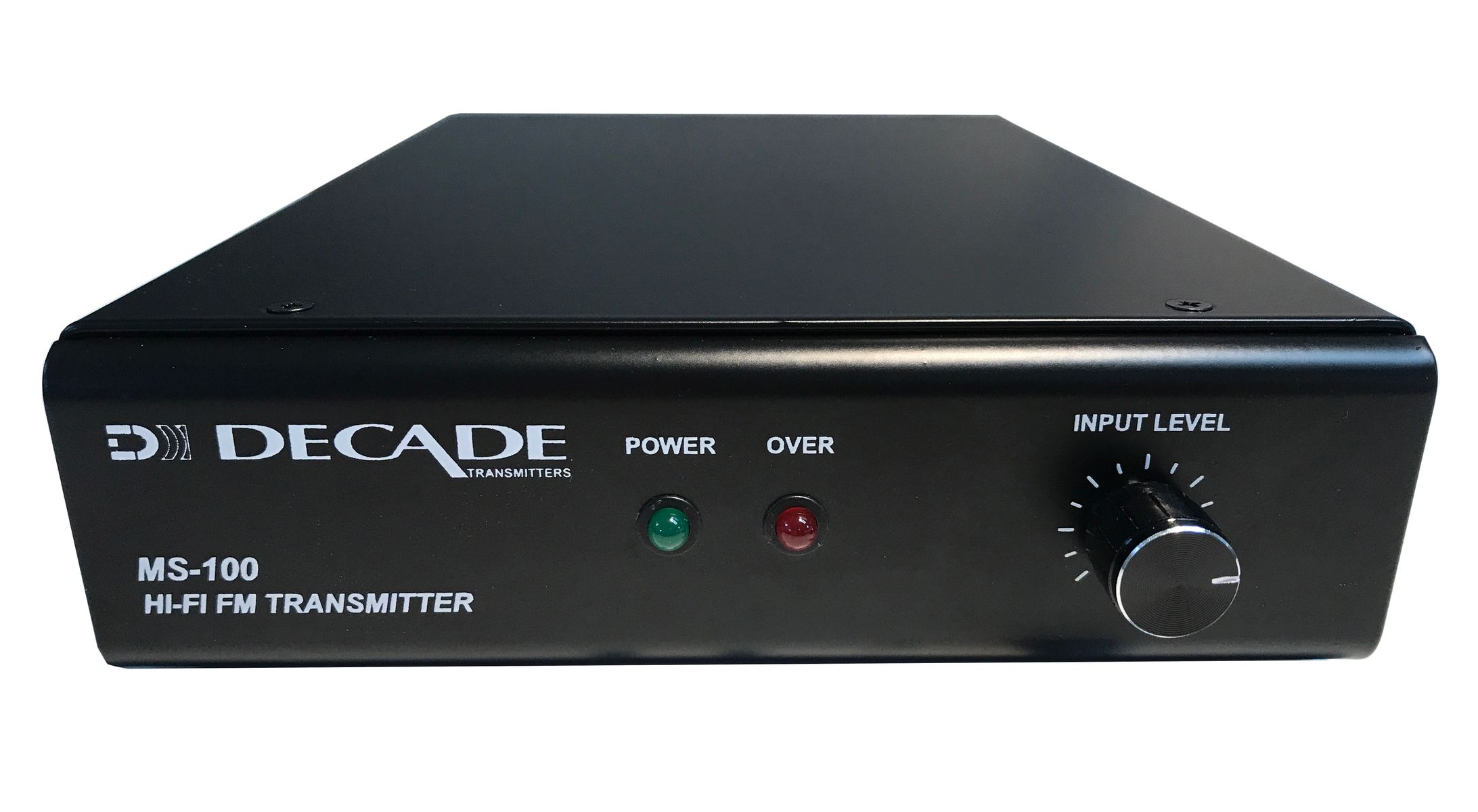 DECADE MS-100 LICENSE-FREE Hi-Fi FM TRANSMITTER
The DECADE MS-100 Hi-Fi FM Transmitter is a professional quality mono/stereo FM transmitter that operates in the commercial FM broadcast band (88.1 - 107.5 MHz) and features Direct Access Frequency Programming which allows the end user to program the frequency without manual tuning inside the unit. Other features include - adjustable input level with over-modulation indicator, mono/stereo input with TRS connector, and the choice of fixed antenna or UHF connector. FCC Part 15 approved.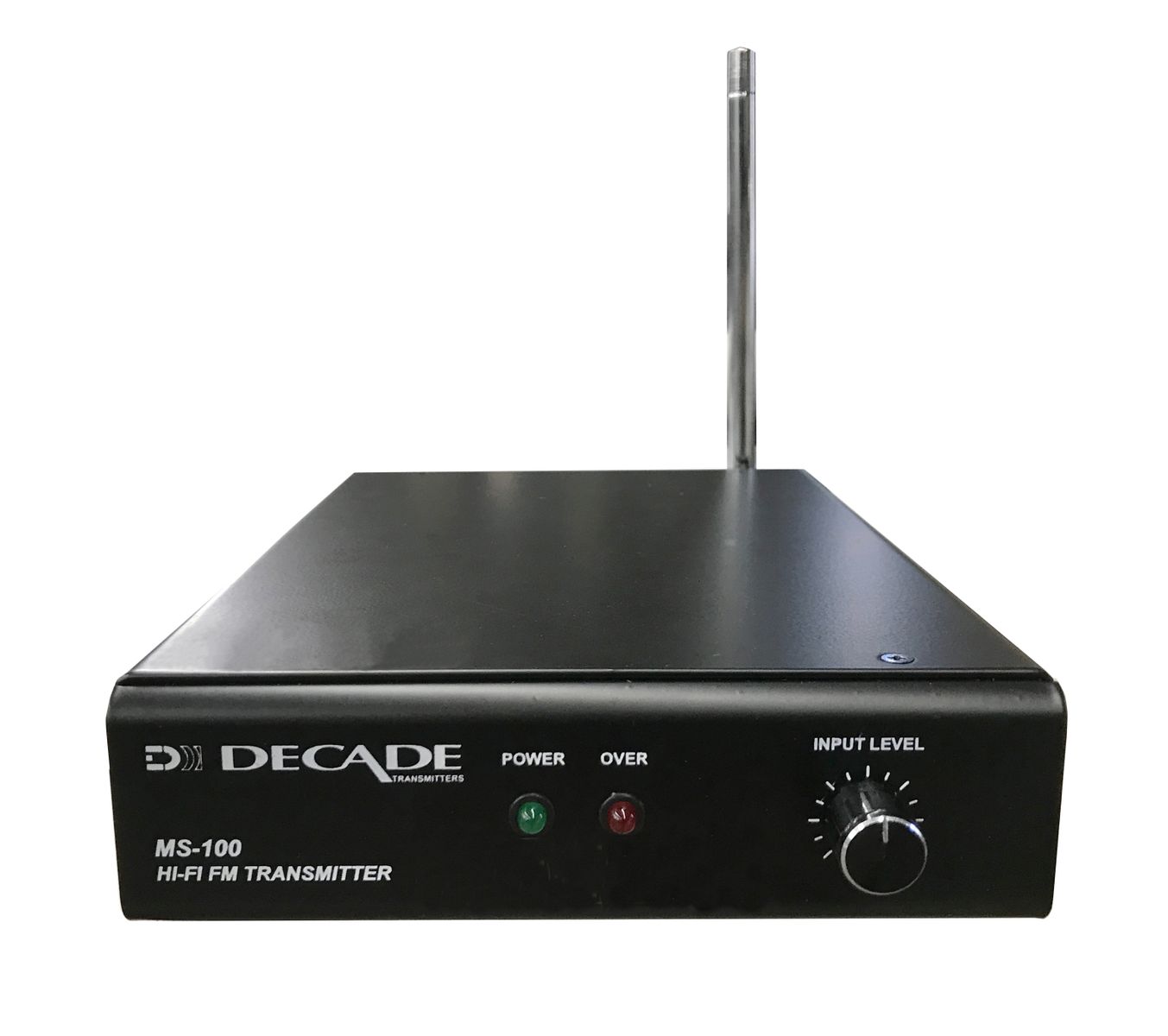 DECADE MS-100 LICENSE-FREE MONO FM TRANSMITTER
The professional-grade low-power Decade MS-100 Mono FM Transmitter operates in the commercial FM broadcast band (88.1 - 107.5 MHz) – featuring Hi-Fi audio coverage of 150' or more via portable FM receiver or 500' or more via car radio, a fixed telescopic antenna, and mono ¼" female mic input. It is FCC Part 15 and Industry Canada Bets-1, RSS-210 & RSS-123 certified. An ideal audio solution for indoor or outdoor short range broadcasting in a variety of venues – Houses of Worship, Theaters, Conference Halls and Auditoriums – for sound reinforcement and information, and other applications such as hearing assistance or translation.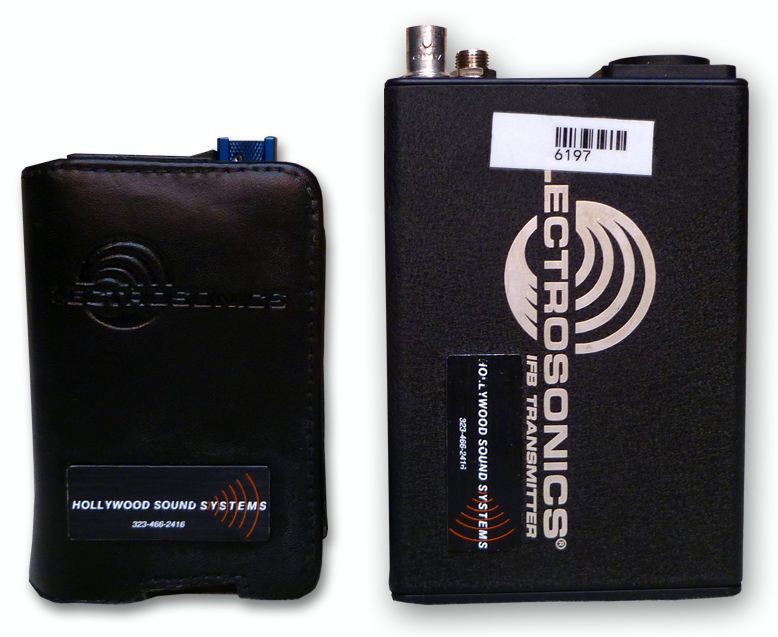 Lectrosonics T1 AND R1A Wireless IFB System
The Lectrosonics T1/R1A is a wireless IFB system used for talent cueing and crew communications in a variety of broadcast and motion picture production applications – frequency agile UHF IFB Mic / Line / ClearCom / RTS (Block 21).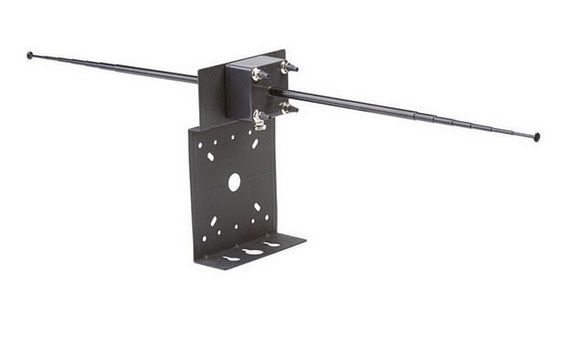 LISTEN TECHNOLOGIES LA-122 UNIVERSAL ANTENNA KIT
The Listen Technologies LA-122 is the remote Universal Antenna Kit with antennas for both 72 MHz and 216 MHz systems to use with the Listen LT-800 – includes coax cable.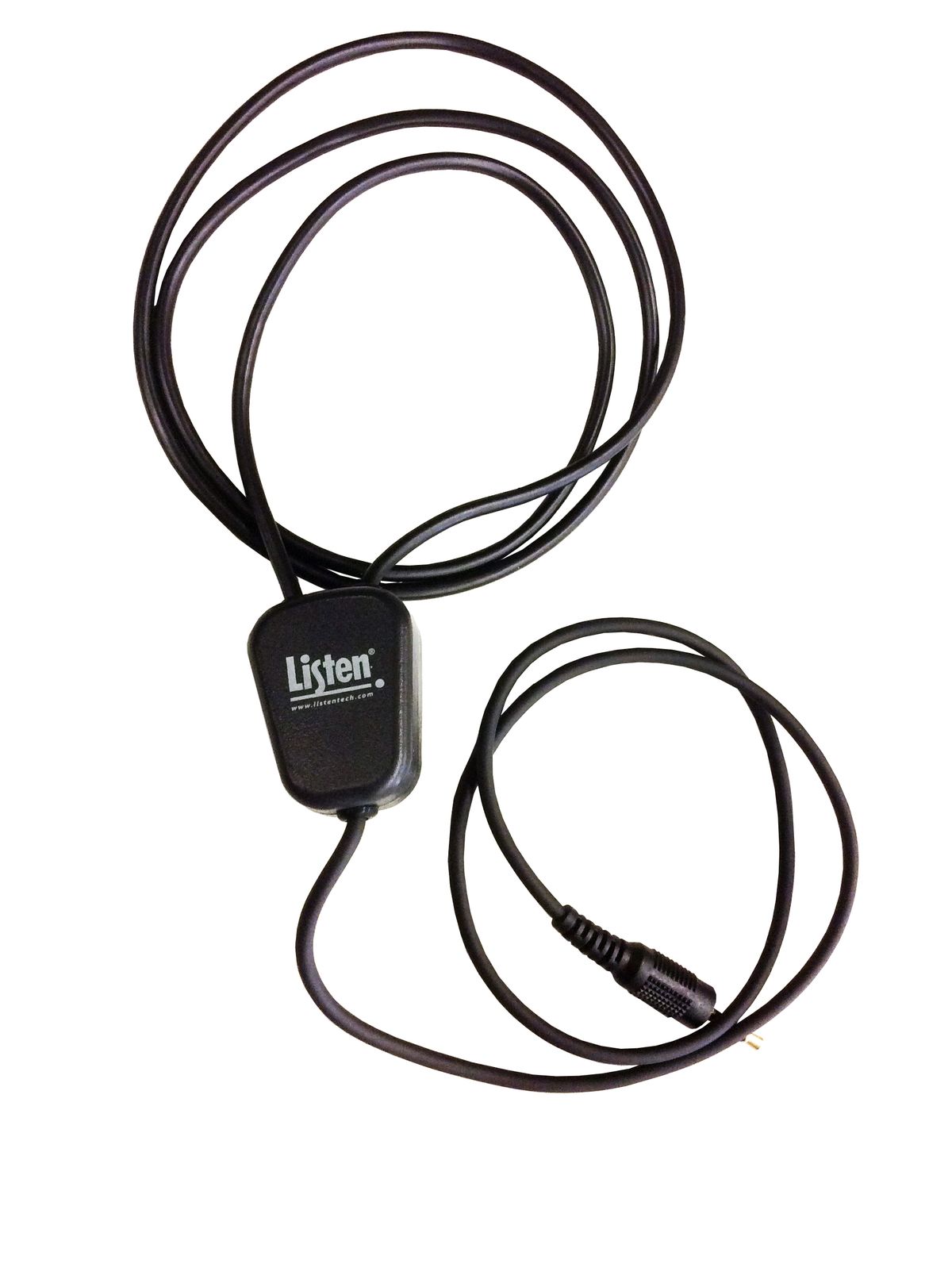 LISTEN TECHNOLOGIES LA-166 NECK LOOP
The Listen Tech LA-166 Neck Loop is a reliable and effective method for listeners with telecoil-equipped hearing aids and cochlear implants to utilize an assistive listening system. The neck loop slips over wearer's head and transmits the audio signal wirelessly to their t-coil device, leaving their hands free; works with any Listen Technologies receiver.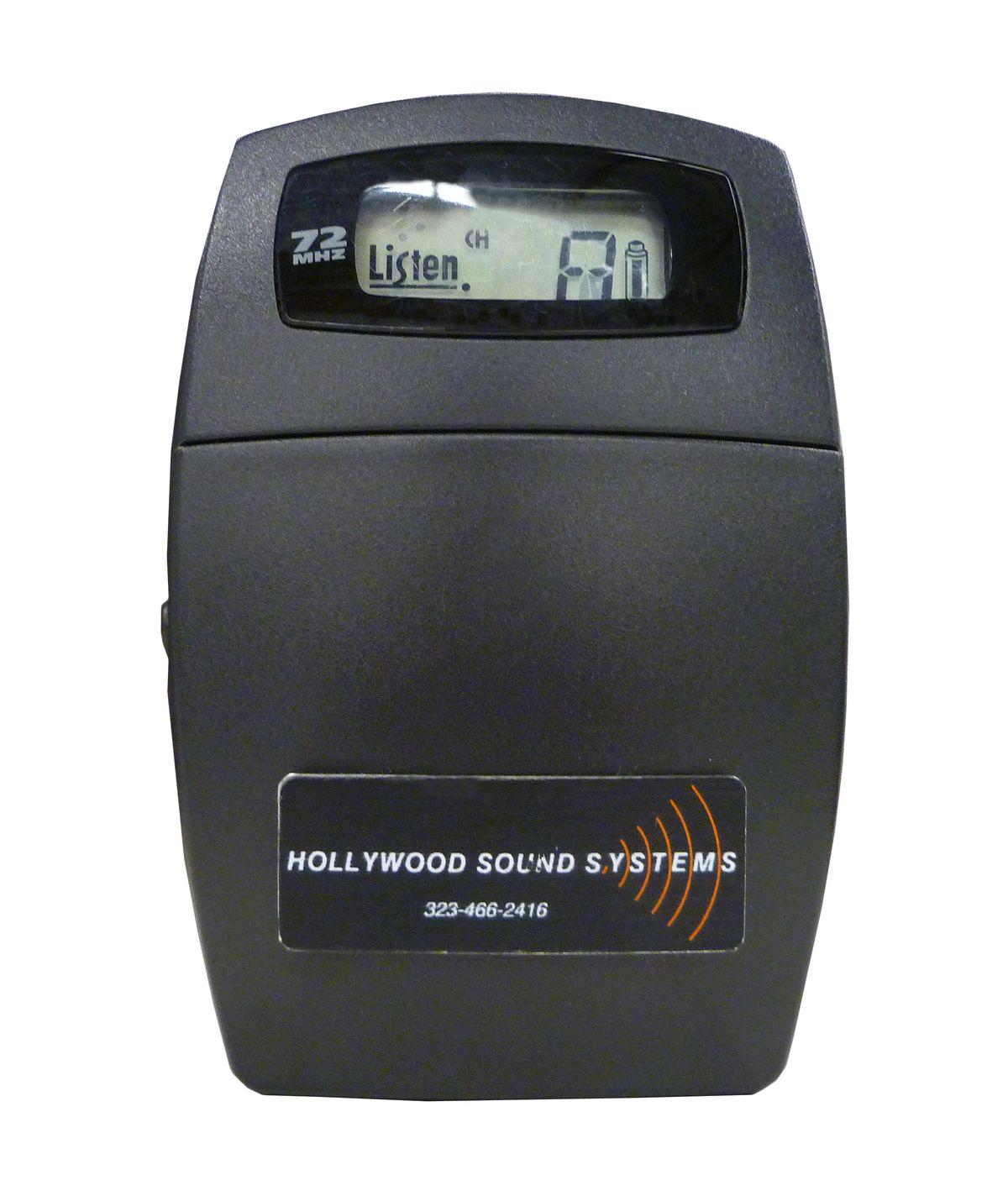 Listen Technologies LR-400-72 Portable Display RF Receiver
The Listen Tech LR-400-72 Portable Display RF Receiver can receive up to 17 wide-band or 40 narrow-band channels and features an easy-to-read LCD display that shows channel selection, battery level, and signal strength.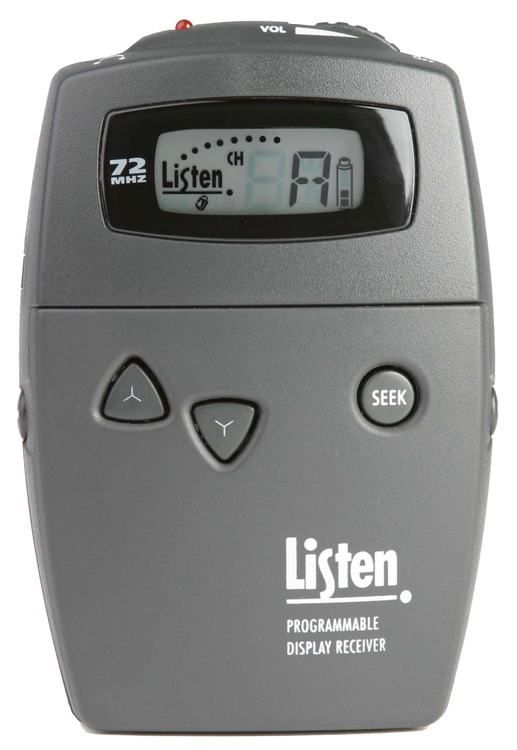 Listen Technologies LR-500-072 Receiver
The Listen Technologies LR-500-072 is a 72 MHz programmable assistive listening / translation receiver with earpiece that can receive up to 57 channels; Look & Listen LCD Display shows programming status, RF signal strength, battery level. (Uses standard or NiMH rechargeable AA batteries.)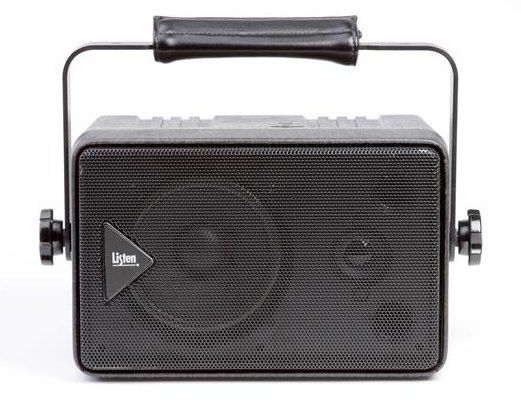 Listen Tech LR-600-216 All-In-One Wireless Receiver
The Listen Technologies LR-600-216 is an all-in-one wireless receiver, 2 channel 10-watt power amplifier (15 watt peak, 10 watt RMS); place up to 3,000' away (at 216 MHz) from the stationary transmitter and 150' away from a Listen portable transmitter to receive and amplify the transmission audio.Powered by AA batteries (alkaline or NiMH rechargeable), or 15 VAC power supply, or 12 VDC, for 15/10 watt continuous power.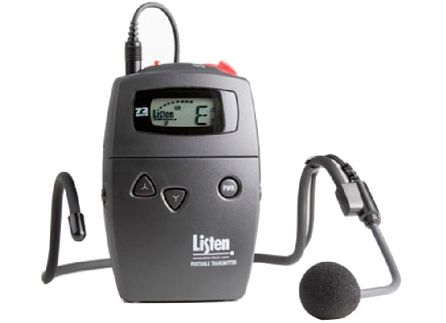 Listen LT-700-72 RF Transmitter
The Listen LT-700-72 is a portable display RF Transmitter designed for a variety of portable assistive listening applications and provides clear reliable signal for use in environments without an installed assistive listening system – easily and clearly picked up by any Listen Portable Receivers – an ideal portable transmitter for nearly any indoor or outdoor event.

Listen LT-800-72 Stationary FM Transmitter
The Listen LT-800-072 Stationary FM Transmitter provides outstanding audio clarity, digital signal strength, 57 selectable channels, and broadcasts strong reliable audio to both belt pack receivers and stationary receivers – the perfect choice for a wide range of applications including assistive listening, language interpretation, soundfield, tour groups, conferencing events.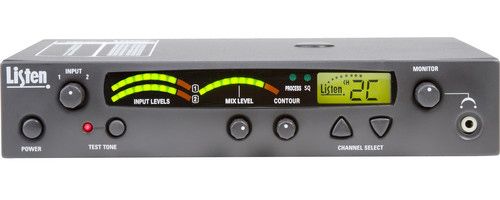 Listen LT-800-216 Stationary RF Transmitter
The Listen LT-800-216 Stationary RF Transmitter connects to the main audio system to broadcast high-quality audio signal to belt pack receivers or stationary receivers – features Look and Listen LCD Display, Balanced and Unbalanced Audio Inputs, and 57 selectable channels.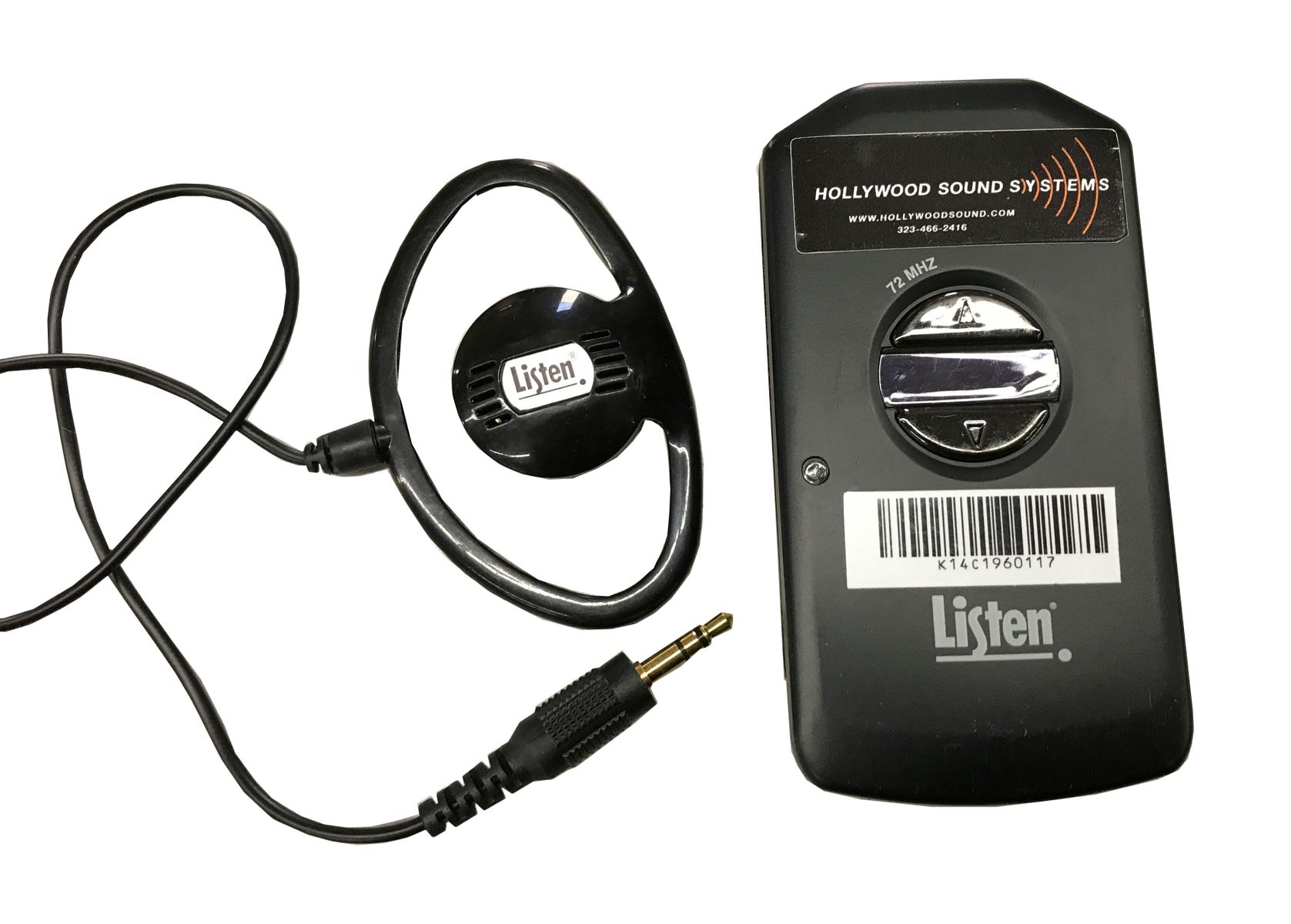 LISTEN TECHNOLOGIES LR-4200 INTELLIGENT DSP RF RECEIVER
The Listen LR-4200 Intelligent DSP RF Receiver is part of Listen Technologies Intelligent Digital Signal Processing Line — an integrated neck loop/lanyard makes each receiver easy to wear — also available is the DSP loop driver which offers an improved listening experience for anyone with a T-coil-equipped hearing aid — Listen's popular LA-164 Ear Speaker earpiece fits easily over the ear.

RF VENUE COMBINE8 8-CHANNEL ANTENNA COMBINER
The RF Venue COMBINE8 IEM Transmitter Combiner brings together up to eight in-ear monitor transmitter signals into a single rear-mounted antenna connector — works with any brand IEM system set to transmit 50 mW or less — as well as any type of directional antenna — and provides DC power to up to 8 IEM transmitters with an external power supply removing the need for wall warts. The IEM transmitter combination is important for multi-channel systems to minimize intermodulation artifacts arising from multiple adjacent transmitters interfering with one another.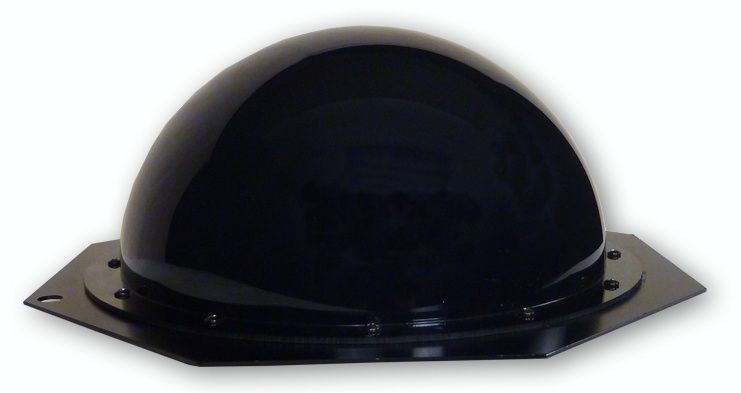 Sennheiser A5000-CP UHF Helical Antenna
Sennheiser A5000-CP UHF Helical Antenna (450-960 MHz) is a passive circulary polarized UHF wide-band antenna for wireless microphones and monitor systems and is designed to achieve higher RF signal at long range; operated on a wide-band UHF frequency of 450 – 960 MHz – making it capable of operating with most UHF wireless system.

Sennheiser AC-2 RF Combiner and Power Supply
Sennheiser AC-2 RF Combiner and Power Supply is designed for use with the Sennheiser IEM G2 monitor system transmitter and features four hardwired BNC cables for connecting four SR 300 transmitters – combines the signal from all four transmitters and In ear stereo monitor (518-554 MHz) E5 or E3 earpieces available send it via the single BNC antenna output.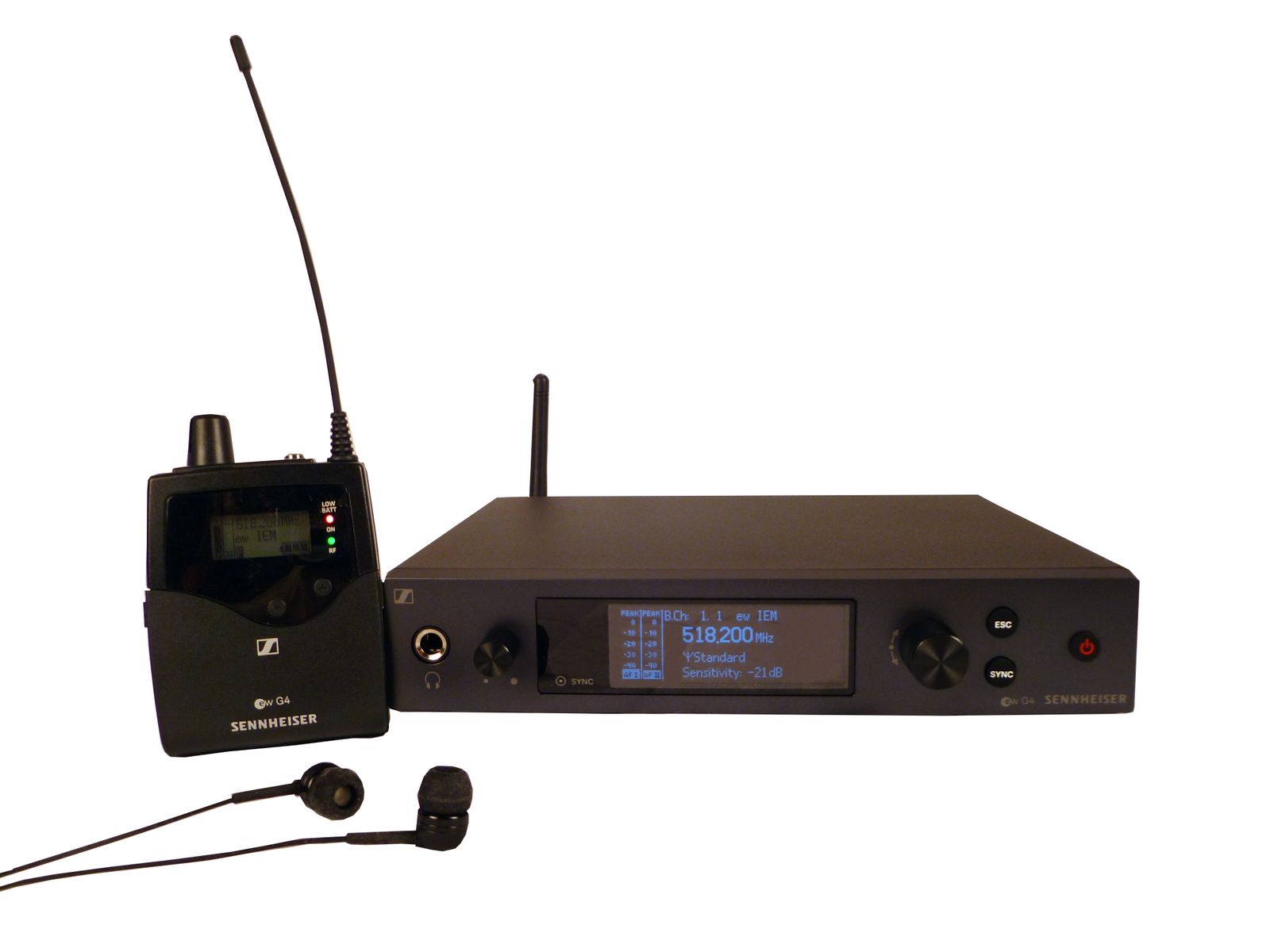 SENNHEISER EW IEMG4-A WIRELESS MONITORING SYSTEM
The Sennheiser EW IEMG4-A System is a rugged all-in-one wireless monitoring system for in-ear applications. System includes the EK IEM G4 Stereo Receiver, pair of IE 4 Earphones, SR IEM G4 Stereo Transmitter; 1680 selectable frequencies in UHF range (516-558 Mhz), up to 16 compatible channels, 300' Transmission Range.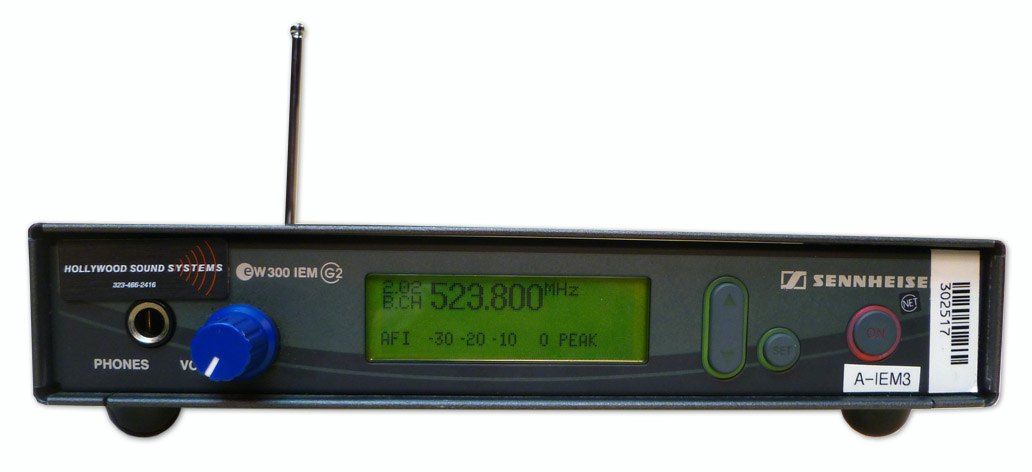 SENNHEISER EW300 TRANSMITTER
The Sennheiser EW300 Transmitter is an in-ear wireless system featuring an adaptive-diversity receiver pack that uses the headphone cable as a secondary antenna for superb reception; (518-554 MHz).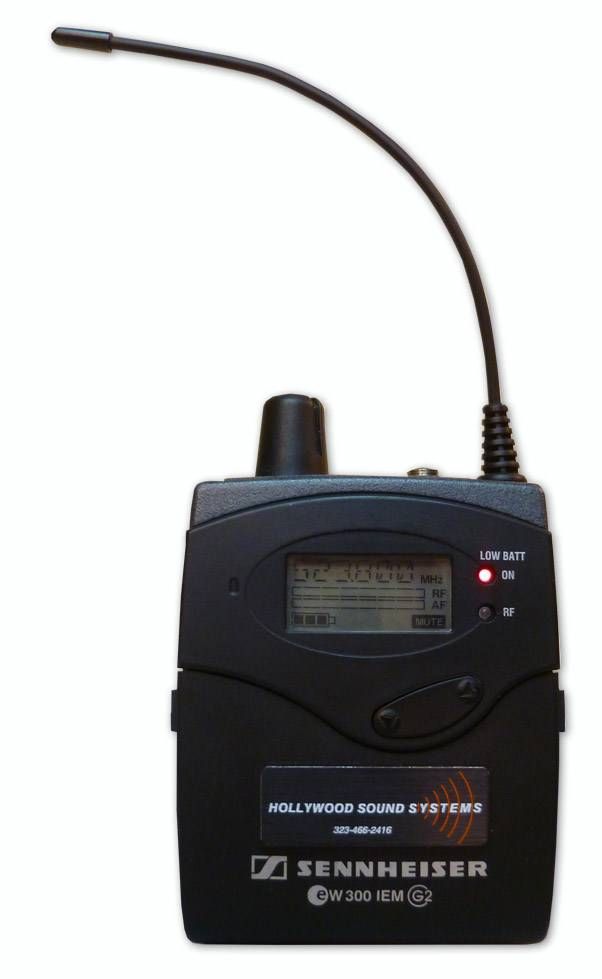 Sennheiser EW 300 Receiver
The Sennheiser EW300 Receiver is an in-ear wireless stereo monitor (518-554 MHz) – E5 or E3 earpieces available.

Shure PA421A Antenna Combiner
The Shure PA421A Antenna Combiner optimises RF management – combining up to four PSM transmitters to a single antenna set for improved RF networking and reduced rack clutter.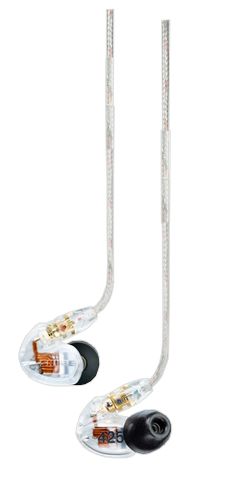 Shure SE425-CL Earphones
Shure SE425-CL Earphones are professional sound isolating earphones with dual HD Micro Drivers and detachable cables – blocks up to 37dB of outside noise.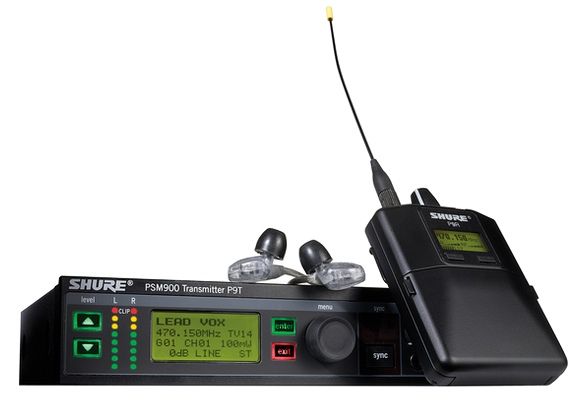 Shure PSM 900 Personal Monitor System
The Shure PSM 900 Wireless Personal Monitor System features a stereo bodypack receiver, 20 compatible frequencies per band, uses AA batteries or the Shure SB900 lithium-ion battery.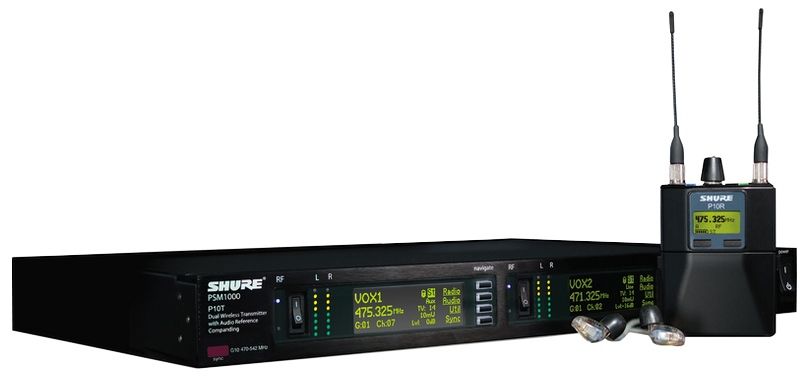 Shure PSM 1000 Personal Monitor System
The Shure PSM 1000 Wireless Personal Monitor System is a dual channel transmitter featuring network control via Ethernet connection; compatible with PSM900 systems.
Shure P6HW Hardwired Personal In-Ear Monitor
The Shure P6HW hardwired personal in-ear monitor features 2-channels and is a stereo solution for stage performers in the PSM 600 series of monitoring products – E5 or E3 earpieces available.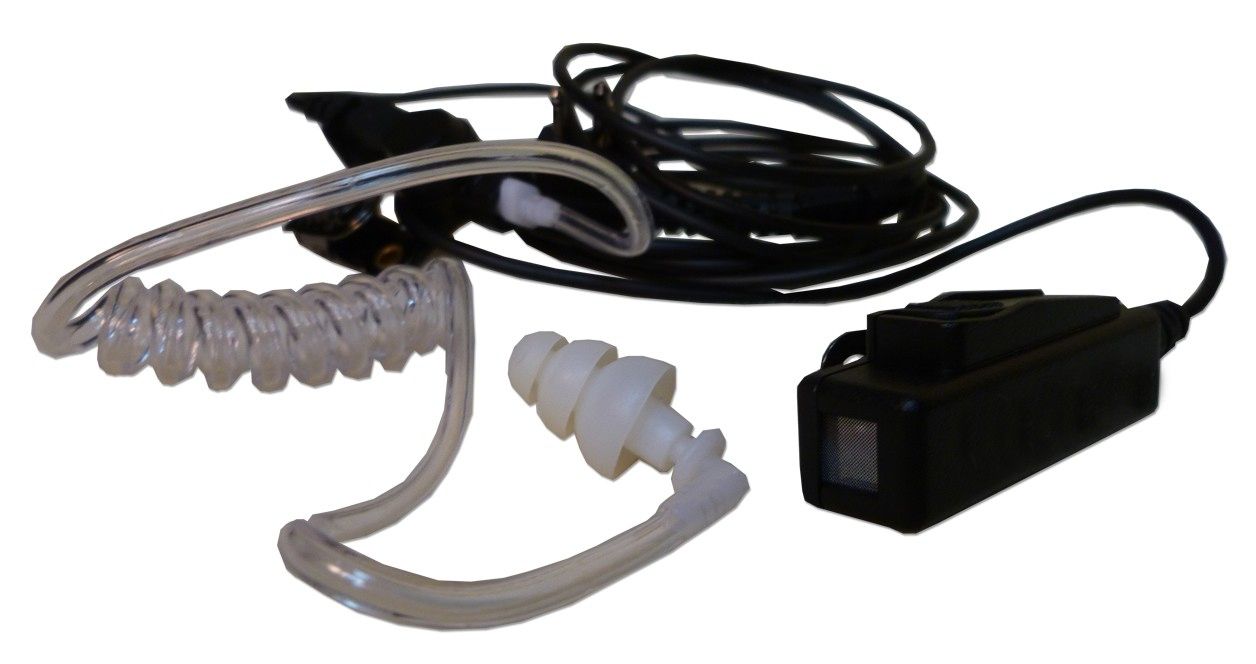 Motorola PMLN4606A Surveillance Kit
The Motorola PMLN4606A is a two-wire surveillance kit with clear acoustic tube to facilitate covert communication – provides easy transmission and accessibility when hidden under clothing – ideal for private and public security work, special intelligence services, and event personnel.

Motorola P1225 VHF Walkie Talkie
The Motorola P1225 is a 16-channel 5W VHF walkie talkie that works on both UHF and VHF radio frequencies and allows preferred frequency channels to be programmed so that they may be quickly retrieved.
CALIFORNIA PROPOSITION 65 -