Triad-Orbit Microphone Stand Systems and Components available at Hollywood Sound Systems
"Any sufficiently advanced technology is indistinguishable from magic." – Arthur C. Clarke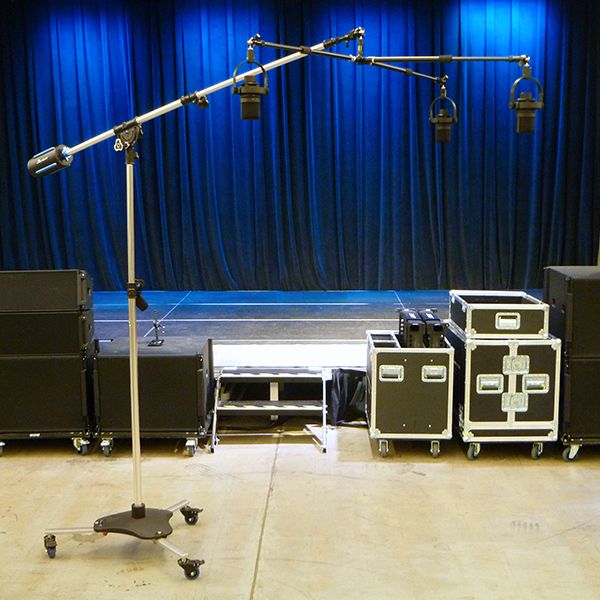 Hollywood Sound Systems carries the Triad-Orbit line of microphone stand systems and components – including the incredible Triad-Orbit Starbird SB-1 Studio Boom Stand and Decca Tree – for rental and sale. Interested in more information? – give us a call! Explore the magic of Triad-Orbit Systems! Also, click to view and download our Triad-Orbit Decca Tree and Triad-Orbit Starbird SB-1 fact sheets. And check out some of our tips for using Triad-Orbit components.
(Photo – The Triad-Orbit Starbird SB-1 with Decca Tree – available at Hollywood Sound Systems.)
The Triad-Orbit advanced line of stand systems is revolutionizing microphone placement techniques – with Articulating Tripod Stands, IO Quick-Change and Retrofit Couplers, and an assortment of booms designed with the signature stainless steel ball swivel mechanism that makes them the most precise and versatile boom arms available in the industry today. Robust, brilliantly designed, and incredibly stable – Triad-Orbit stands, bases, boom arms, and components represent unmatched versatility in miking system solutions.
Whether you're looking for a Starbird SB-1 Studio Boom Stand, regular and telescopic boom arms, single boom stands, retrofit couplers, clamps, Grav-Bags, and various holders – Hollywood Sound Systems offers a wide assortment of Triad-Orbit products, components and accessories for configuring a wide variety of miking applications. (The images below are a sampling of what is available.)

Triad-Orbit Accessories - (L-R) IO-H5 Coupler, IO-R Coupler, IO-HMMM Mounting Head

Triad-Orbit Accessories - (L-R) iOrbit iPad Holder, IO-Vector Stereo Utility Bar, IOrbit iPhone Holder

The Triad-Orbit 2A2 Telescopic Boom Arms form part of the Decca Tree Assembly.

Triad-Orbit Accessories - (L-R) Micro Series M2 Orbital Adapter with IO Quick-Change Coupler, IO-C Mounting Clamp, Micro Series M2-R Retrofittable Adaptor.
Hollywood Sound Systems has been in the business of designing and providing the very best in professional sound systems and solutions — for sale and rental — for nearly 60 years! Interested in Triad-Orbit Systems? Give us a call — 323-466-2416, or drop us a line. FYI - Rent to try out a system before you decide to buy it – the first day rental fee will be credited toward your purchase price!