Rentals - MICROPHONE ACCESSORIES AND DIRECT BOXES
Hollywood Sound Systems has one of the finest and most diverse pro audio rental selections in the Los Angeles region — including new and vintage audio equipment, microphones, PA and monitor systems, mixers, and so much more. Our online list reflects only a part of our full inventory — if there's a product you would like that isn't listed here, call us. Our rental agents are ready to assist you!
Weekly and monthly rates are available. You'll find information about the LES F. HARRISON MICROPHONE COLLECTION of rare and interesting mics here.
PICK-UPS, CONTACT MICS and DIRECT BOXES

Barcus Berry Pro 4000+ Planar Wave System
The Barcus Berry Pro 4000+ is a Piano and Harp Planar Wave System with a unique sensor technology that reproduces full frequency range with perfect amplitude balance, superior feedback rejection, and complete isolation of ambient sounds – even keyboard and pedal noise. It provides a tool-free method for attachment to either side of the soundboard – with features that include 1/4" monitor output with variable level, balanced XLR main out with ground lift, and an output pad switch.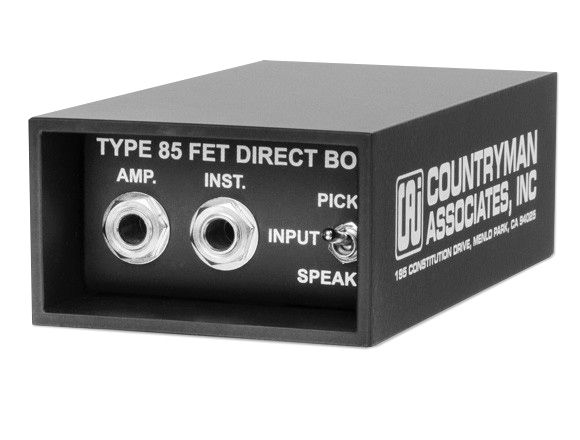 Countryman DT85 Direct Box
The Countryman DT85 Direct Box connects high impedance instruments – including piezo pickups – to a balanced mic input, providing a clean undistorted signal to the mixing console without tone or volume changes and without adding hums, buzzes, or hiss.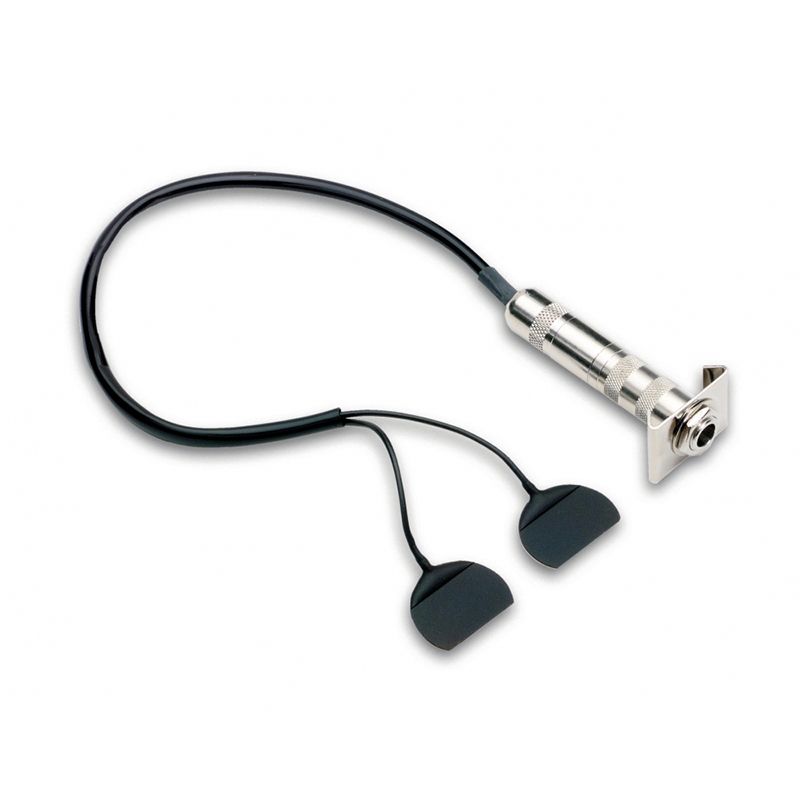 Fishman BP-100 Classic Pickup
The Fishman BP-100 is the well-known bridge-mounted dual-element piezo-ceramic pickup from Fishman – delivering deep sustained pizz tone and fast articulation with emphasized direct string sound.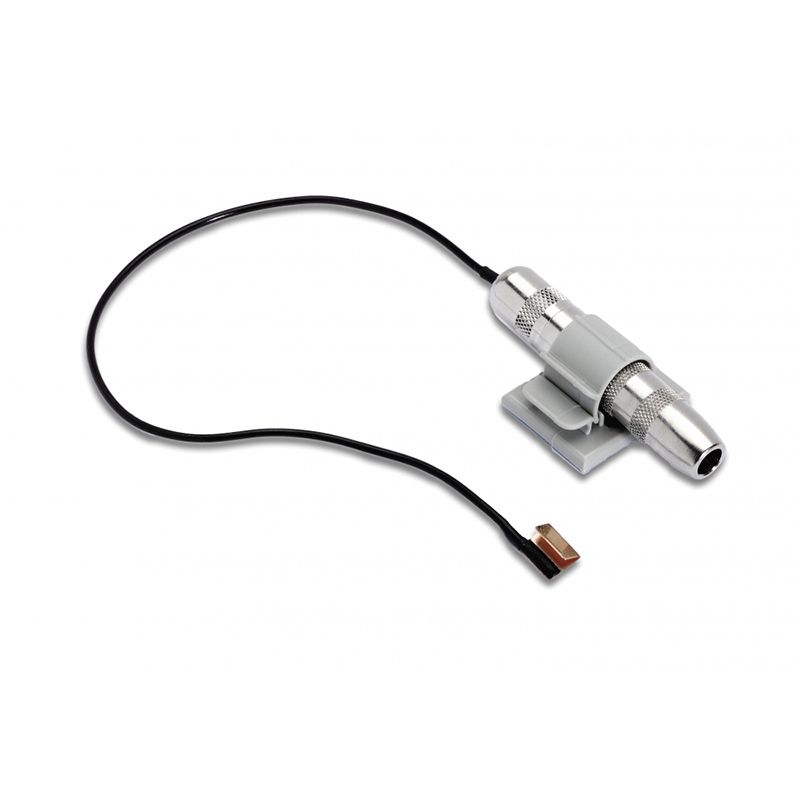 Fishman C-100 Cello Pickup
The Fishman C-100 Class Series Cello Pickup installs easily into the wing slot of the cello bridge using Fishman's patented floating mount system – includes a 1/4" tailpiece-mounted jack and 10' cable.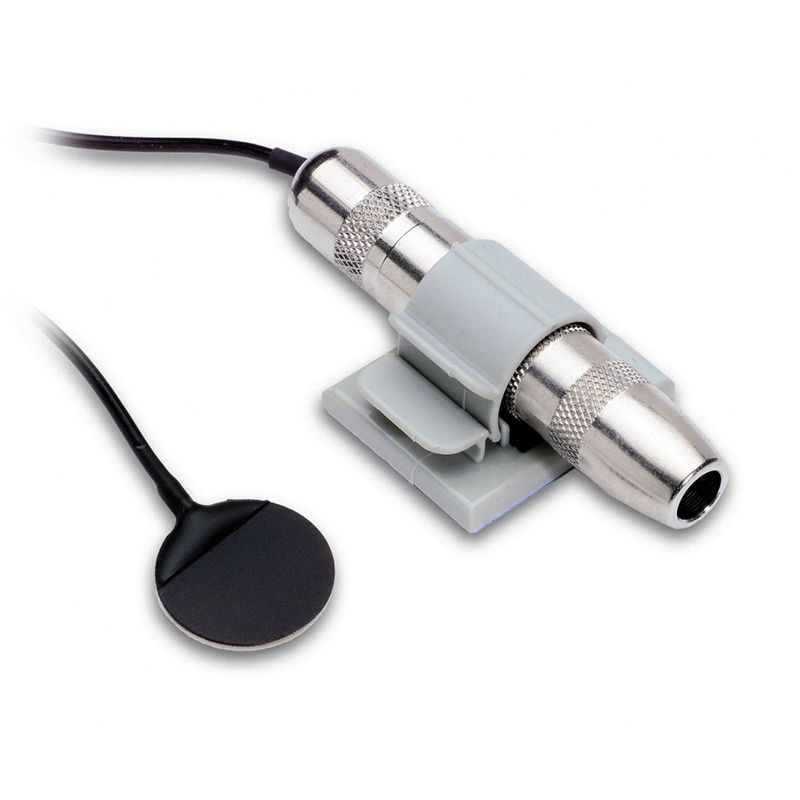 Fishman SBT-HP Harp and Piano Pickup
The Fishman SBT-HP Harp and Piano Pickup is equipped with a long lead wire and 1/4" jack that allows it to be mounted on a variety of instruments with flat soundboards – a practical alternative to more expensive bridge-mounted units that reproduces a full, natural transparent tone.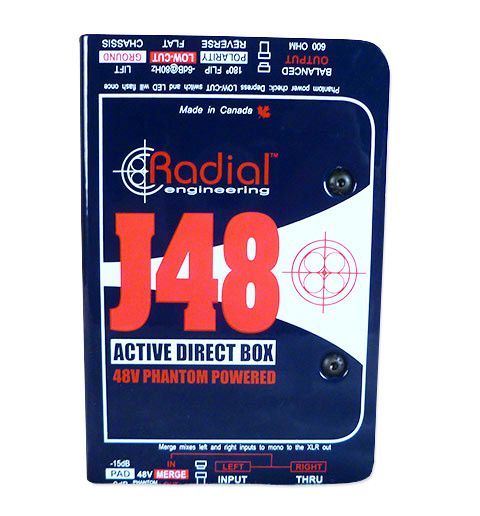 Radial J48 Active Direct Box
The Radial J48 Active Direct Box has been optimized to handle extreme transients without distortion, with a linear frequency response that extends from 20Hz up to 40kHz. Powered by 48V phantom, no batteries required.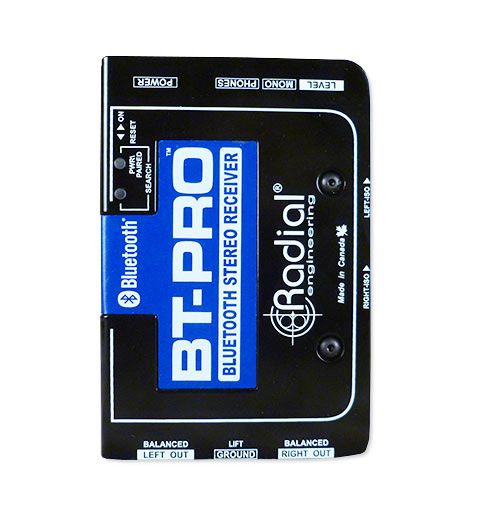 Radial ST-PRO Bluetooth DI Box
The Radial ST-PRO Bluetooth DI Box wirelessly connects smartphones and tablets to a mixer with bluetooth reception of up to 12 meters (40ft). The dual balanced XLR outputs feed the PA system, and isolation transformers eliminate hum and buzz. Powered by 48V phantom, no batteries required.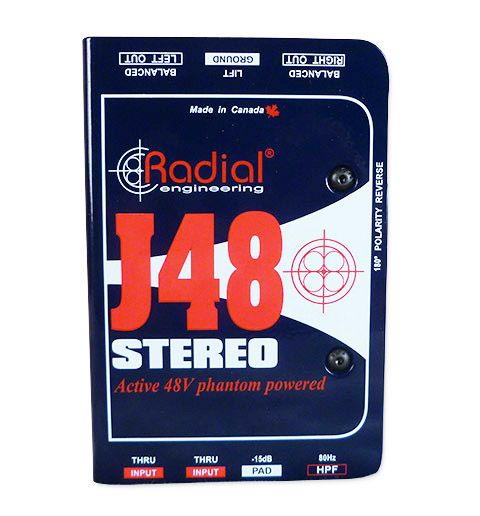 Radial J48 Stereo Active Direct Box
The Radial J48 Stereo Active Direct Box has exceptional headroom & dynamic range and retains the natural sound of the instrument. Use it with stereo sources or multiple instruments. Powered by 48V phantom, no batteries required.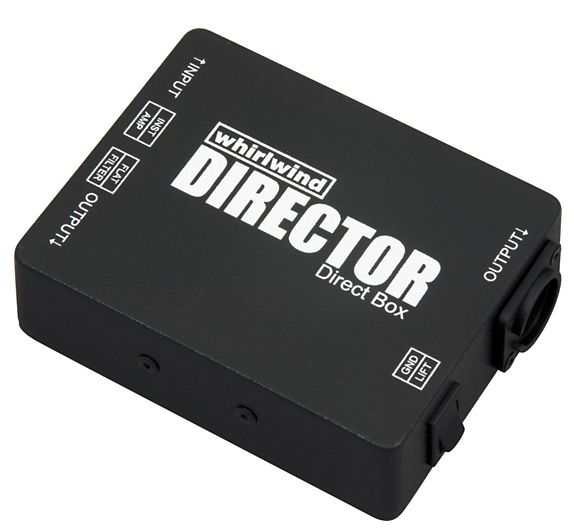 Whirlwind Director Passive Direct Box
The Whirlwind Director is a passive direct box used to convert an unbalanced line, instrument, or speaker level to low impedance balanced microphone level – features a ground lift switch with 30dB pad for selecting between instrument/line/speaker level, 1/4" parallel wired in/out jacks, and switchable high cut filter.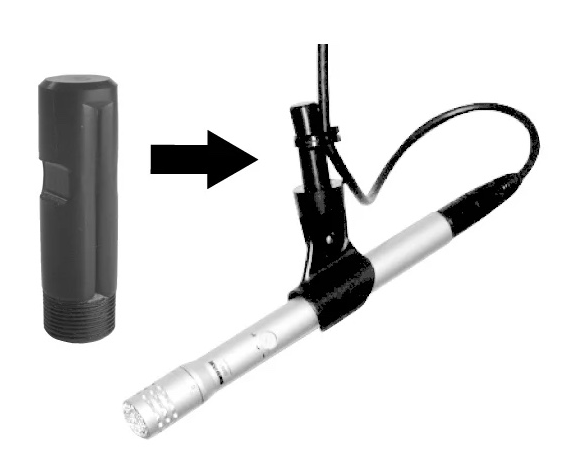 ACE BACKSTAGE MICROPHONE HANGER SLUG
The Ace Backstage Microphone Hanger Slug is the perfect solution for hanging mics over choirs and orchestras or audiences — it features a non-reflective black finish and screws into most standard mic stand mount clips. Also known as Ace Backstage 43 Mic Hanging Slug.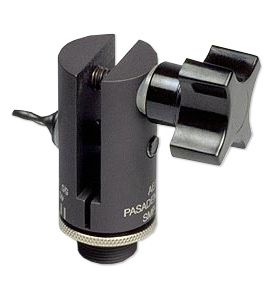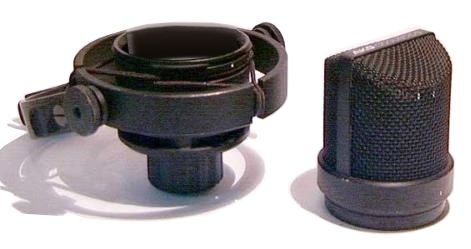 AKG H17A Shock Mount Windscreen
The AKG H17A is an all-metal black-finished Shock Mount Windscreen designed for use with AKG's polydirectional studio condenser microphones – such as the C414 Condenser Mic – and provides superb isolation from vibration and rumble effects, and protection from wind and breath-blasts.

AKG VR-1 Extension Tube
The AKG VR-1 is the podium extension for the AKG C451, C452, and C460 condenser microphones.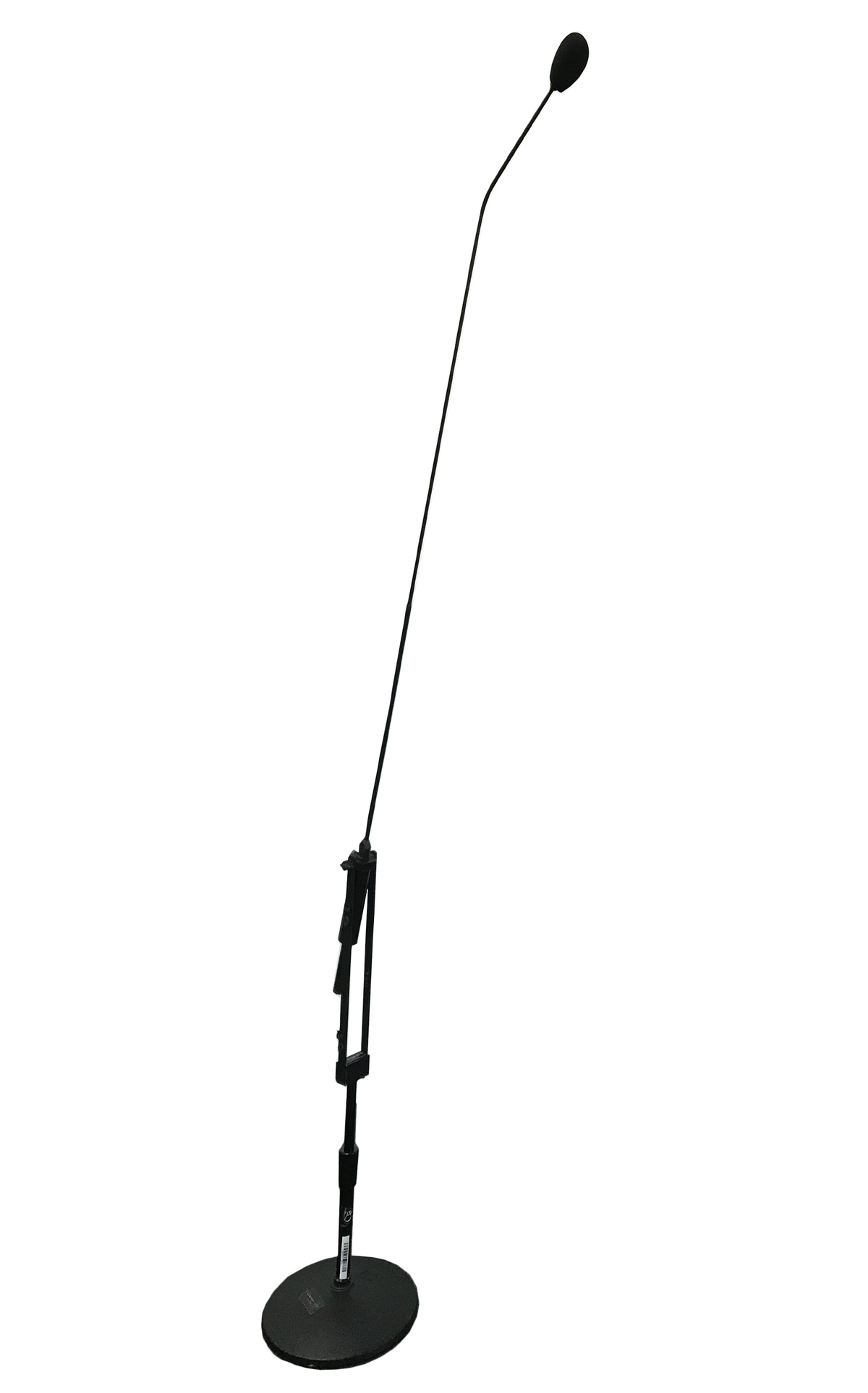 AKG VR-2 Extension Tube
The AKG VR-2 is the long and less obtrusive angled floor extension tube for the AKG C451, C452, and C460 microphones - featuring a swivel mount and counterweight - to be used floor standing or suspended from above the performer.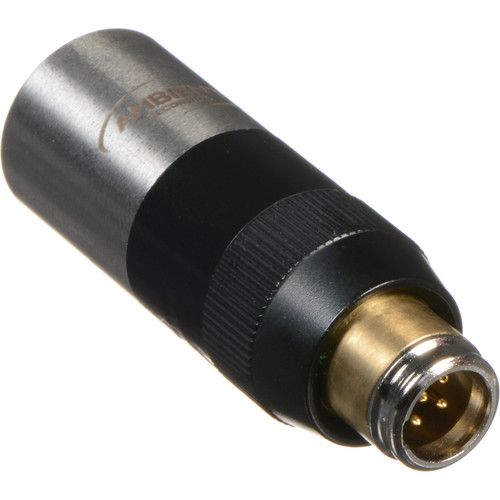 Ambient EMP5S Electret Microphone Power Adapter
The Ambient Recording EMP5S Electret Microphone Power Adapter is designed for use with Microphones wired for Lectrosonics transmitters by converting a 5-pin connector to a 3-pin XLR male connector – it converts phantom 48V power to 5.6V electret power to allow hardwired use of a lavalier microphone – and outputs an electronically balanced signal with low impedance.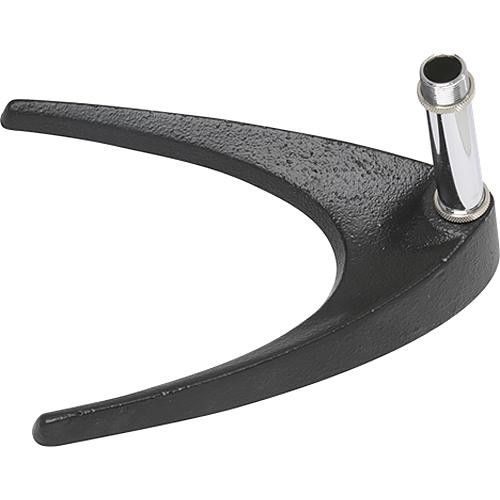 Atlas Sound DS-14 Desk Top Microphone Stand
The Atlas Sound DS-14 Desk Top Microphone Stand is the well-known wishbone-shaped sturdy microphone desk stand with weighted base and 3" chrome tube – aka the "Horseshoe" desk stand is used for broadcasts, interviews, conferences, meetings, and more.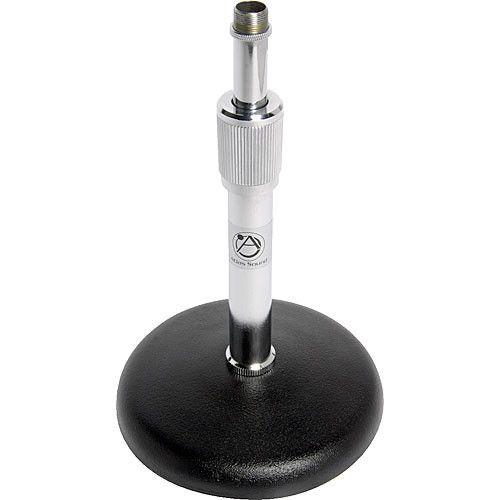 Atlas Sound DS-7 Microphone Desk Stand
The Atlas Sound DS-7 Adjustable Microphone Desk Stand is a classic mic desk stand with a cast iron round base – adjusts between 8" and 13".

Atlas Sound MS-12 Microphone Stand
The Atlas Sound MS-12 is a popular all-purpose microphone stand made of steel tubing and finished in mirrored chrome – featuring a clutch that keeps it from slipping under pressure, and a lock-nut ring at the top and bottom – its height adjusts from 35" to 63", the weighted base is 10" round.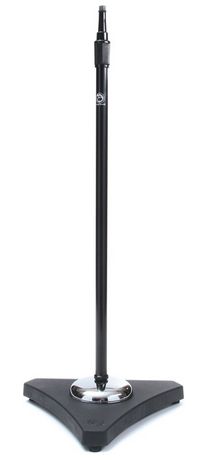 Atlas Sound MS-25 Heavy-Duty Studio Recording Microphone Stand
The Atlas Sound MS-25 Heavy-Duty Studio Recording Microphone Stand features an integral air suspension system to protect sensitive microphones – with a triangular cast base for maximum stability and height extension from 38" up to 67 "– it's a perfect mic stand for a variety of studio, recording, and performance applications.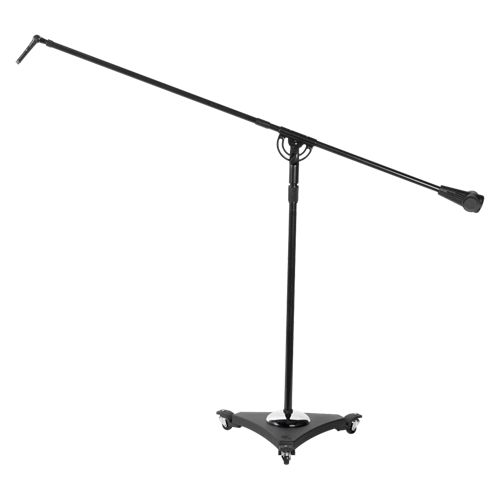 Atlas Sound SB-36 Studio Boom Microphone Stand
The Atlas Sound SB-36 Studio Boom Microphone Stand is a popular standard studio mic stand with variable piston-type air suspension and featuring silent motion casters for friction- and vibration-free mobility making it ideal for stand and studio applications; includes a 2-piece tube assembly that adjusts from 49" to 73", with a 62" boom and adjustable 6 lb. boom counterweight.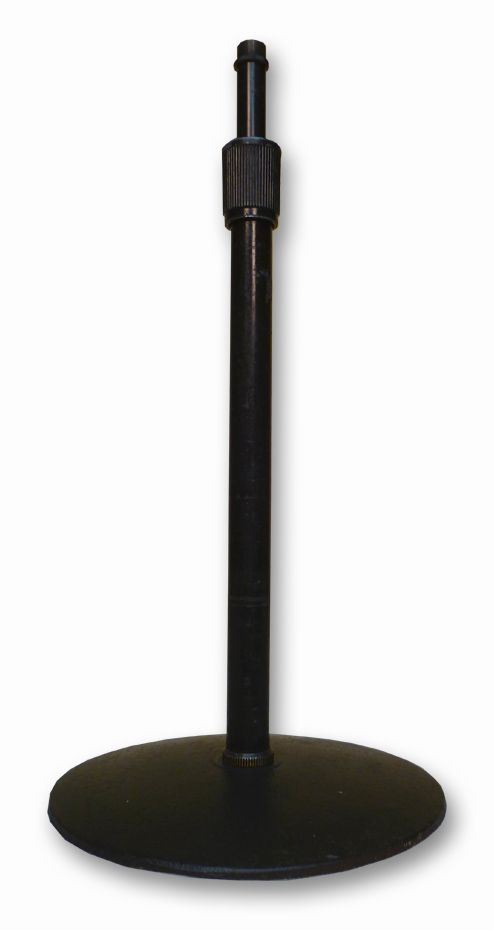 Atlas Sound TS-8 Microphone Desk Stand
The Atlas Sound TS-8 Microphone Desk Stand is a popular classic "banquet" mic desk stand that adjusts from 14" to 26".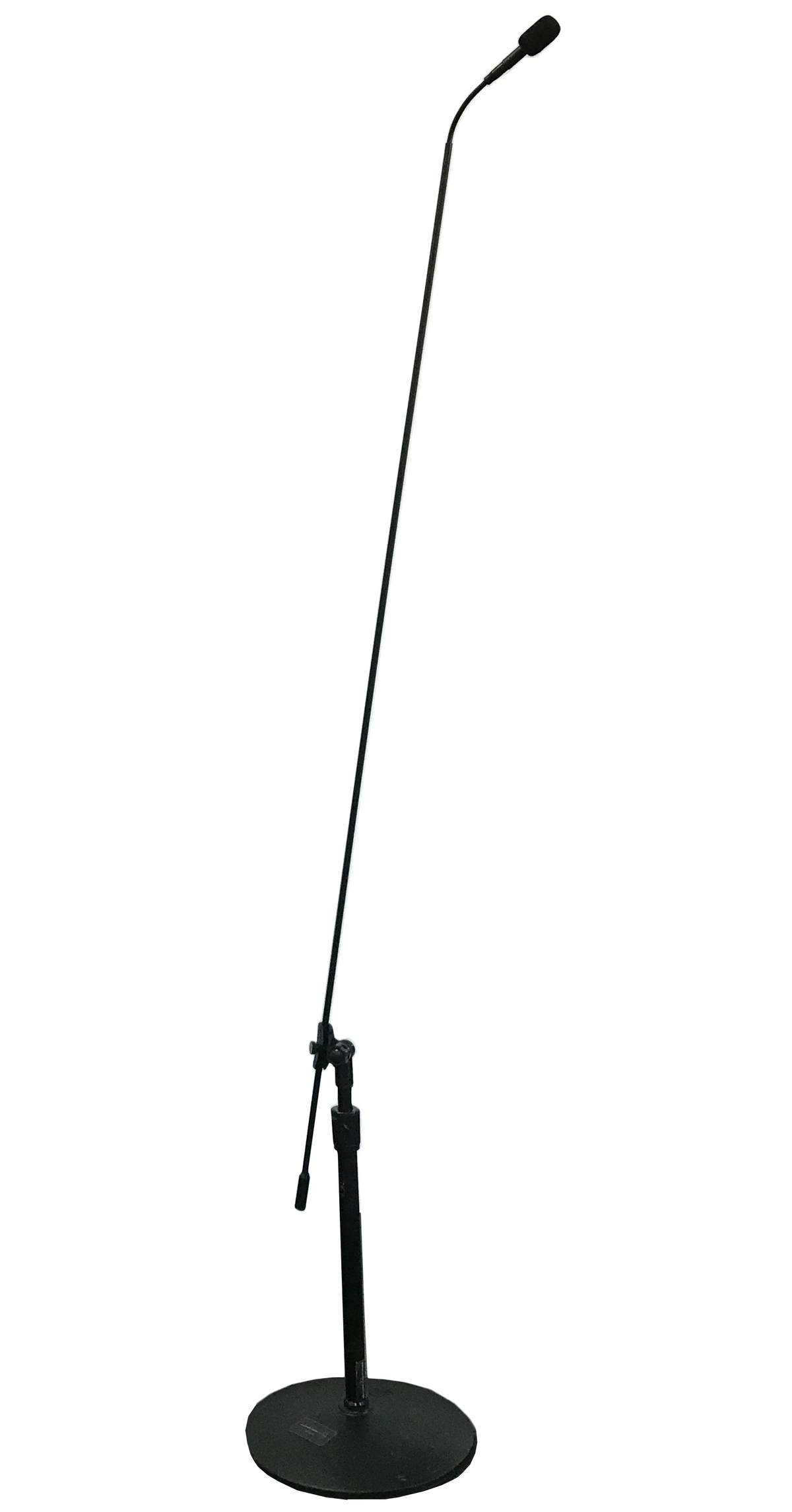 AUDIX MICROBOOM
Our Audix MicroBoom is a perfect solution for miking choirs or musical ensembles – or for award presentations or plays – and pairs a low-profile carbon-fiber 50" boom arm with a high-performance condenser microphone – the Audix M1255 Miniature Condenser Mic. You'll find more information about the Audix M1255 Miniature Condenser Mic on our Microphone Rental page.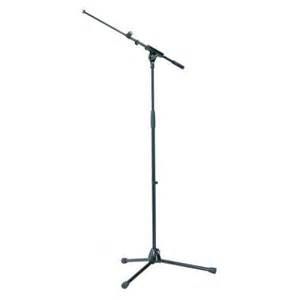 Beyerdynamic GST500 Telescopic Boom Microphone Stand
The Beyerdynamic GST500 Telescopic Boom Mic Stand with K&M 211 Telescopic Boom Arm provides a solid microphone stand system with compact base and wide footrest – the telescoping arm is a classic two-piece boom arm that offers silent scratch-less swivel adjustment and extends from 8.5-30.3".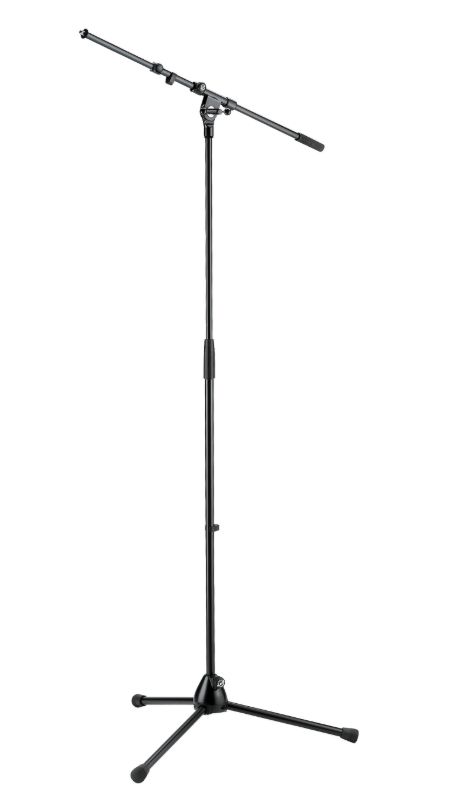 K&M 210/9 Tripod Microphone Stand with Telescoping Boom
The K&M 210/9 black tripod microphone stand with telescoping boom features a clutch that allows stand height adjustment to be raised from 35.4 to 63.2" – and a telescoping boom arm that adjusts from 17.1 to 29.3".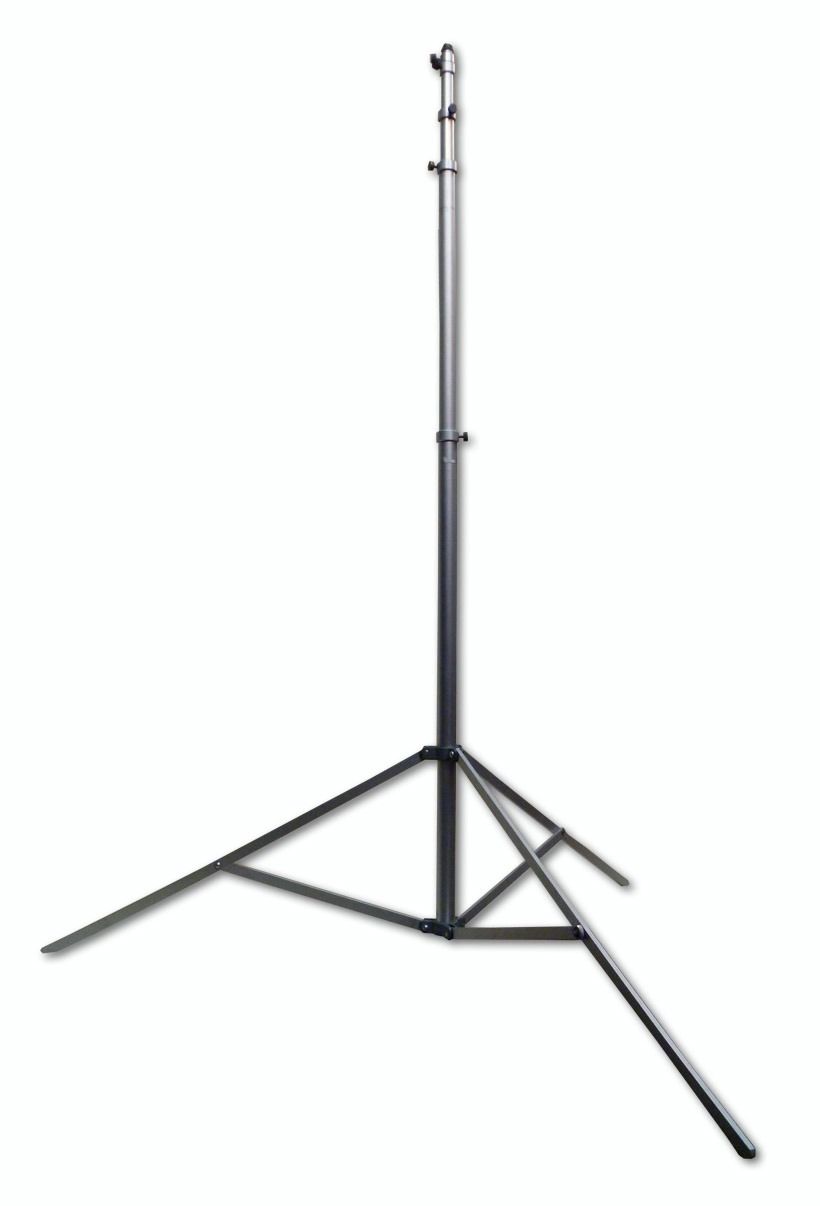 BEYER ST1532 MICROPHONE STAND
Beyer ST1532 is a lightweight 15' aluminum microphone stand.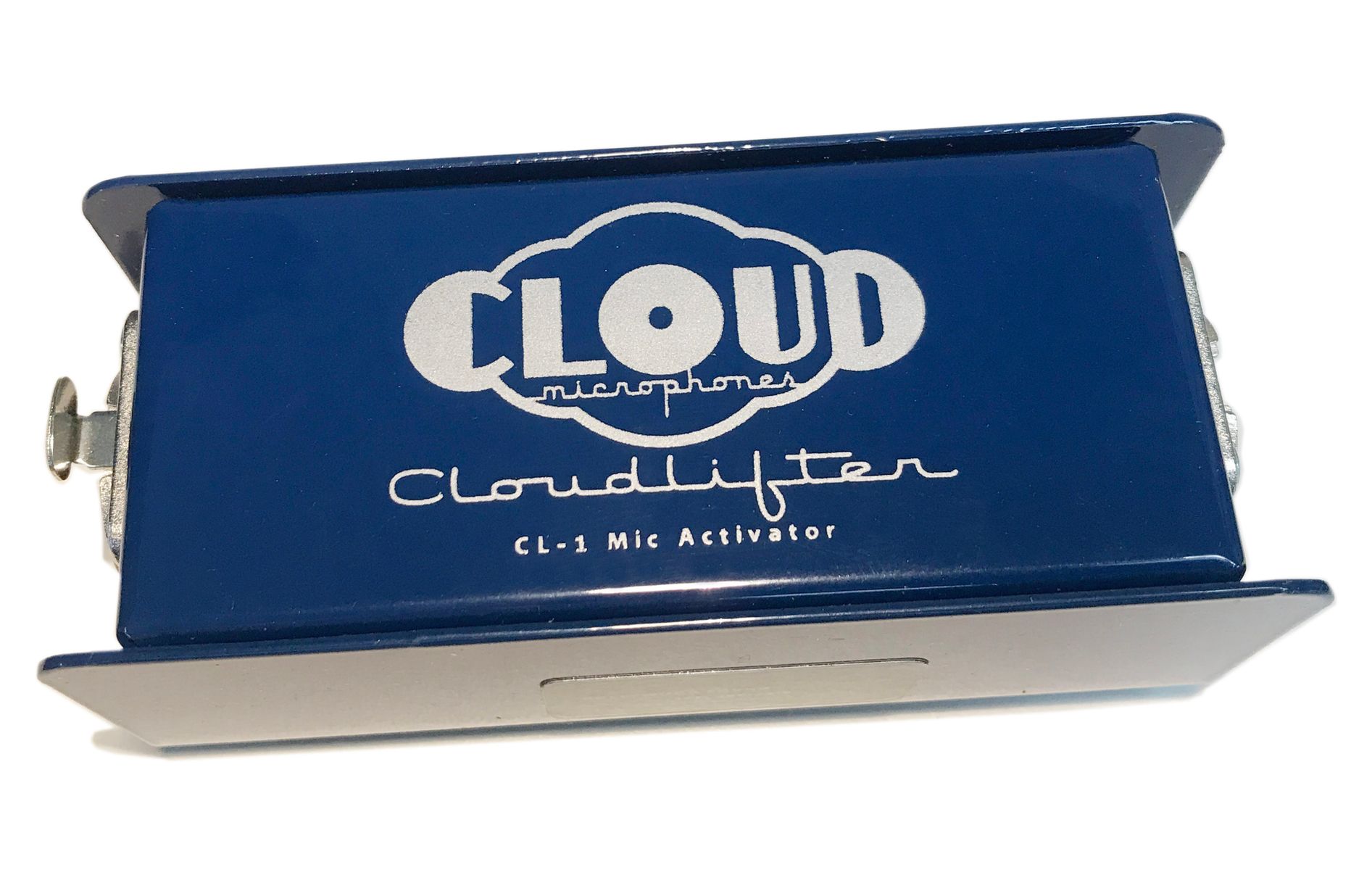 CLOUD MICROPHONES CLOUDLIFTER CL-1 MIC ACTIVATOR
CLOUD Microphones Cloudlifter CL-1 Mic Activator is the original Cloudlifter – allowing you to hear more character and clarity from your dynamic and ribbon microphones with up to +25dB active ultra-clean gain in two distinct stages and optimal impedance loading – an essential tool for countless recording applications – recording into a DAW interface, producing podcasts, live stage performances, and more.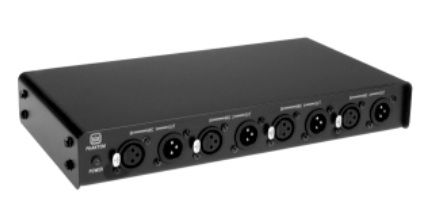 Crown PH-4 Phantom Power Supply
The Crown PH-4 is a 48V phantom power supply for condenser and electret-condenser microphones – featuring 4 channels for powering up to 4 mics; powered by 120V AC.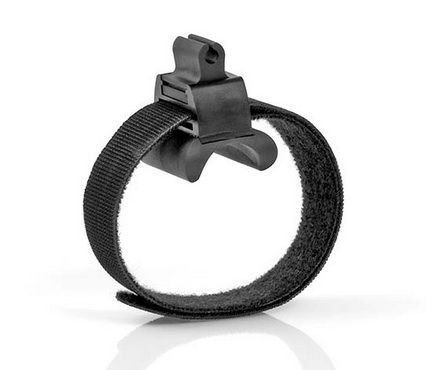 DPA 4099 Instrument Clips
DPA 4099 Instrument Clips allow placement of mics on instruments with mounting and positioning options that do not harm the instrument in any way – Hollywood Sound Systems offers a wide selection of DPA 4099 clips for guitar, brass, violin / viola and cello, bass, piano, drum, and universal clips.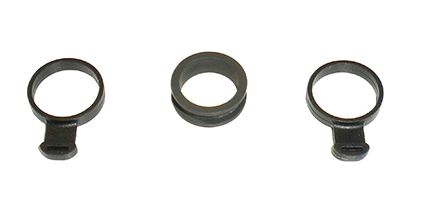 DPA DUZ0002 Shock Mount kit for D:Vote Mics
The DPA DUZ0002 Shock Mount Kit replaces the original rubber shock mount that comes with the d:vote 4099 and consists of 2 rubber shock mounts and 1 UC4099 Universal Clip.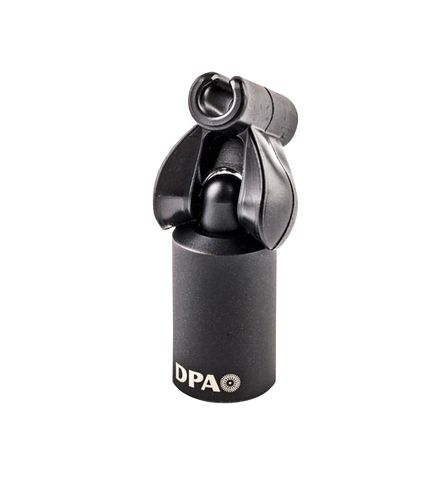 DPA SM4099 Stand Mount
Use the DPA SM4099 Stand Mount to easily connect a 4099 Instrument Microphone to a mic stand – making it possible to quickly unclip and reposition or move the instrument mic to another stand or instrument with the correct clip.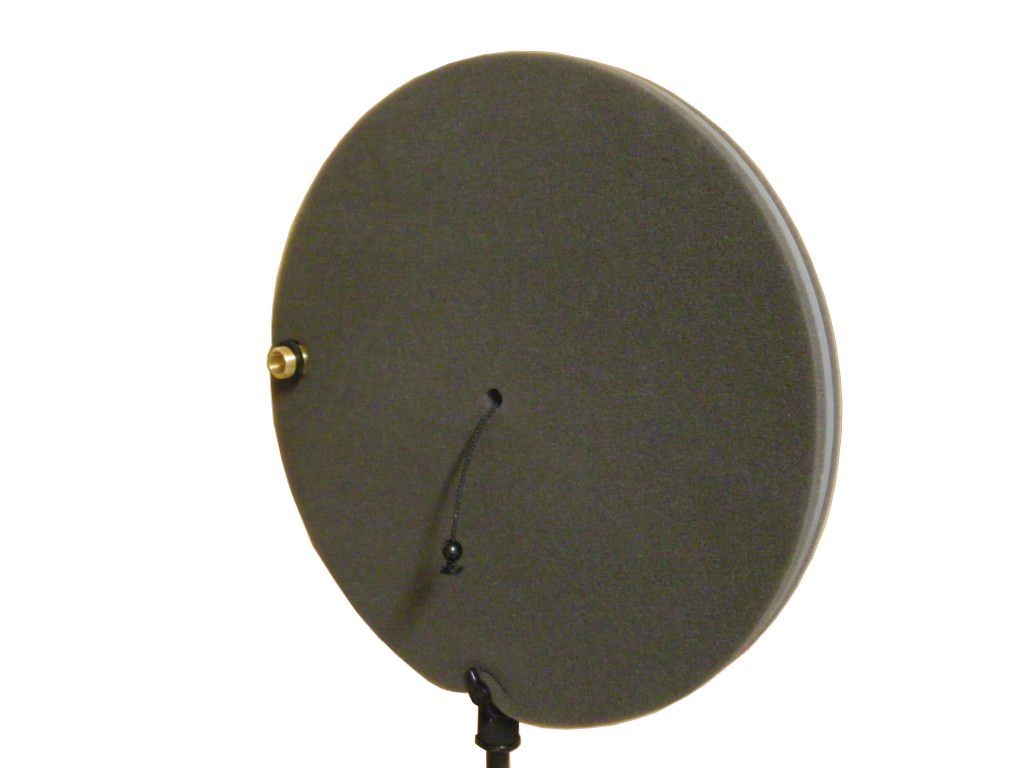 MBHO JECKLIN DISC MIC MOUNT
The MBHO Jecklin Disc is a disc microphone mount used for spacing omnidirectional microphones based on the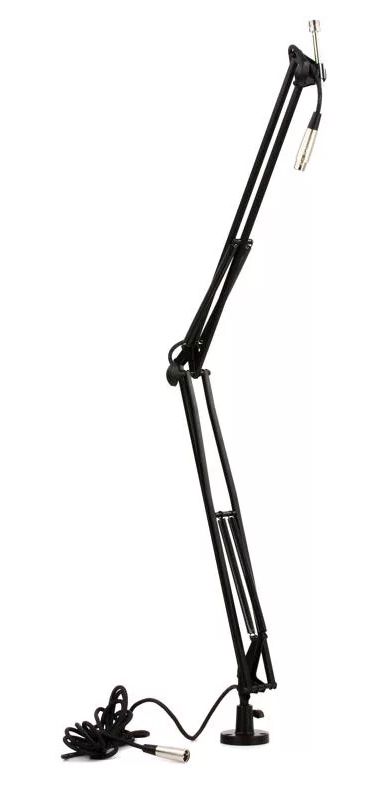 ON-STAGE MBS5000 BROADCAST/WEBCAST MIC BOOM ARM
The On-Stage MBS5000 Broadcast/Webcast Mic Boom Arm is an articulating mic boom designed for broadcasters and podcasters — featuring heavy-duty construction and two pairs of springs for accurately counterbalancing popular broadcast mics and oversized shock mounts — with an internal preinstalled XLR cable and the choice of a removable C-clamp for desktops or screw-in flange mount for installation to any flat surface.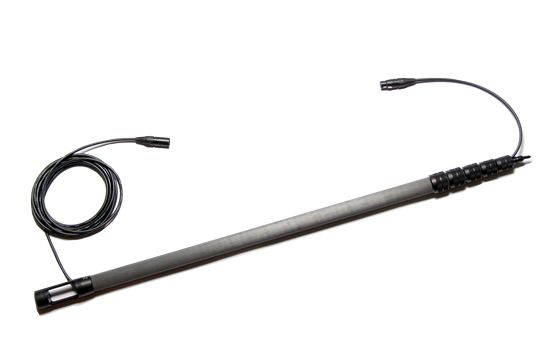 PSC Boom Pole
Professional Sound Corporation® – or PSC – is well-known for their professional line of boom poles that utilize a system of fixed threaded mounts, locking collars and locking rings to provide ease of use and superb results; boom length extends to 12'.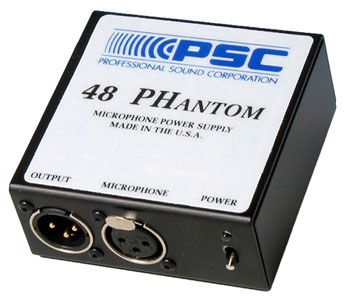 PSC PH48 Phantom Microphone Power Supply
The PSC PH48 Phantom Microphone Power Supply provides constant 48 volts regardless of current consumption of the mic and operates for 10 to 30 hours from a single 9V battery.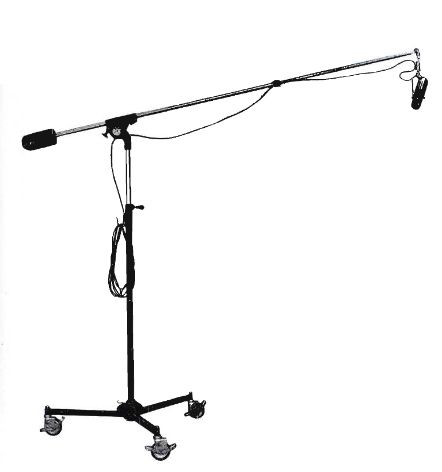 RCA KS-3B STUDIO BOOM MICROPHONE STAND
The RCA KS-3B is the famed vintage studio boom with adjustable counterweight and 15' reach – originally designed for RCA recording studios – allowing proper mic placement and the ability to follow the sound in a noiseless way in situations where the best mic positioning cannot be reached using conventional mic stands.

RCA 90-A Microphone Stand
The vintage RCA 90-A Microphone Stand is a standard program mic stand at many Network and Station Studios – designed with heavy base and a simple clamping device which permits height adjustments to be made quietly without a release mechanism.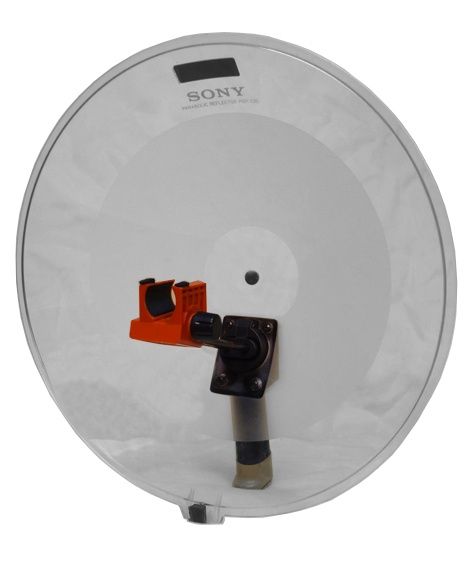 SONY PBR-330 PARABOLIC REFLECTOR
The Sony PBR-330 Parabolic Reflector is designed to collect sound falling on its surface to a focal point and increase the sensitivity of the microphone – almost all stick-shaped microphones of 15mm to 30mm can be mounted into the slide-type mic holder – for optimal results, use an omnidirectional mic.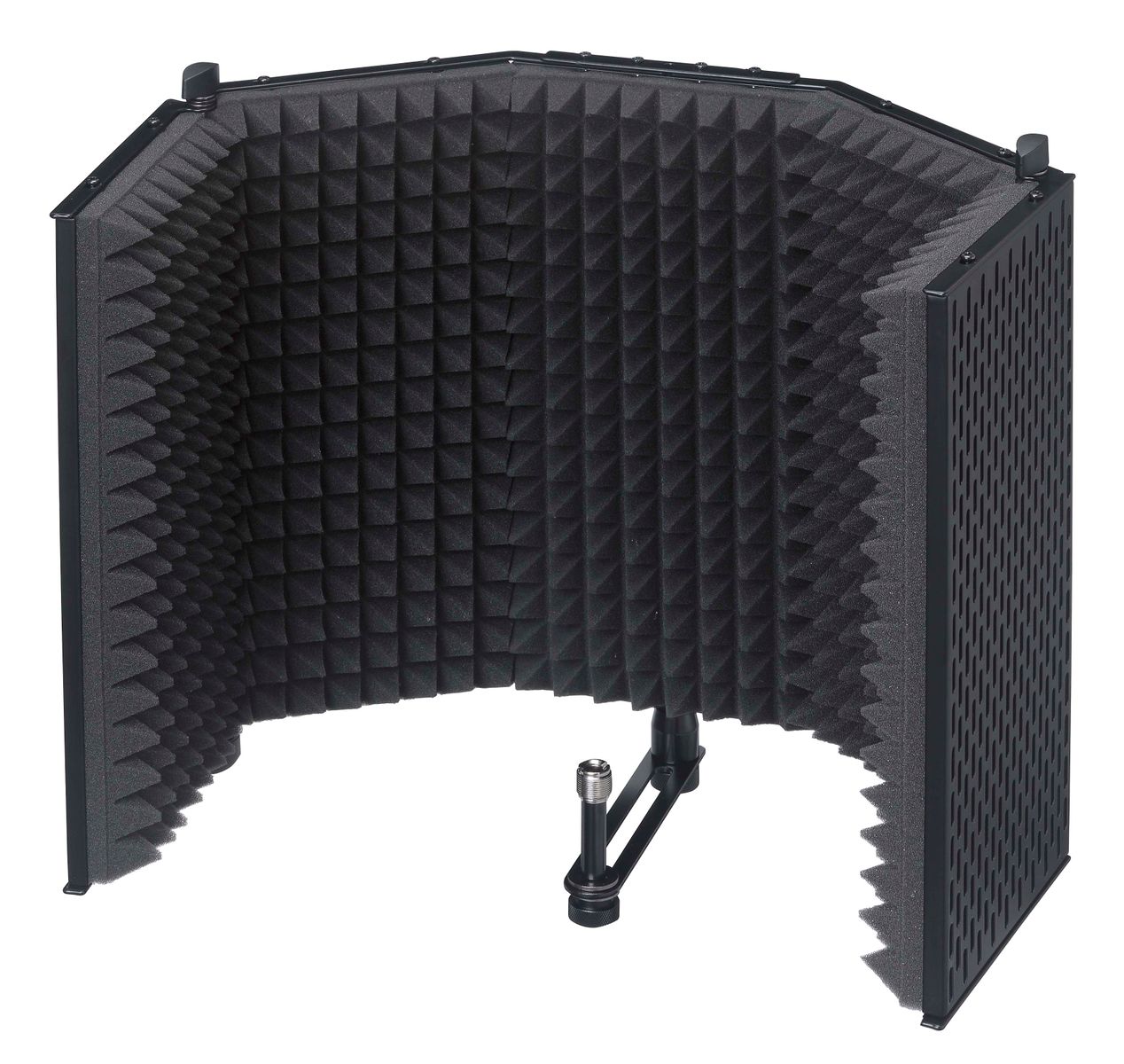 TASCAM TM-AR1 ACOUSTIC CONTROL FILTER
The Tascam TM-AR1 Acoustic Control Filter is the ideal microphone accessory for small studios and podcasting — like a miniature Studio Gobo that easily mounts to a mic stand and is placed around the microphone — it is designed to minimize reflections and unwanted room ambience.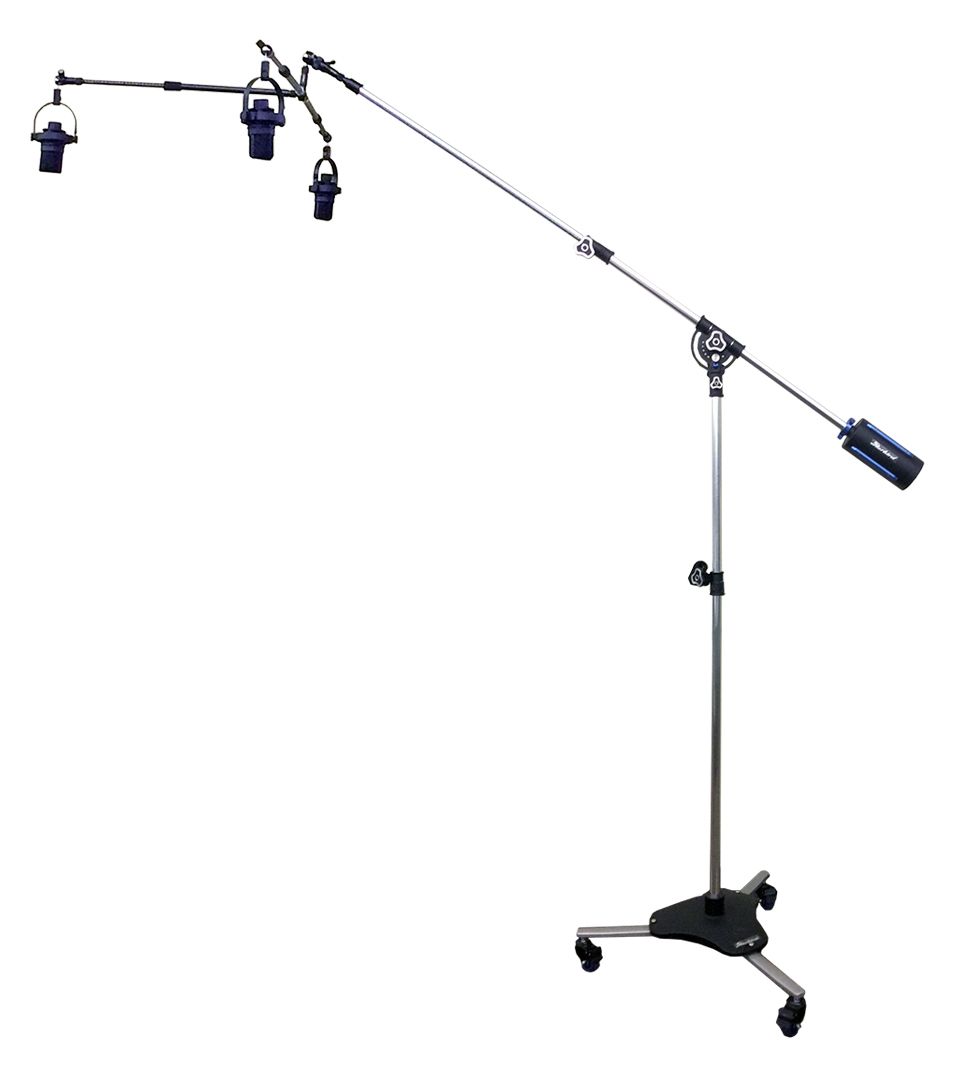 TRIAD-ORBIT DECCA TREE with STARBIRD SB-1 BOOM STAND
The Triad-Orbit version of a Decca Tree combines three IO-A2A telescopic boom arms with an IO-Vector utility bar. Micro M2 Orbital Mic adapters feature short stem mounting arms and are purpose-built for microphones of all sizes. It mounts to Triad-Orbit's Starbird SB-1 Studio Boom Stand using the Orbit OA, a single freestanding version of the Orbit 2-type orbital boom arm, for a full range of motion that is extremely smooth, quiet and stable. You'll find a quick-start assembly guide here.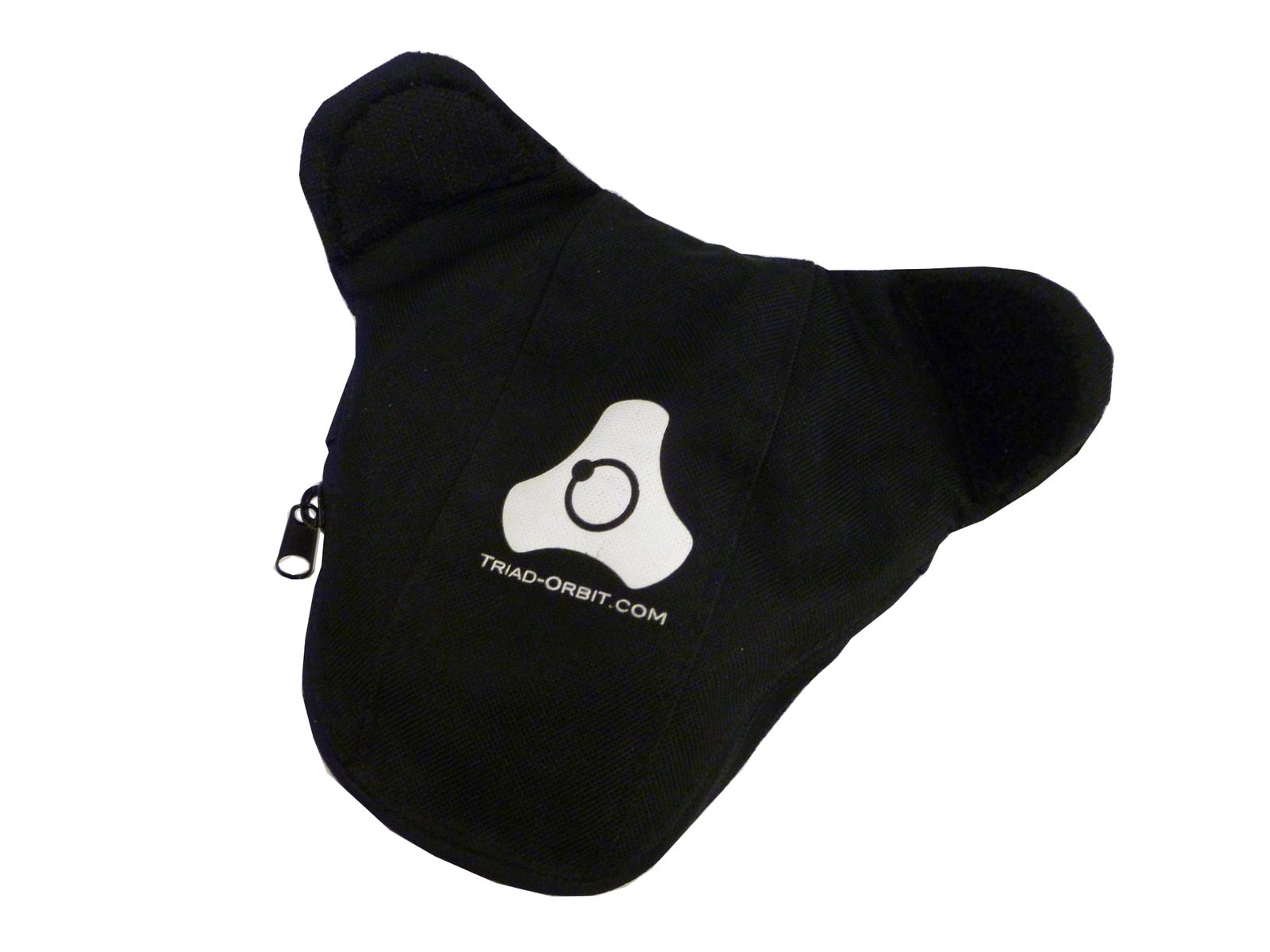 Triad-Orbit GB-3 Grav Bags
Use the Triad-Orbit GB-3 Grav Bags as the ballast bags for Triad-Orbit mic stands. They're uniquely weighted 'shot bags' that can be used individually as booties on leg ends or combined as center weight to stabilize mic stands in heavy traffic areas or precarious positions.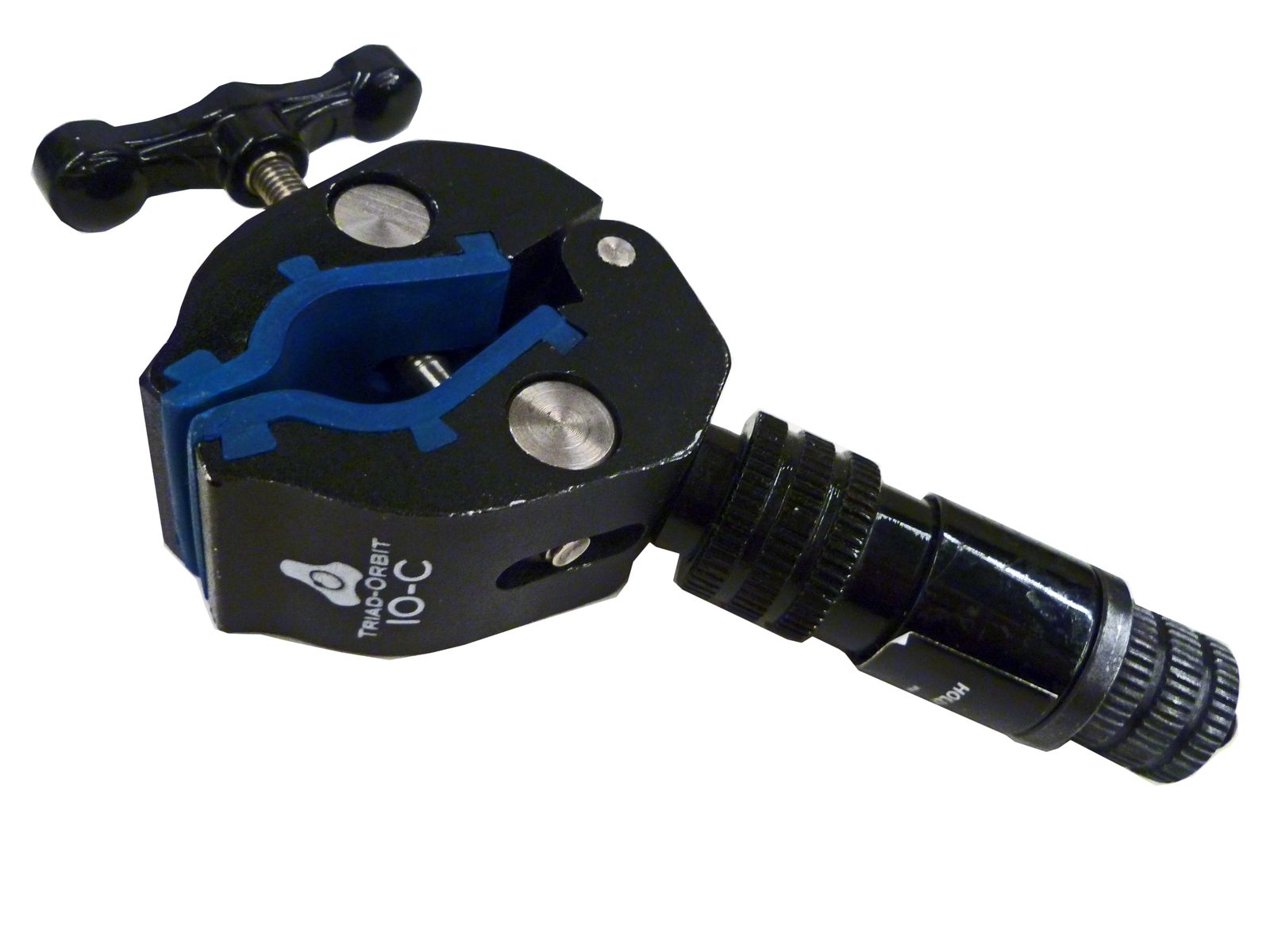 TRIAD-ORBIT IO-C Mounting Clamp with IO Quick-Change Coupler
The Triad-Orbit IO-C Advanced Stand System Mounting Clamp with IO Quick-Change Coupler is purpose-built for attaching Triad Orbit IO-equipped adapters, boom arms, tablet holders, and assorted accessories to stands, trusses, tabletops, and parallel surfaces.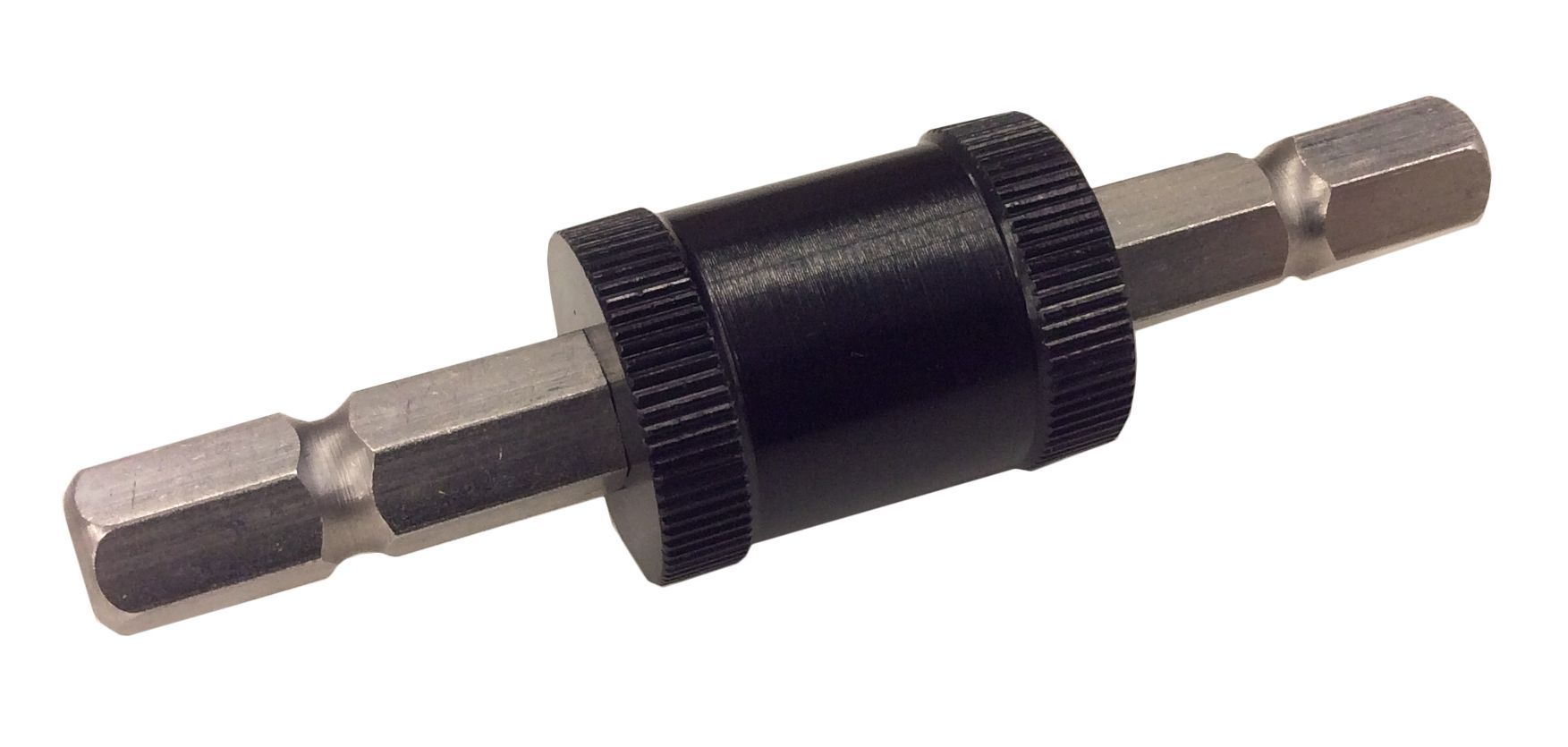 TRIAD-ORBIT IO-HMM MOUNTING HEAD
The Triad-Orbit IO-HMM Mounting Head is a quick-change male-to-male coupler with dual H2 hex heads for use as the IO junction that connects female-to-female IO components to IO-C Clamps, IO-W Wallplates, and T-ES Shafts.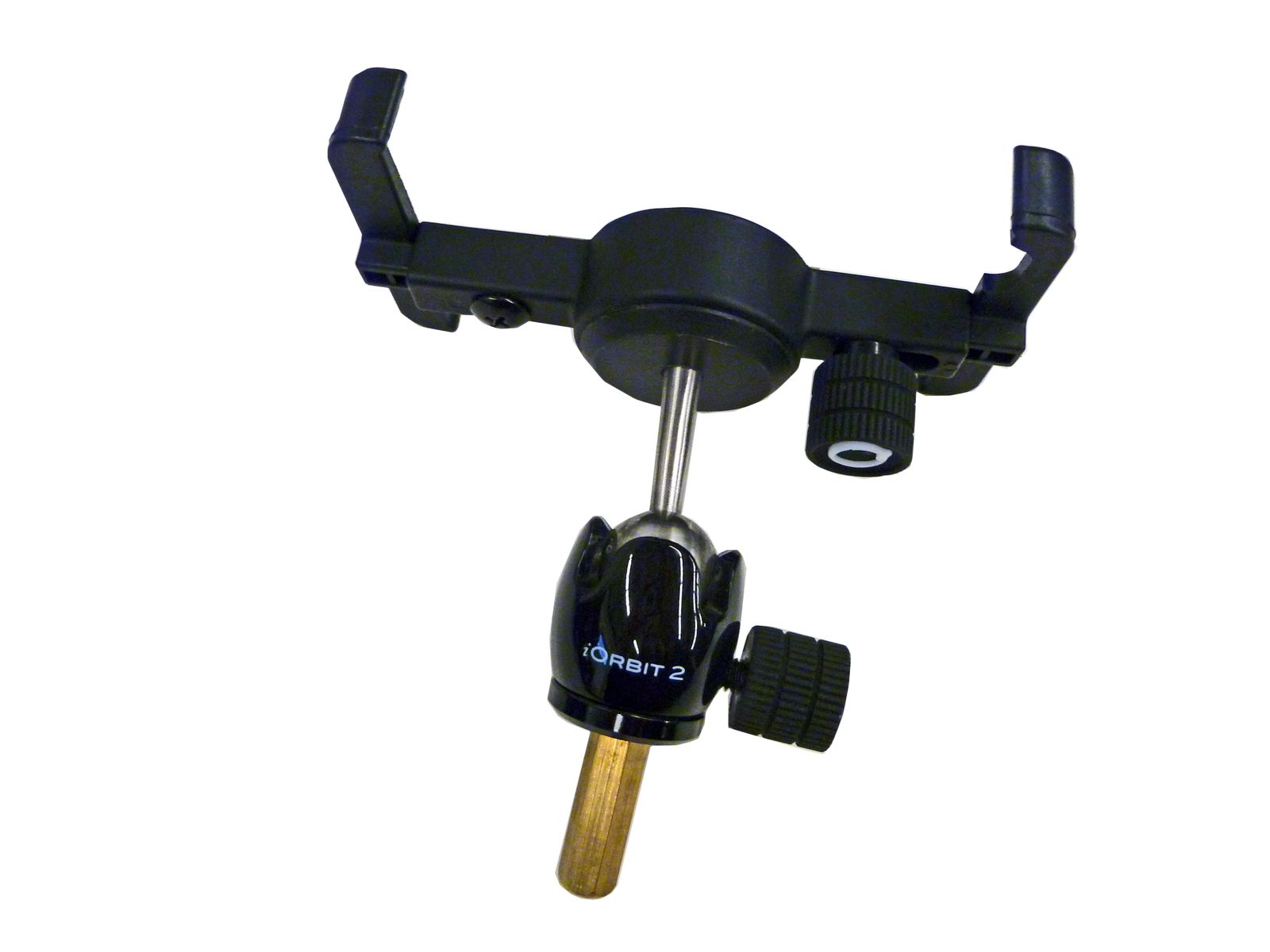 TRIAD-ORBIT iORBIT-2 CELLPHONE HOLDER
The Triad-Orbit iOrbit-2 Cellphone Holder integrates iPhone smart phones (Models 4, 4s, and 5) with Triad-Orbit Advanced Microphone Stand Systems -- comes with the IO-R retrofittable quick-change coupler to ensure compatibility with conventional stands and devices that utilize 5/8" mounting threads for connections.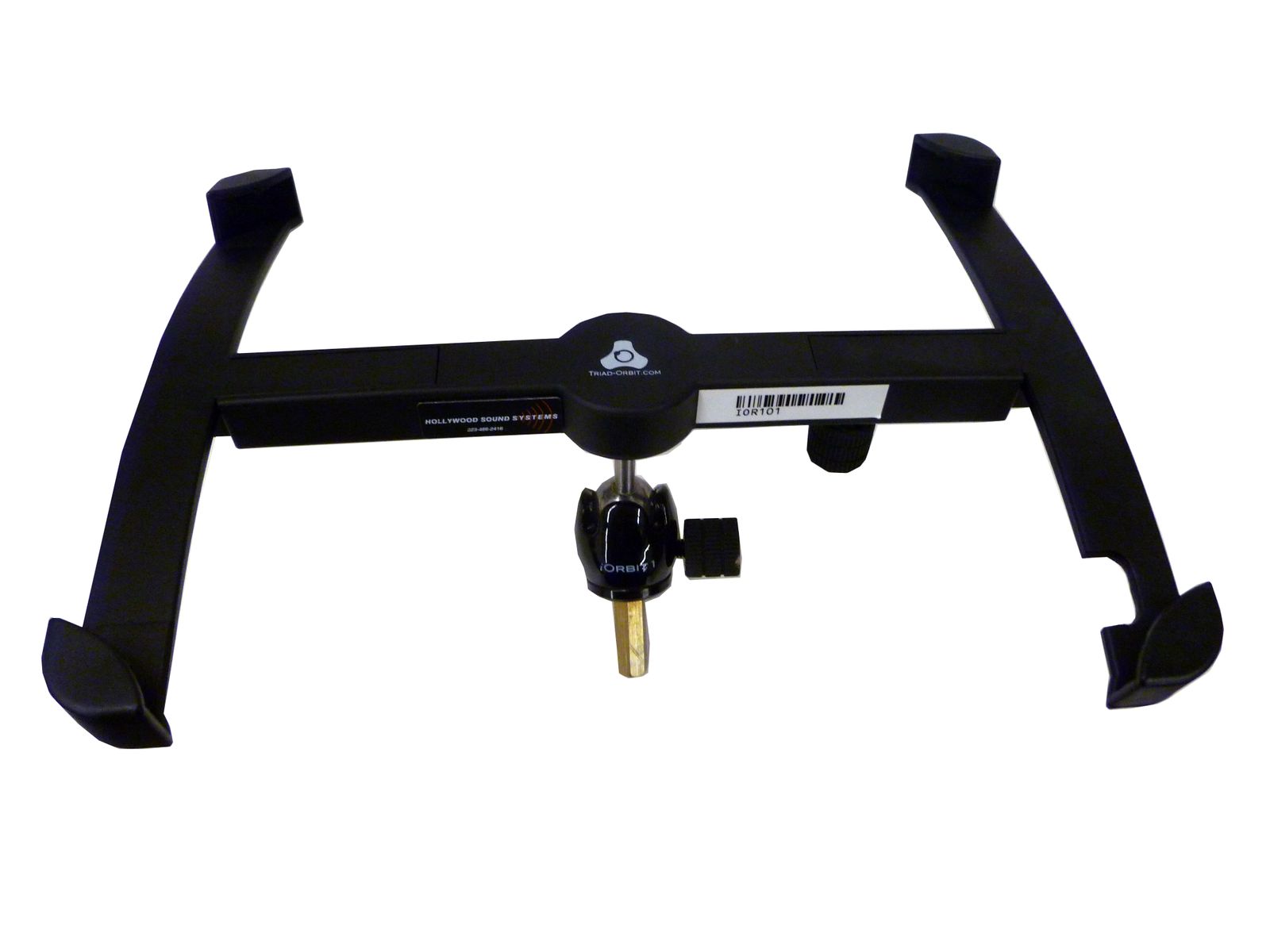 TRIAD-ORBIT iORBIT-1 iPad Holder
The Triad-Orbit iORBIT-1 iPad Holder integrates iPad tablets (Models 1, 2, and 3) with Triad-Orbit Advanced Microphone Stand Systems. Use the IO-R retrofittable Quick-Change Coupler for mounting on conventional stands and devices that utilize 5/8" mounting threads for connections. An innovative ball swivel mechanism gives the iORBIT unparalleled range-of-motion, and the holder is designed with maximum clearance of the camera lens to optimize video and photos.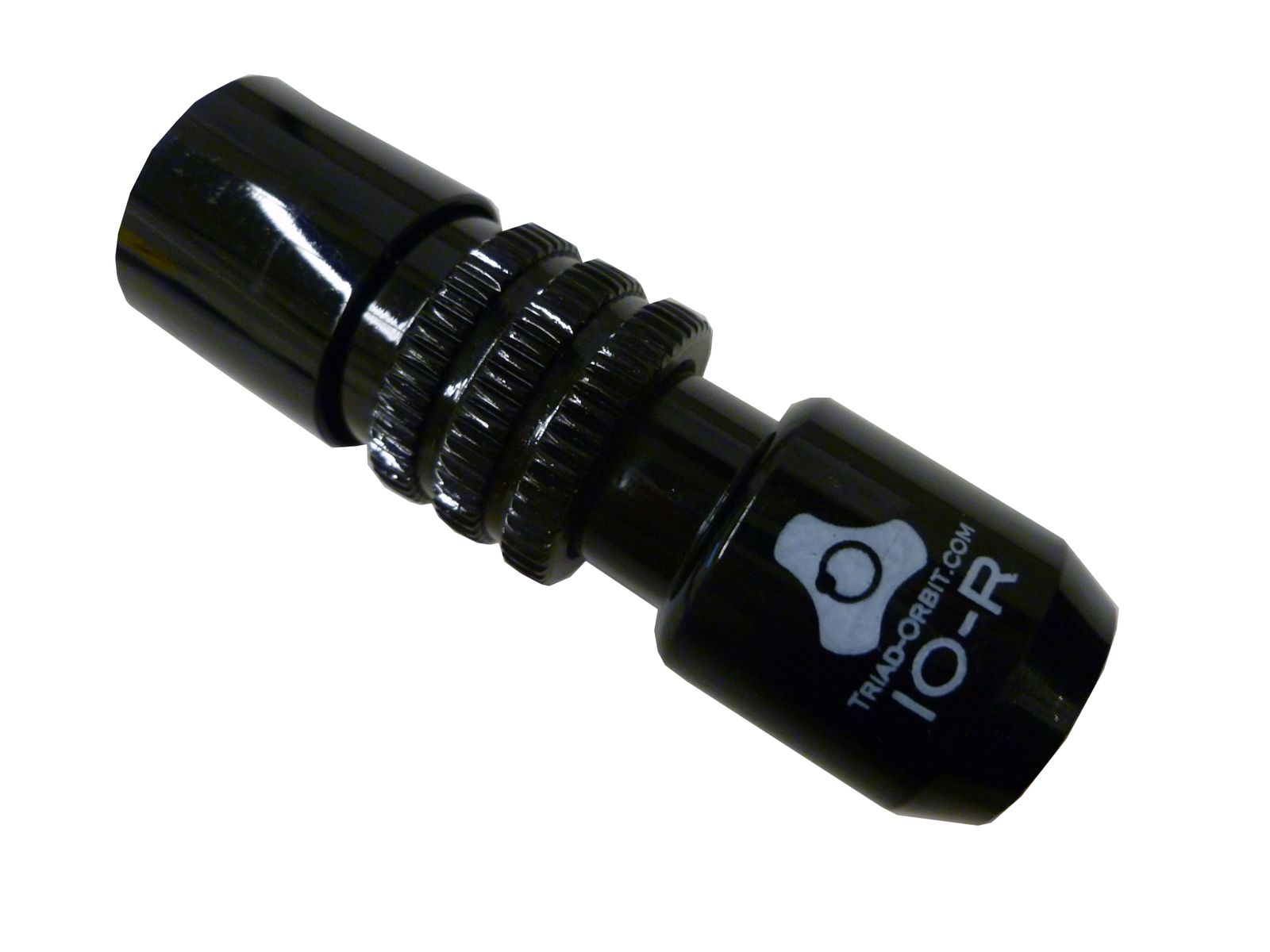 Triad-Orbit IO-R Quick Change Coupler
Standard on all Triad-Orbit products, the Triad-Orbit IO-R is the quick-change coupler that uses and brings IO functionality to traditional mic stands. 'On the fly' hardware swaps replace the tedious task of threading booms and mic clips on and off.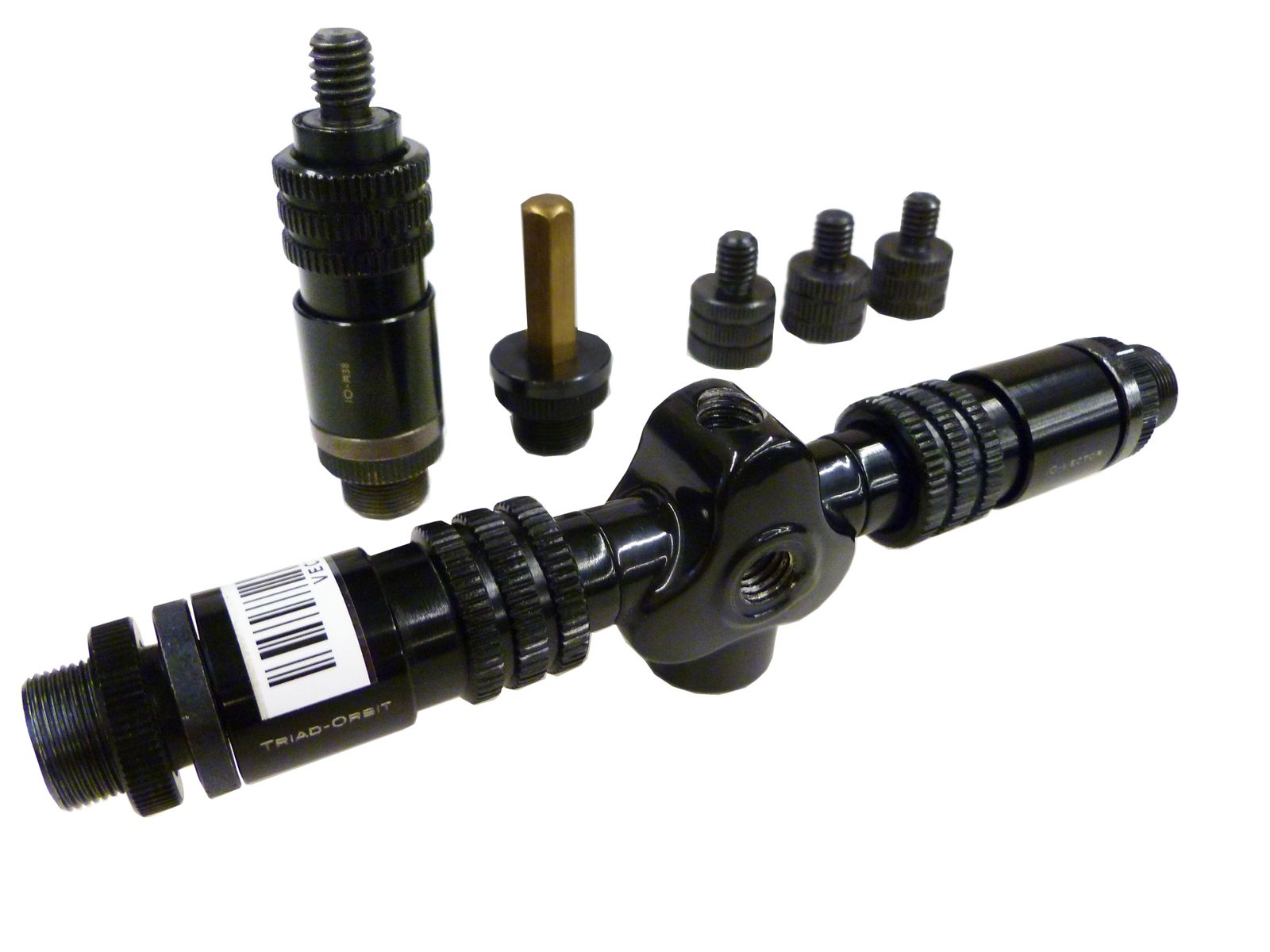 TRIAD-ORBIT IO VECTOR STEREO UTILITY BAR
The Triad-Orbit IO Vector Stereo Utility Bar takes the traditional stereo bar to a new dimension by providing five points of connectivity for 3/D positioning of microphones, cameras, lights and other creative devices.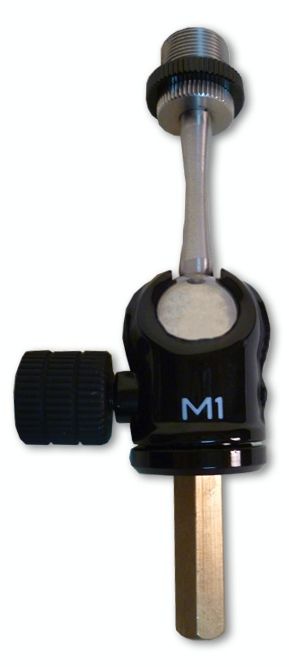 Triad-Orbit Micro M1 Adapter
An integral component in Triad-Orbit's Stand Systems, the Triad-Orbit Micro M1 Orbital Hanging Mic Adapter features a long stem ball swivel mounting arm to accommodate hanging large diaphragm studio microphones with 'spider-style' shock mounts.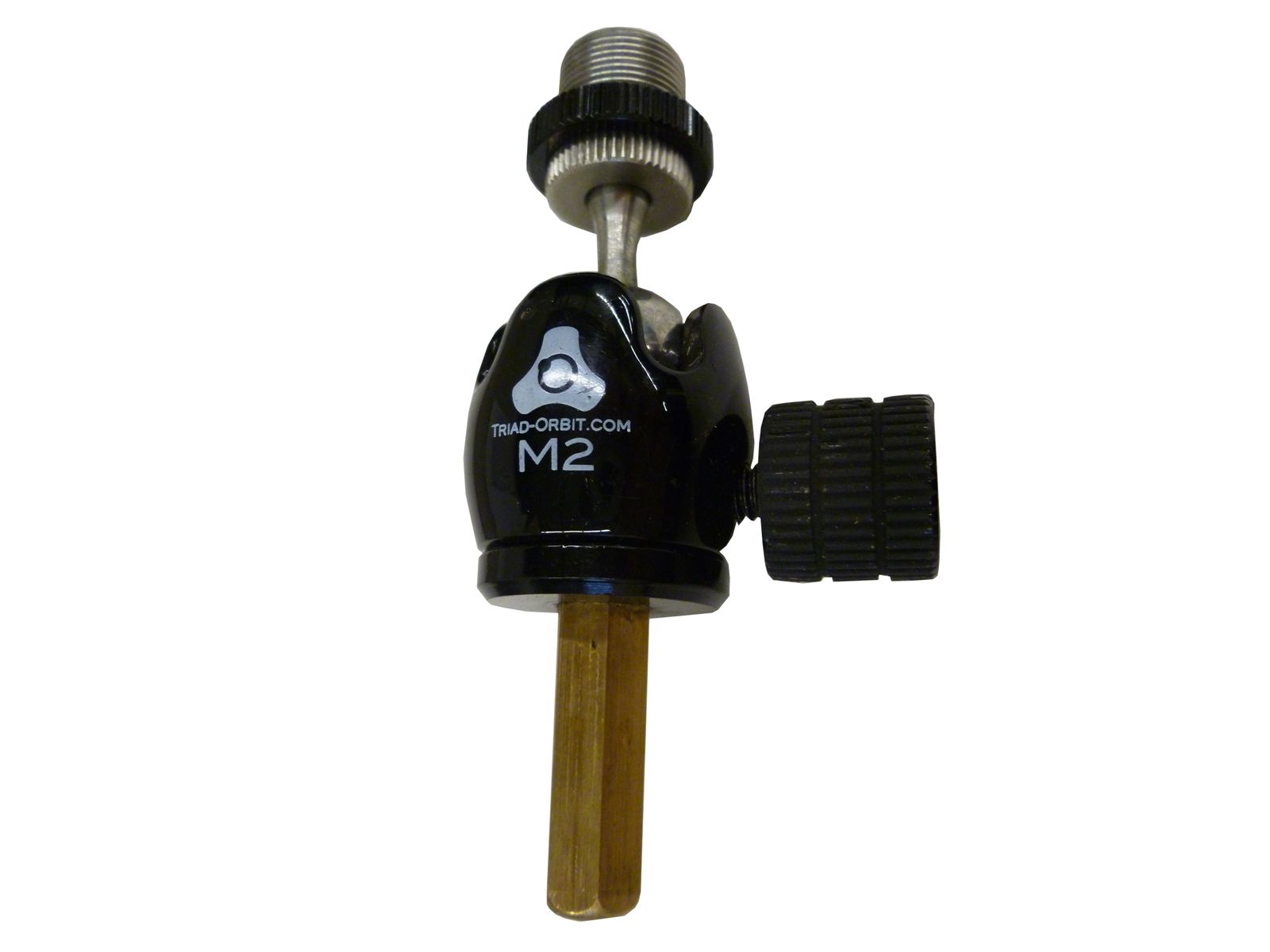 Triad-Orbit Micro M2 Orbital Mic Adapter
The Triad-Orbit Micro M2 orbital mic adapter features the exclusive Compass Point ball swivel housing that solidly secures mics, cameras, and lights in positive for precise directionality; purpose-built to reduce setup time, IO-equipped for quick-change compatibility with Triad-Orbit mic stands, booms and IO-R couplers.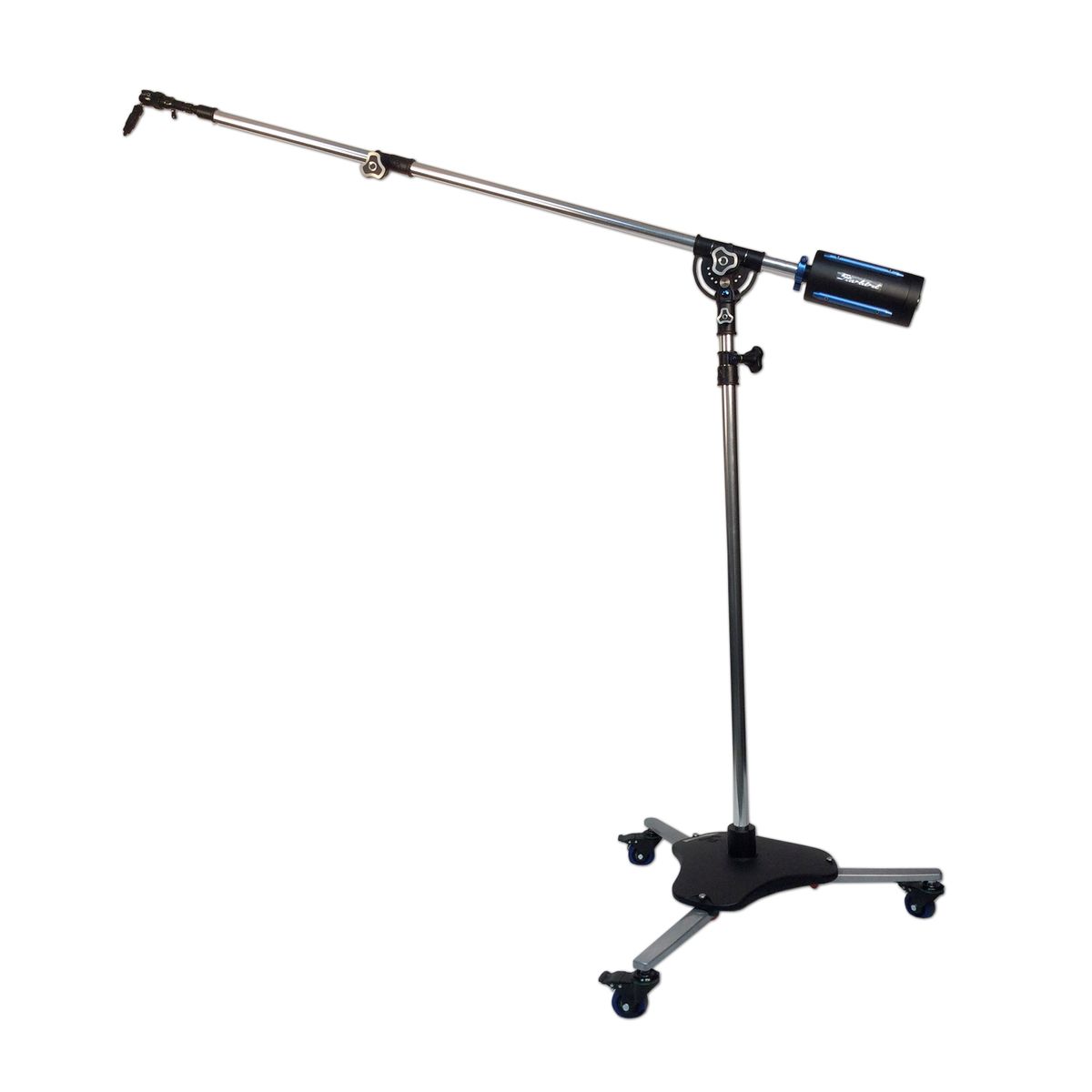 TRIAD-ORBIT STARBIRD SB-1 BOOM STAND
The Triad-Orbit Starbird SB-1 Boom Stand is a large microphone boom stand that uses a pneumatic system to effortlessly raise the height from 63 inches to a maximum 102 inches; the boom arm extends from 55 inches to a maximum of 98 inches. Learn more about the Starbird SB-1 here.
TRIAD-ORBIT 2/O2 DUAL ARM ORBITAL BOOM
The Triad Orbit 2/O2 Dual-Arm Orbital Boom does the work of two mic stands and is designed for stereo or dual miking applications – featuring a unique center swivel that provides additional 145° of left and right motion for both boom arms – it also presents an ideal A/V and Social Media solution for holding cameras, lights and microphones, especially in limited spaces.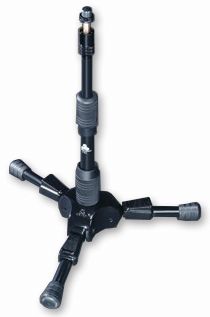 TRIAD-ORBIT Triad Mini Tripod
From Triad-Orbit, the Triad Mini Tripod is perfect for kick drums, combo amps and where a low profile and small footprint stand is needed.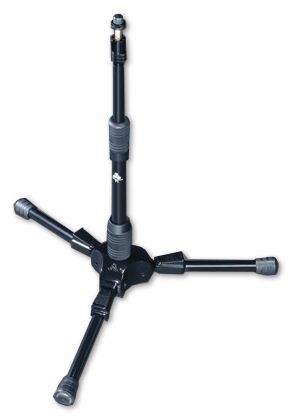 Triad-Orbit Triad T1 Mic Stand
The Triad-Orbit Triad T1 is an articulating tripod mic stand that is perfect for floor toms, orchestral setups, seated musicians. Comes with the IO Quick-Change Coupler that is standard equipment on all Triad Stands. (19.25" - 29.5", 9.5 lbs)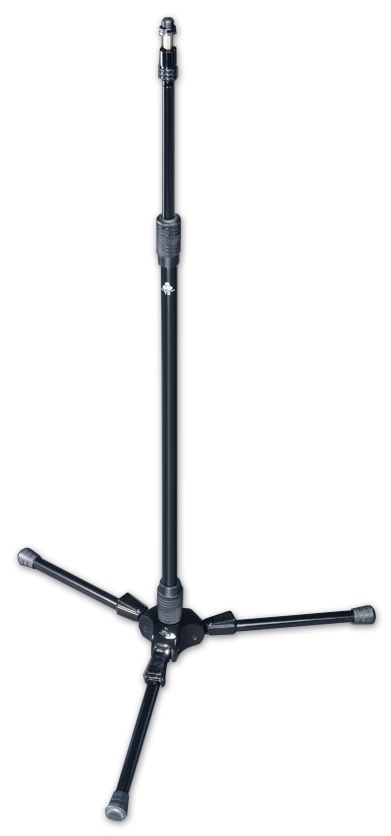 Triad-Orbit Triad T2 Mic Stand
The Triad-Orbit T2 is a "front line" tripod mic stand, featuring the unique ratcheting mechanism of the articulating legs. Features the IO Quick-Change Coupler -- standard equipment on all Triad Stands. (35" x 71", 12.25 lbs)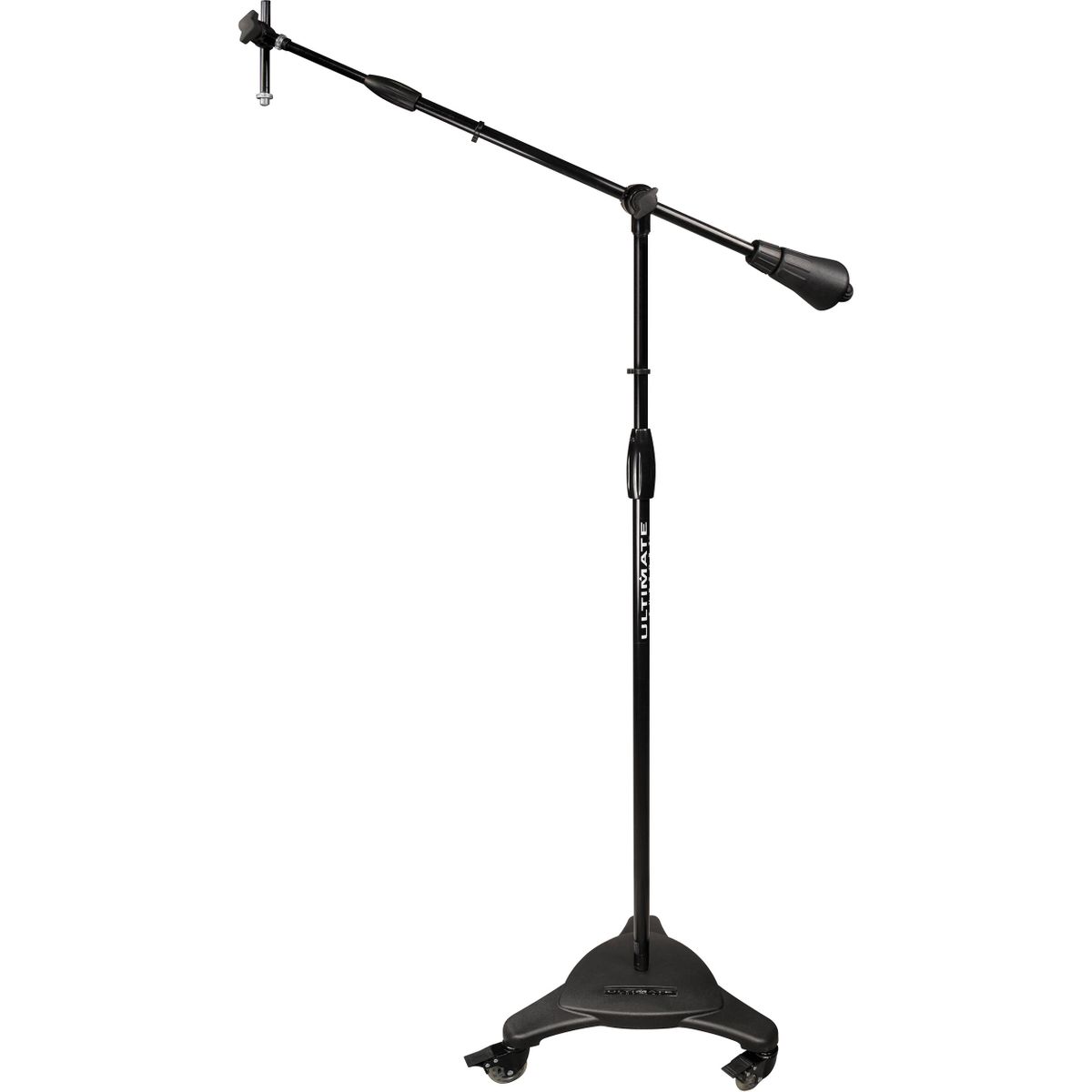 Ultimate Support MC-125 Studio Boom Stand
The MC-125's larger-diameter base and locking, rollerblade-style wheels provide a low center of gravity and extra stability. Height from 51.5"-82.75". Long boom telescopes from 35"-61". Also includes a unique, easy-adjust 5.75-lb. counterweight.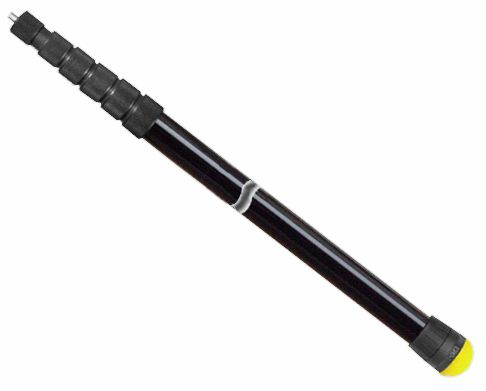 Van den Bergh VDBLCC Boompole
20 FT boom pole w/ coiled cable
CALIFORNIA PROPOSITION 65 -