Rentals - SPEAKERS
Hollywood Sound Systems has one of the largest pro audio rental selections in the Los Angeles region — including new and vintage audio equipment, microphones, PA and monitor systems, mixers, and so much more. Our online list reflects only a part of our full inventory — if there's a product you would like that isn't listed here, call us. Our rental agents are ready to assist you!
Weekly and monthly rates are available. You'll find information about the LES F. HARRISON MICROPHONE COLLECTION of rare and interesting mics here.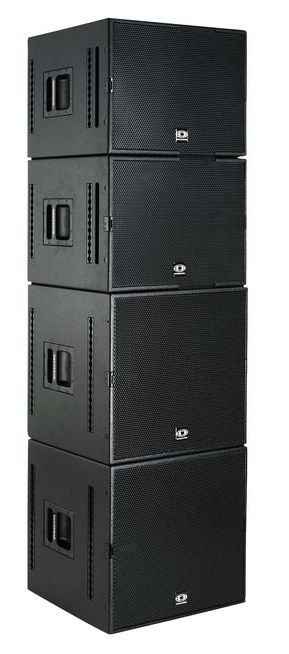 DYNACORD COBRA-2 LOUDSPEAKER SYSTEM
The Dynacord Cobra-2 9600 watt stereo stackable line array system includes speakers, amps, and cable; 120° x 14°.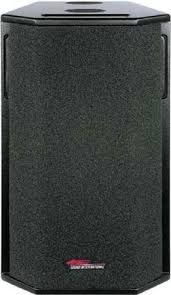 APOGEE AE-5 PA SPEAKER SYSTEM
The Apogee AE-5 Loudspeaker System is a two-way bi-amped fully arrayable 12" loudspeaker system – considered the flagship unit of the Apogee line of speakers – featuring 125dB SPL, trapezoid design, and 90°H x 45°V.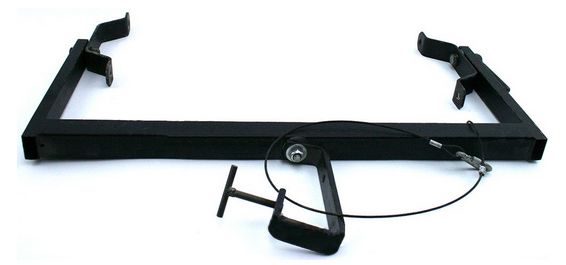 APOGEE AE-5 YOKE ASSEMBLY
The Apogee two-piece yoke assembly is the exclusive rigging hardware for the Apogee AE-5 two-way bi-amped loudspeaker and is designed to allow simple or complex arrays to be quickly and simply configured.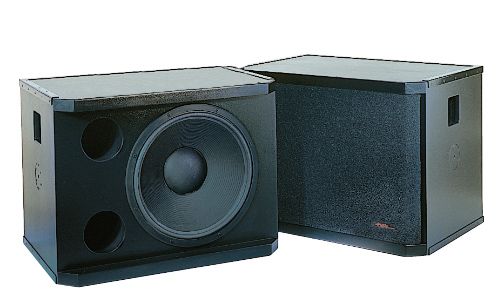 Apogee AE-SB Compact Subwoofer System
The AE-SB is a compact 18" subwoofer system with 125 dB SPL and 131 dB peak and is designed as a companion to the full-line of Apogee AE loudspeaker systems.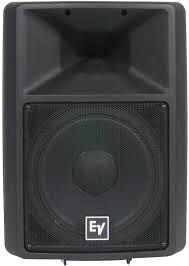 ELECTRO-VOICE SX300 PASSIVE PA SPEAKER SYSTEM
The Electro-Voice (EV) SX300 is a lightweight yet high-powered 300-W 12" compact passive speaker system with 100dB SPL, trapezoid, 65°H x 65°V and tripod or fly points.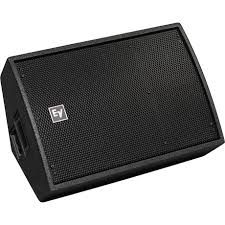 ELECTRO-VOICE XW15 FLOOR MONITOR
The Electro-Voice Xw15 X-Array Floor Monitor is the EVX-155 woofer with increased LF output and low distortion featuring Neutrik Speakon paralleled pass-through connectors on both ends of enclosure and allowing 110dB SPL, 80°H x 55°V.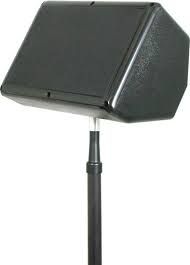 GALAXY AUDIO HOT SPOT MONITOR
Galaxy Audio's lightweight Hot Spot Personal Monitor is well-known for its small footprint on stages and for performances where it is desirable to bring the monitor closer to the performer. The Hot Spot monitor features mid/high range frequency tailoring, 1/4" parallel input, 100-watt capacity, and a built in stand mount; 16Ω or 32Ω.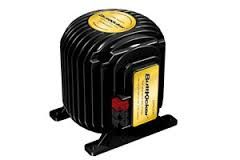 GUITAMMER BUTTKICKER CONCERT
The Guitammer Buttkicker is a 2 ohm low frequency transducer especially designed to provide low end response for stage and studio monitoring. The Buttkicker mounts to a drummers throne or a plate that the bassist stands on and provides body shaking low frequency energy that is absent with in-ear monitors.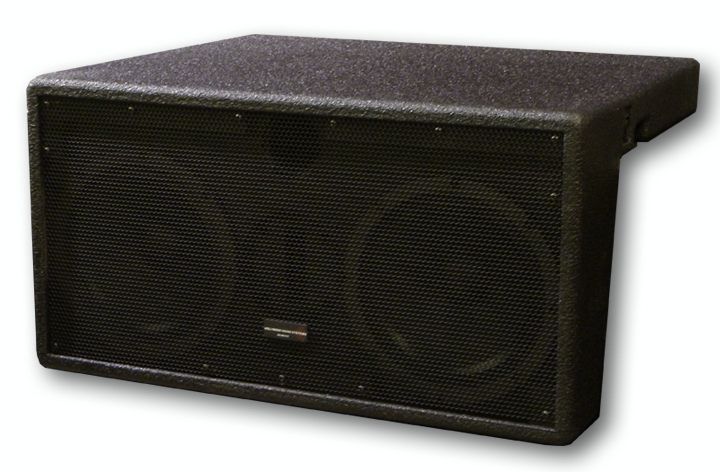 JENKINS FS280SL MONITOR SPEAKER
The cantilevered Jenkins FS280SL monitor speaker – from Bill Jenkins Sound – is a front-of-stage 2-way fill speaker that sits nearly flush to the deck with a pass-through slot for mic cables; 120° x 40° pattern.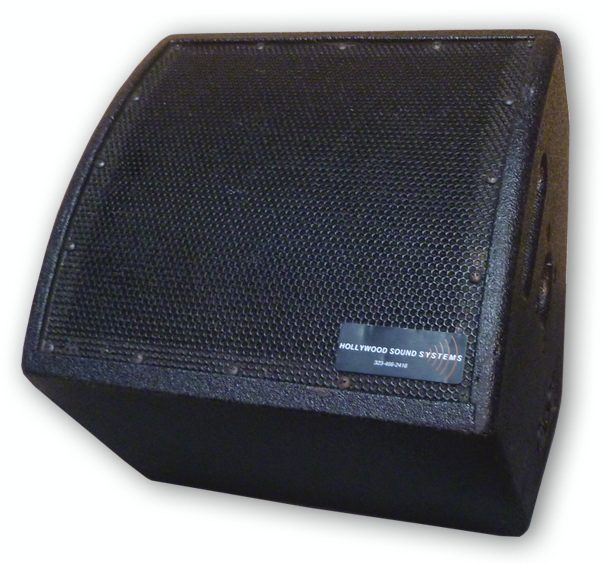 JENKINS X8 MONITOR SPEAKER
The 100db SPL Jenkins X8 low profile wedge monitor speaker that can be hung from a yoke, clamp, or stand-mounted; 70°H x 70°V.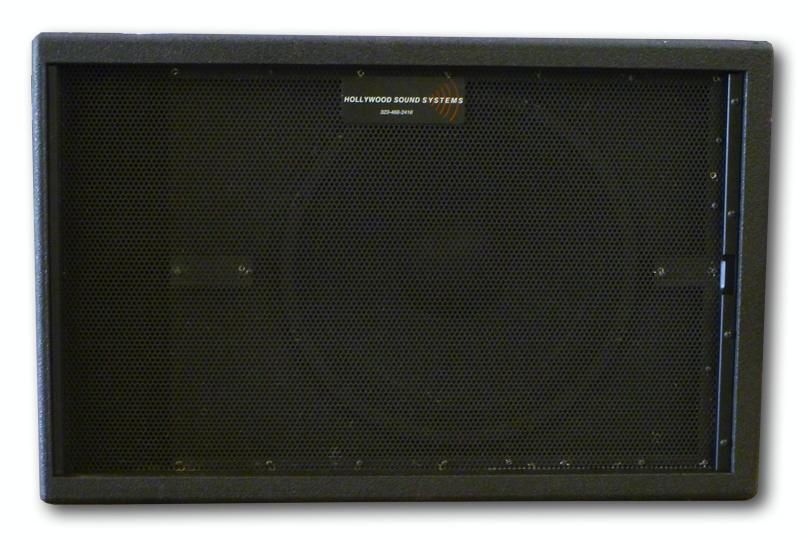 JENKINS NS2111 MONITOR SPEAKER
The well-known Jenkins NS2111 single 21" subwoofer from Bill Jenkins Sound enjoys "cult" status among hip-hop artists in the studio.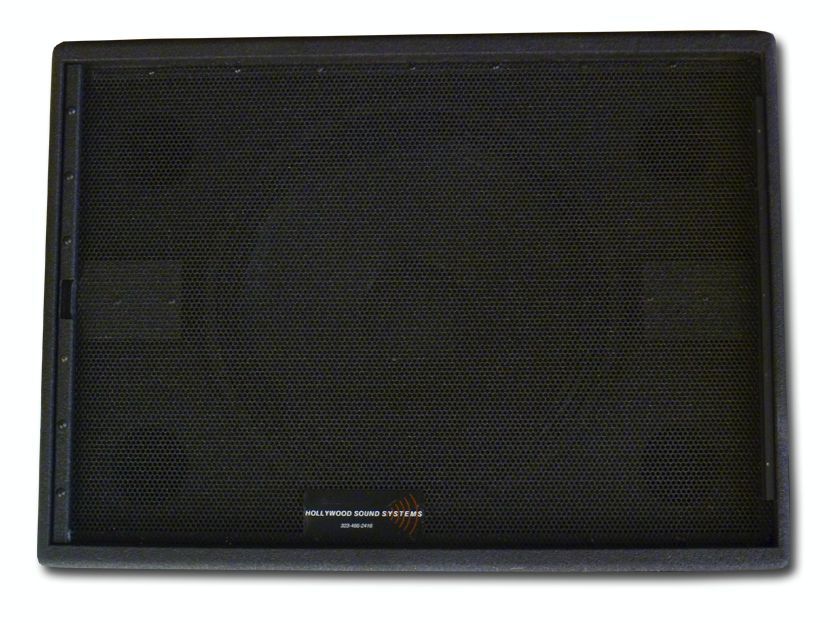 JENKINS NS1812 STUDIO SUBWOOFER
The Jenkins NS1812 single 18" studio subwoofer provides exceptional sound performance specifically designed to handle modern recording trends making it extremely popular with hip-hop artists in the studio.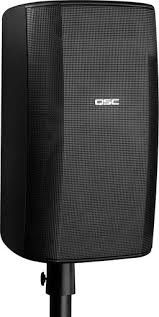 QSC I-82H PASSIVE P. A. SPEAKER SYSTEM
The QSC I-82H Passive P.A. Speaker System is a compact full-range 2-way monitor speaker system that is ideal for a wide range of applications and delivers focused sound regardless of its orientation - with features including 113dB SPL, 8" woofer / 1" comp driver, pole cup and mic stand adapters for mounting options.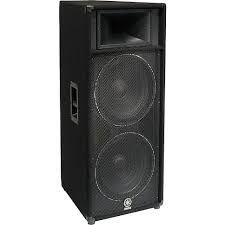 YAMAHA S215IV MONITOR SPEAKER SYSTEM
The Yamaha S215IV Monitor Speaker System provides the professional features expected from the Yamaha Club Series line with a dual 15" 2-way system, cast frame woofers, 2000 watts peak power handling, and 132dB SPL.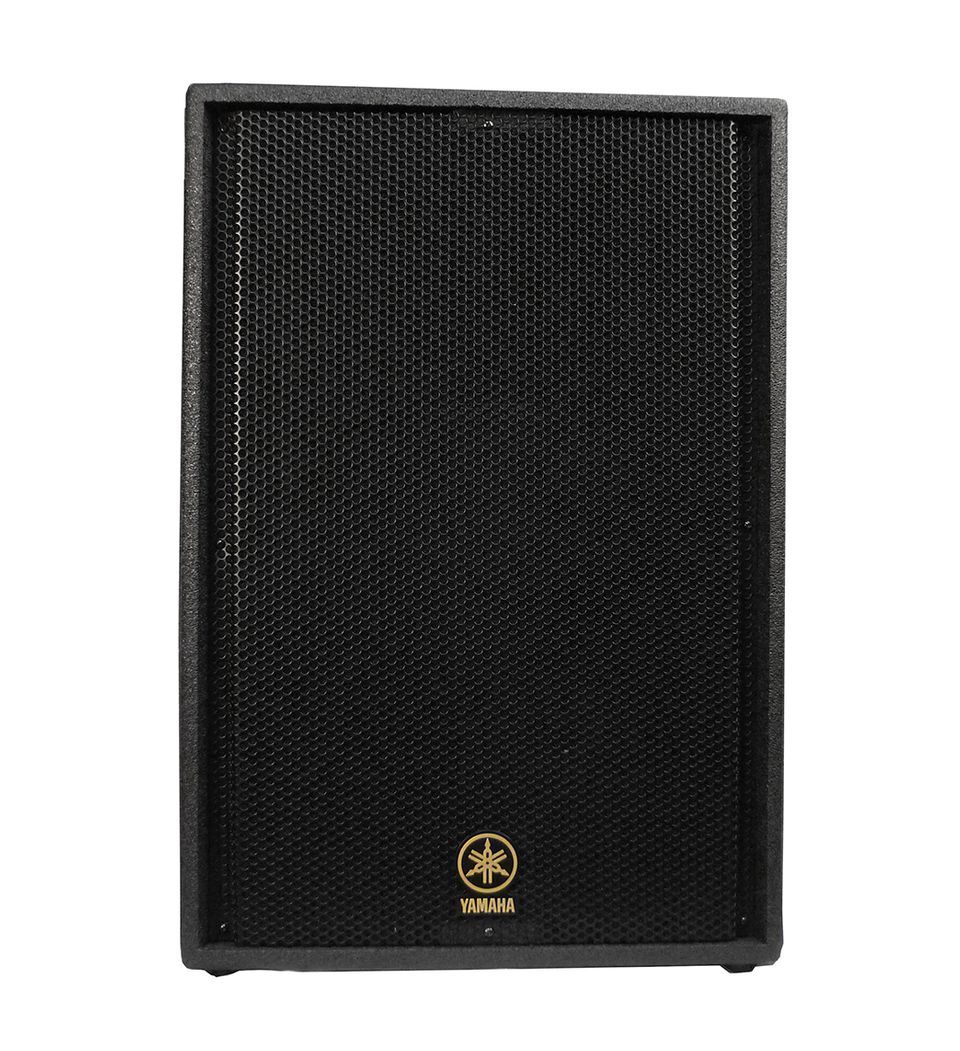 YAMAHA C115V 15" 2-Way Club Concert Series Speaker
The Yamaha C115V 15" 2-Way Club Concert Series Speaker delivers great house sound. The 2-way enclosure features a cast-frame 15" driver and 2" tweeter. Frequency response: (-10dB) 55Hz - 16kHz. 500W program handling, 1,000W peak. Connections are dual Neutrik Speakon and 1/4" jacks.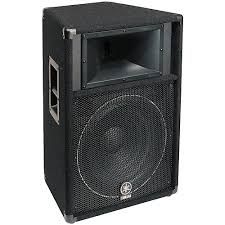 YAMAHA S115IV MONITOR SPEAKER
The Yamaha S115IV 2-way trapezoid 15" speaker delivers big house sound with improved low-frequency performance and 500 watt program handling; 129dB SPL, 15" woofer, 2" compression driver.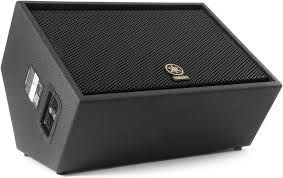 YAMAHA CM12V MONITOR SPEAKER
The Yamaha CM12V 2-way 12" passive floor speaker provides reliable stage monitoring with a 2" voice coil driver, dual speakon, and 1/4" connectors; 129dB SPL.
POWERED PA / MONITOR SPEAKERS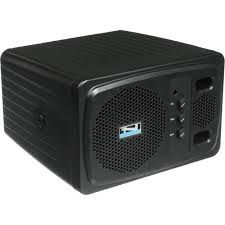 ANCHOR AN-1000X SPEAKER MONITOR
The Anchor AN-1000X portable powered speaker monitor features input and output options for easy adaptability to a variety of applications including classroom and lecture use, hospitality and presentation venues, and more.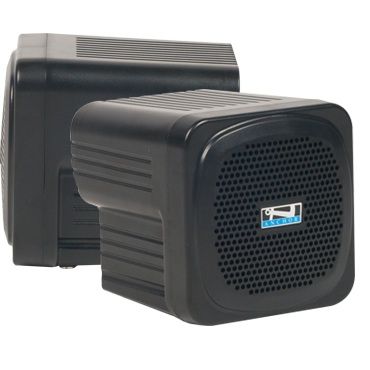 ANCHOR AUDIO AN-MINI / MINIVOX LITE PA SYSTEM
The compact and lightweight Anchor Audio AN-Mini / MiniVox Lite portable PA system provides powerful and perfect voice amplification and music both indoors and outdoors.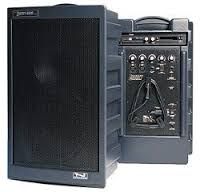 ANCHOR AUDIO LIBERTY MPB-4500 PORTABLE SOUND SYSTEM
The Anchor Audio Liberty MPB-4500 Portable PA System is designed to provide powerful sound with the versatility to handle full-range music or voice projection making it one of the most popular sound systems available.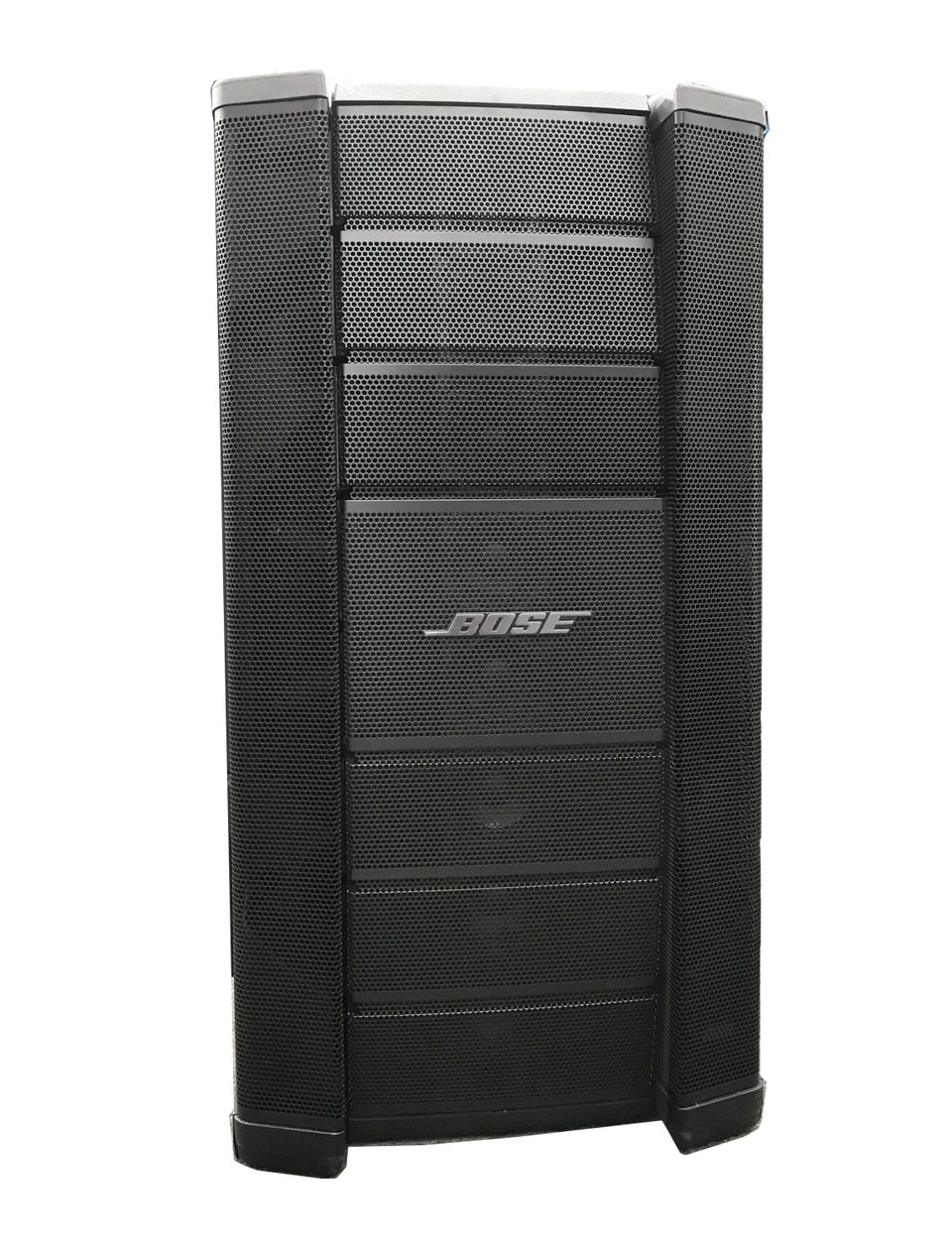 BOSE F1 MODEL 812 LOUDSPEAKER
The Bose F1 Model 812 Loudspeaker from Bose Professional is a 1000-watt full-range adjustable array loudspeaker with a unique design that allows 4 different coverage patterns by pushing or pulling the top and bottom of the flexible baffle – the system then automatically updates the EQ to maintain optimum tonal balance for each coverage pattern. Pairing the Model 812 Loudspeaker with the F1 Subwoofer – in a mounting stand that is integrated into the body of the Subwoofer – creates the easily transportable Bose F1 Portable PA System – (see next rental entry and read more about the F1 Portable System here).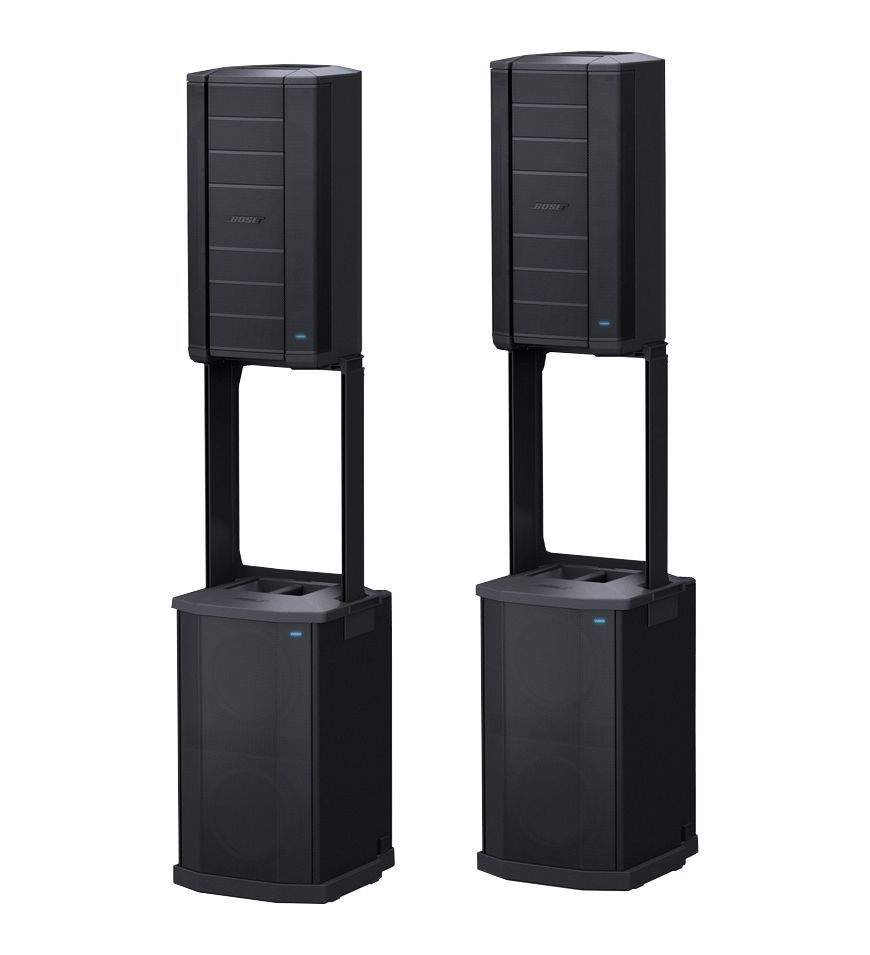 Bose F1 Flexible Array Loudspeaker System
The Bose F1 Flexible Array Loudspeaker System offers the accuracy and power of a large line array in a compact package — featuring the Bose F1 Model 812 flexible-array loudspeaker and the Bose F1 subwoofer — with a built-in bracket system — perfect for a variety of events and venues including DJs performances, bands, clubs, theaters, and more; for rent as a pair. Learn more about the Bose F1 System here.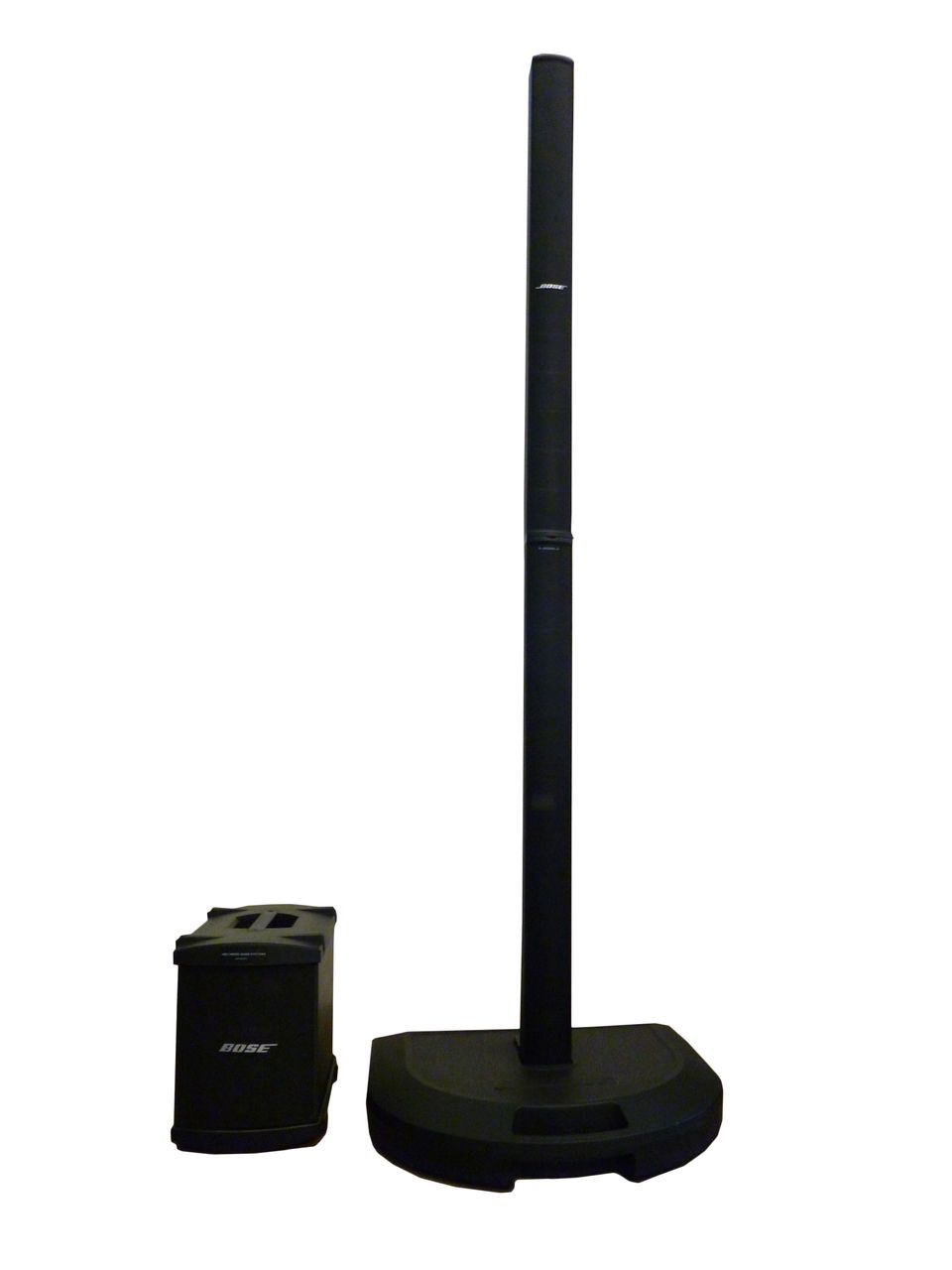 BOSE L1 MODEL 1 COMPACT PORTABLE PA LOUDSPEAKER
The Bose L1 Compact Portable PA System features a two-piece, interlocking design for quick and easy transport, setup and breakdown; the stand houses the amplifier and a 4 channel mixer. The B1 Bass module produces deep, strong bass for keyboards, kick drum, bass guitar, and other instruments.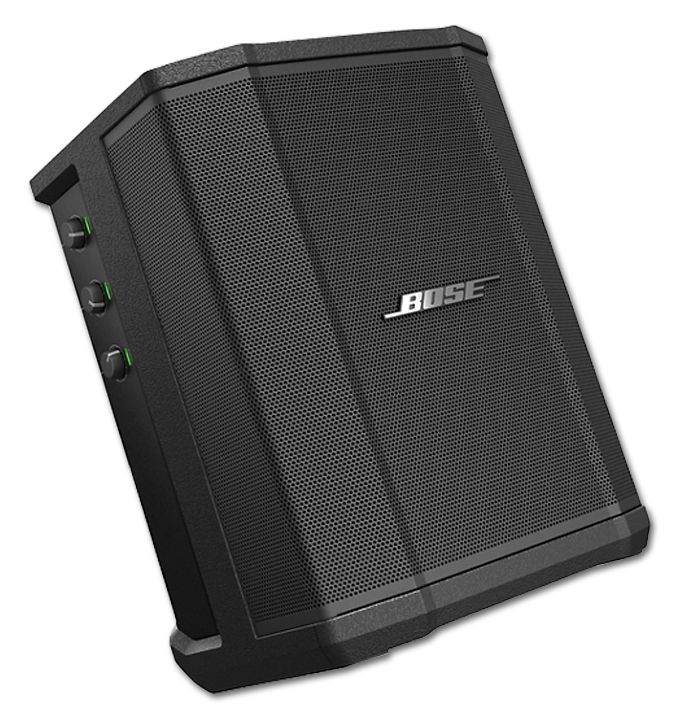 BOSE S1 PRO MULTI-POSITION POWERED PA SYSTEM
The lightweight (15 lbs) BOSE S1 PRO MULTI-POSITION POWERED PA SYSTEM features 2 channels with independent EQ, reverb, and balanced line output — a rechargeable battery for hours of portable playback, ToneMatch technology for one-touch vocal and acoustic guitar presets, Auto EQ, and aux input or Bluetooth streaming; pole mountable.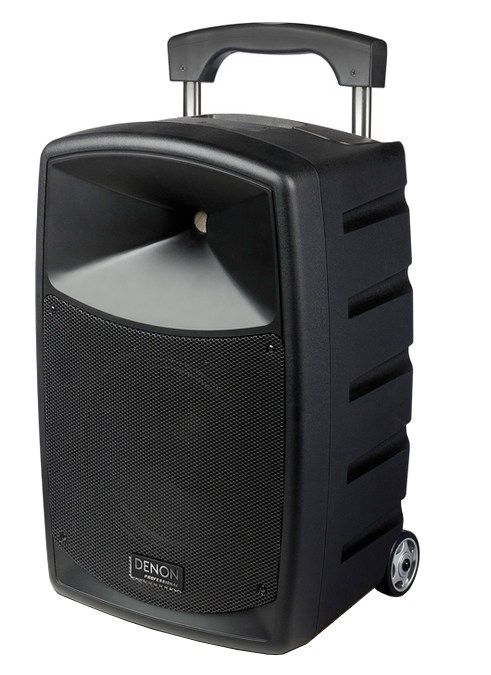 Denon Envoi Portable Speaker System
The Denon Envoi Portable Speaker System is a compact and easily transportable AC or battery powered PA system that features a built in UHF wireless system with hand mic, SD card reader, MP3 players (USB), and Bluetooth; has retractable handle and wheels. Check out our Denon Envoi Quick Start Guide & PDF page!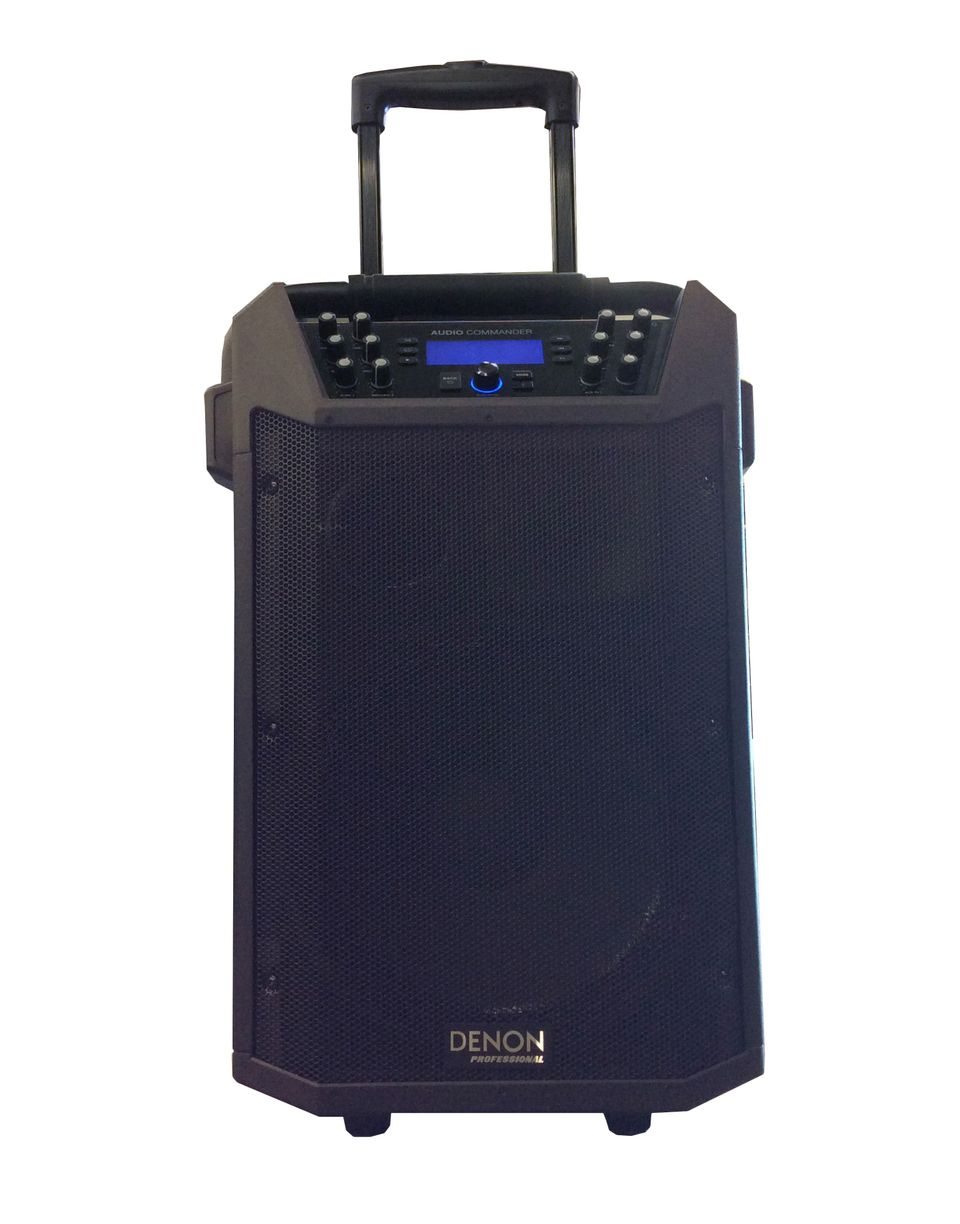 DENON Pro Audio Commander Portable PA System
The DENON Pro Audio Commander Portable PA System is an all-in-one compact PA System that operates on an internal rechargeable battery or AC — and features 2 UHF wireless microphones — one handheld and one headset — and the ability to play audio from Bluetooth-enabled devices, USB, and SD media; a luggage handle and wheels allow easy transport and quick set-up.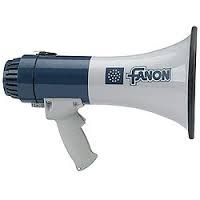 FANON MV-10 POWER MEGAPHONE
The Fanon MV-10 Power Megaphone has a built-in alarm and foghorn signal and features a solid-state built in microphone with a 600 yard range, variable volume control, and is weatherproof.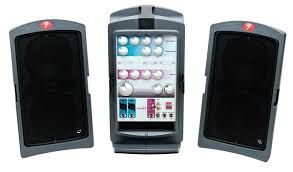 FENDER PASSPORT 150 PRO PORTABLE PA SYSTEM
The Fender Passport 150 Pro Portable PA System features an extra stereo channel and improved speaker voicing and is ideal for a variety of applications and presentations – with 4 Channels (2 mic/line, 2 stereo), reverb, 2 speakers, stands and speaker cable.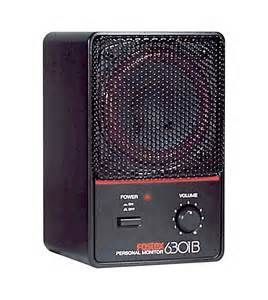 FOSTEX 6301B PERSONAL MONITOR SPEAKER
The Fostex 6301B Personal Monitor Self-Powered Speaker handles a wide variety of applications with a built-in 10 watt amplifier delivering big sound that is full of clarity in a small and versatile unit.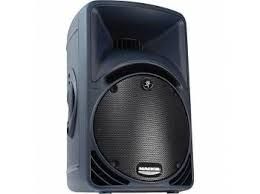 MACKIE SRM450 V2 ACTIVE PA LOUDSPEAKER
The Mackie SRM450v2 Active 2-Way Loudspeaker offers studio-quality active sound from a reinforcement speaker with a design that includes a 12" neodymium woofer and 3" voice coil and drivers powered by a 300-watt Class-D low-frequency amplifier – it is lightweight, rugged, and road-worthy.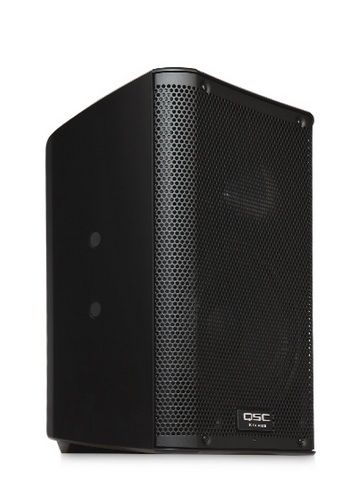 QSC K8 POWERED LOUDSPEAKER SYSTEM
The QSC K8 Active Loudspeaker is a popular exceptionally lightweight 1000-watt 2-way powered 8" loudspeaker system with mic/line inputs and line output – use as a wedge or pole mounted.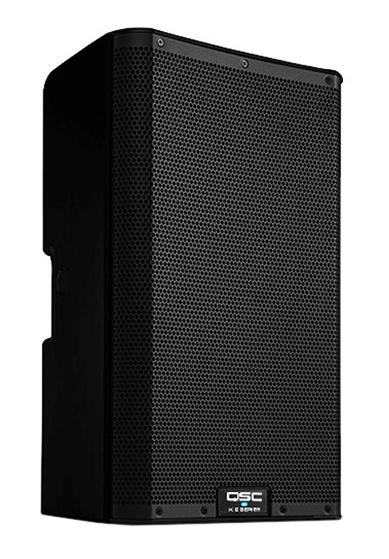 QSC K10.2 2000W POWERED SPEAKER SYSTEM
The QSC K10.2 is an active PA speaker system with 10" LF driver and 1.4" HF driver powered by a 2,000 watt lightweight Class D power module – with features such as Advanced DSP with 11 EQ presets, User-Adjustable Parameters, and Multi-function Digital Display – wedge, pole mount or flown.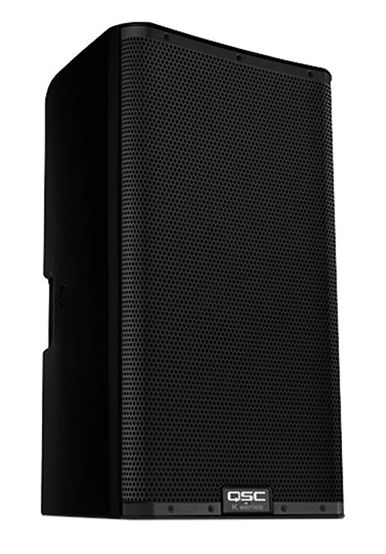 QSC K12.2 2000W POWERED SPEAKER SYSTEM
The QSC K12.2 Powered Speaker is QSC's well-known best-in-class active PA loudspeaker system with 12" LF driver and 1.4" HF driver powered by a 2,000W lightweight Class D power module – its features include Advanced DSP with 11 EQ presets, User-Adjustable Parameters, Multi-function Digital Display, and may be used as a wedge, pole mounted, or flown.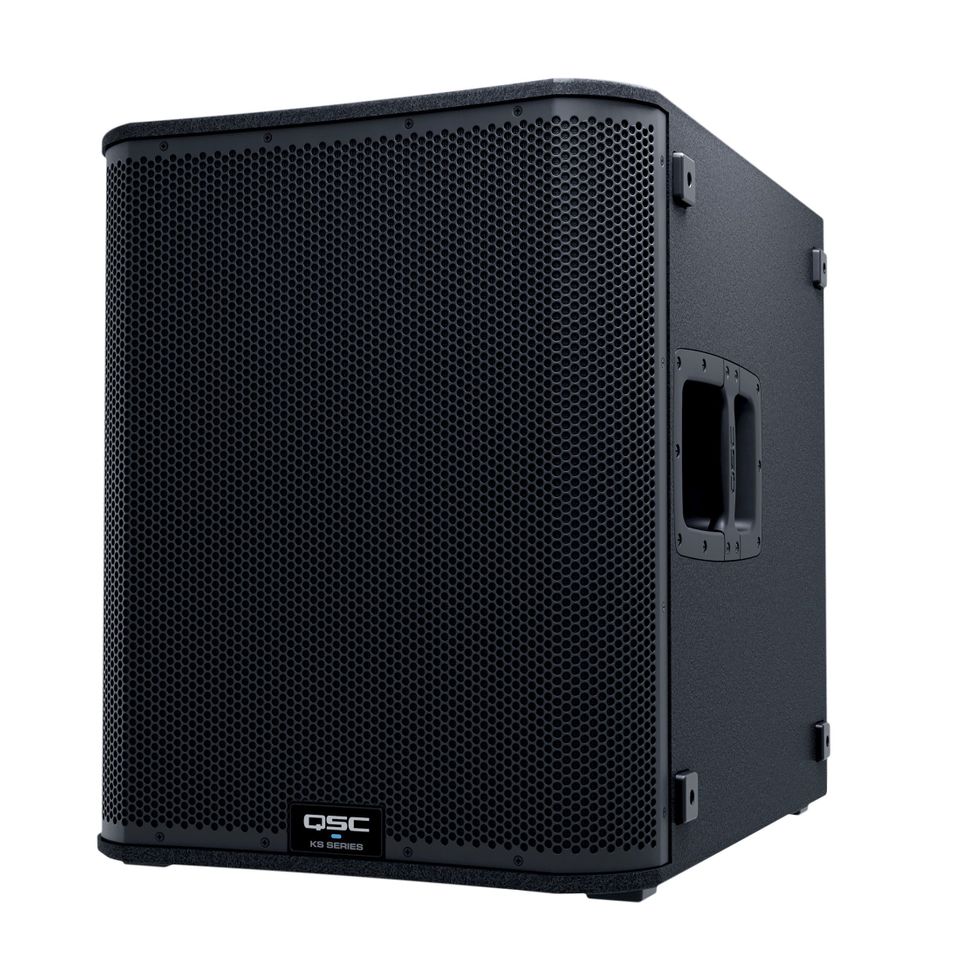 QSC KS118 18" Powered Subwoofer
The QSC KS118 Direct Radiating 18-inch Subwoofer features very high output with impressive low frequency performance – for AV production and clubs or entertainment venues; on-board DSP optimizes and protects system and offers advanced capabilities; highly transportable.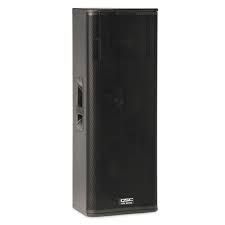 QSC KW153 ACTIVE LOUDSPEAKER
The QSC KW153 Active Loudspeaker is a powerful and portable 1000 watt 3-way self-powered PA speaker system with mic/line inputs and line outputs.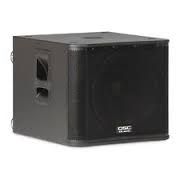 QSC KW181 ACTIVE SUBWOOFER
The QSC KW181 is a powerful and portable 1000 watt self-powered 18" subwoofer with mic/line inputs and line outputs.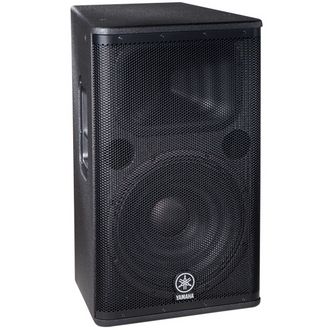 YAMAHA DSR115 ACTIVE LOUDSPEAKER
The Yamaha DSR115 2-way active 15" loudspeaker is fully loaded with 2 Class-D amplifiers and Yamaha's Dynamic-Contour processor and is able to deliver up to 1300W of power — performs as a main PA, is stand/pole mountable, or use M10 rigging points for suspended installation.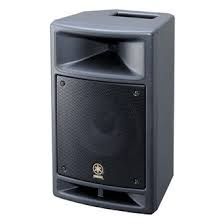 YAMAHA MSR100 POWERED SPEAKER SYSTEM
The Yamaha MSR100 2-way Powered Speaker System provides 100-watt sound reinforcement and stage monitor in one lightweight package with a built-in mixer and EQ — with a link-out jack to connect multiple units and a variety of mounting options.

YAMAHA STAGEPAS 1K Portable PA System
The Yamaha Stagepas 1K is an all-in-one 1000W professional level portable PA system with a 10 x 1.5" driver line array speaker and 12" subwoofer — featuring bluetooth input, high resolution SPX digital reverbs, 1 knob EQ and multi-band compressor "mode" for master output.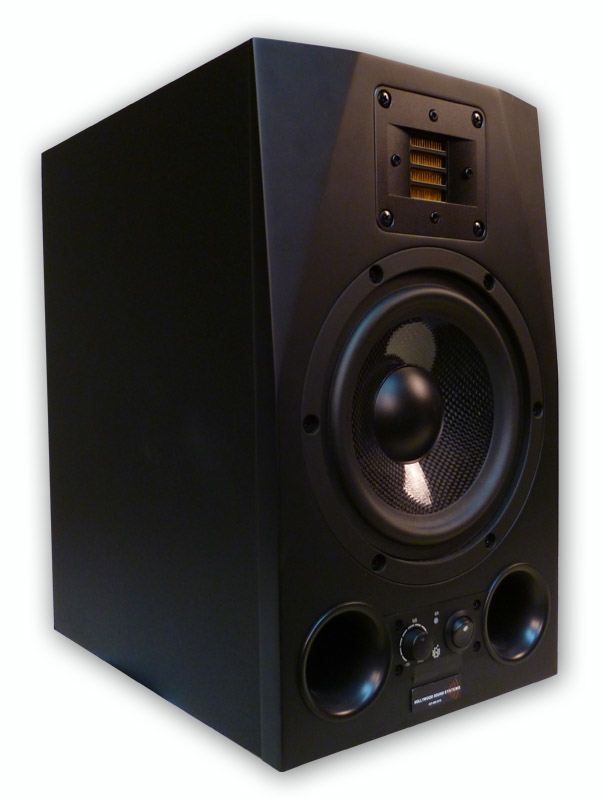 ADAM A7X MONITOR SPEAKER
The ADAM A7X self-powered 2-way near-field studio monitor speaker features X-ART Technology for outstanding clarity and state of the art input and filter sections to achieve the best in multi-channel active studio monitoring — a 150 watt biamplified design with XLR and RCA inputs.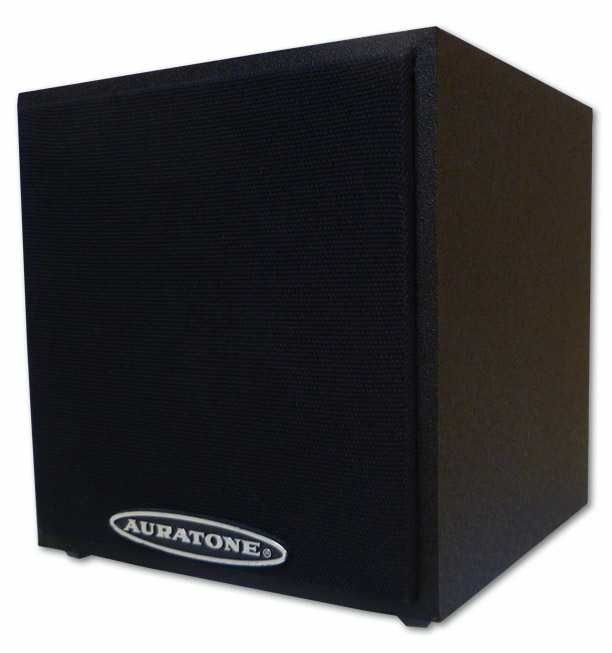 AURATONE 5C Super Sound Cube
The Auratone 5C Super Sound Cube features flat full-range response and superb power handling with convenient portability and is still the undisputed industry standard for in-studio real-world referencing, auditioning, remotes, and final mixes.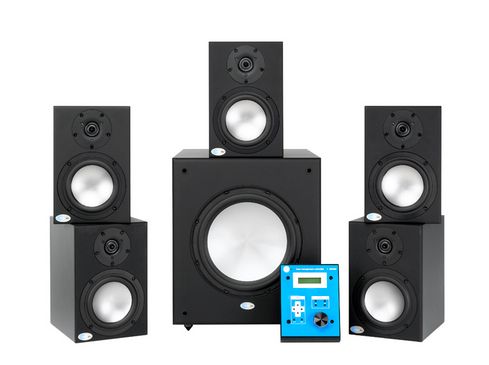 BLUE SKY SKY ONE STUDIO MONITOR
Blue Sky's Sky System One provides accurate full-range 5.1 self powered near-field monitoring — features bass management controller (BMC) and THX pm3® approved for THX pm3® certified studios with BOO™ technology.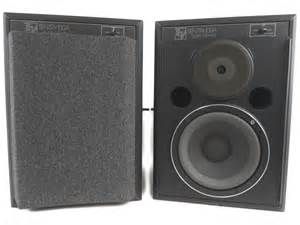 ELECTRO-VOICE SENTRY 100A MONITOR SPEAKER SYSTEM
The Electro-Voice Sentry 100A Near-Field Monitor Speaker System is designed for post production and live sound — featuring a Super-Dome™ tweeter capable of handling 25 watts of input power while faithfully reproducing the program material with uniform dispersion and response out to 18,000 Hz.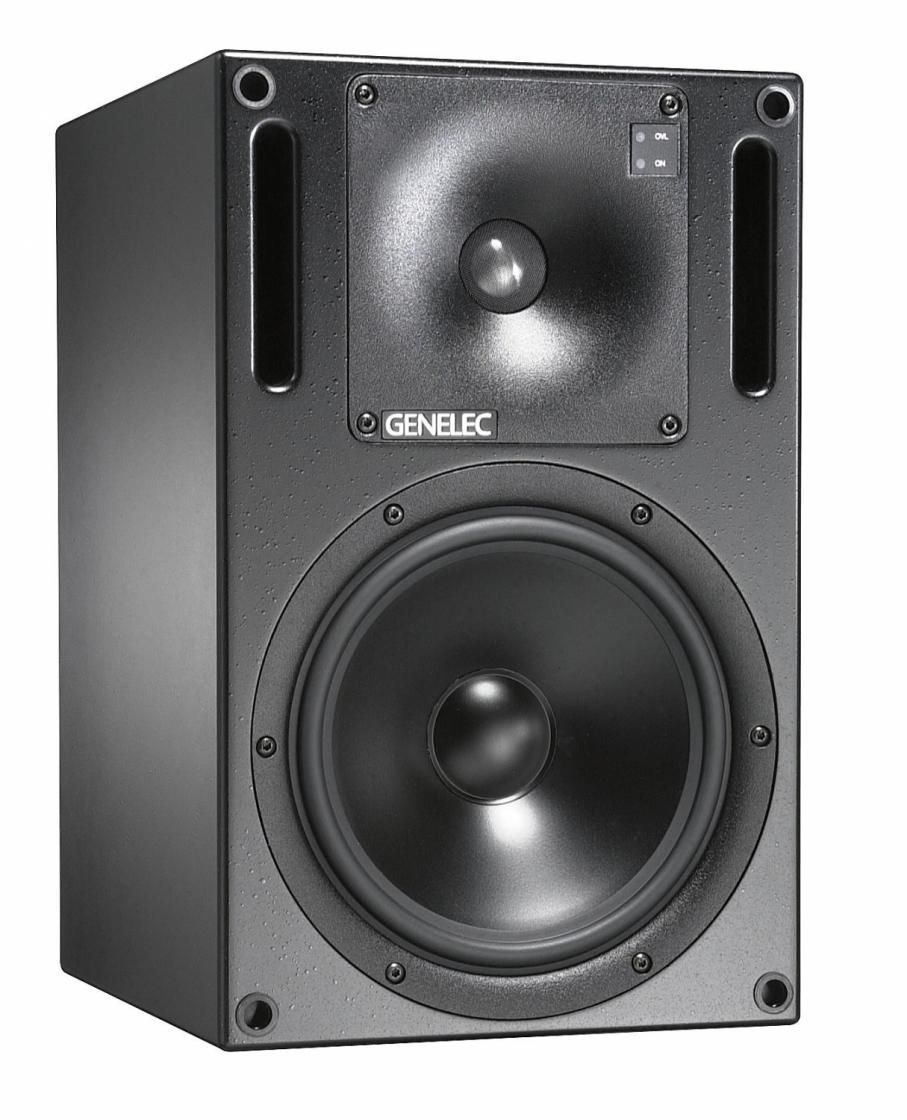 GENELEC 1031A STUDIO MONITOR
The award winning Genelec 1031A Studio Monitor is a 2-way active monitor system featuring DCW™ technology and used to provide excellent stereo imaging and frequency balance particularly in challenging acoustic environments — it's ideal for near-field monitoring, broadcast and TV control rooms, mobile vans, home studios.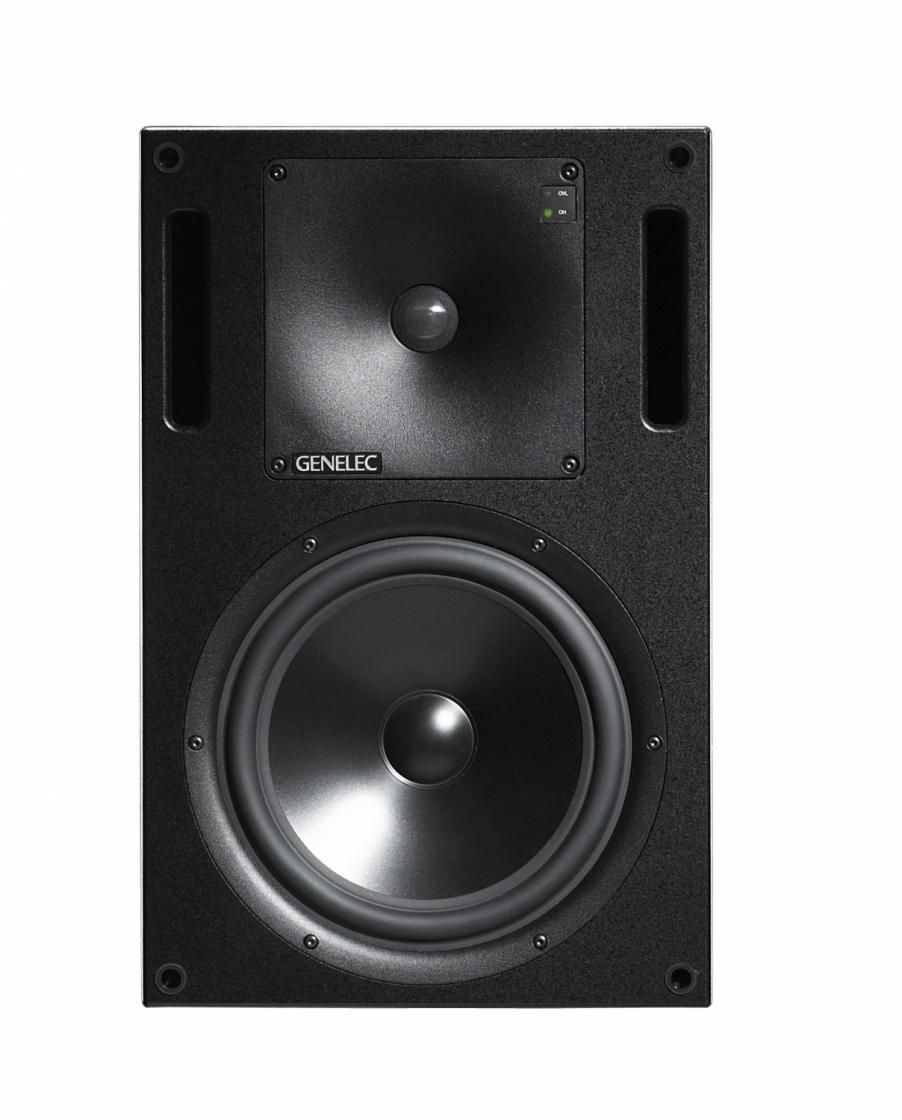 Genelec 1032A ACTIVE STUDIO MONITOR
The Genelec 1032A powerful 2-way active monitoring system is ideal for high power near-field monitoring and features excellent stereo imaging and frequency balance in difficult acoustic environments. (available at 5.1)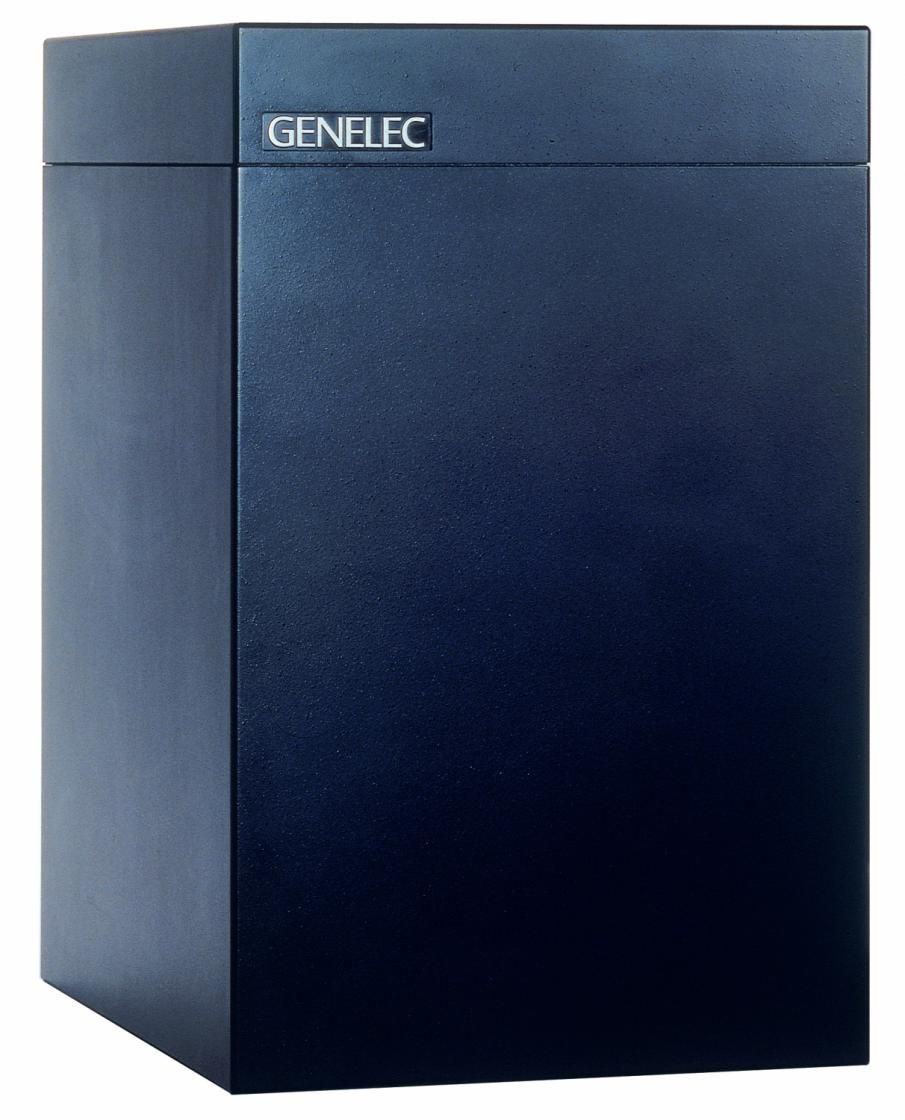 GENELEC 1094A ACTIVE SUBWOOFER SYSTEM
The Genelec 1094A Active Subwoofer is a compact system designed to reproduce frequencies of 29-80 Hz and offers features that allow great flexibility and easy connection to existing monitor systems — with adjustable sensitivity, bass roll-off, and phase matching control to tailor response to the environment.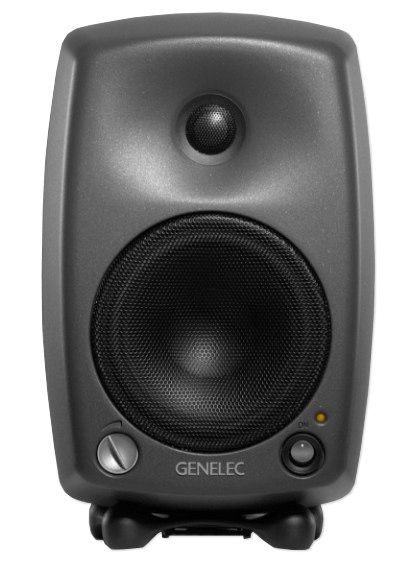 GENELEC 8130A DIGITAL MONITORING SYSTEM
The Genelec 8130A Digital Monitoring System has a 192 kHz/24 bit digital audio interface that allows you to input digital audio signals straight into the loudspeaker to precisely monitor the audio content — can be used with a subwoofer, surround audio systems, and as an analog loudspeaker — and is ideal for near-field monitoring.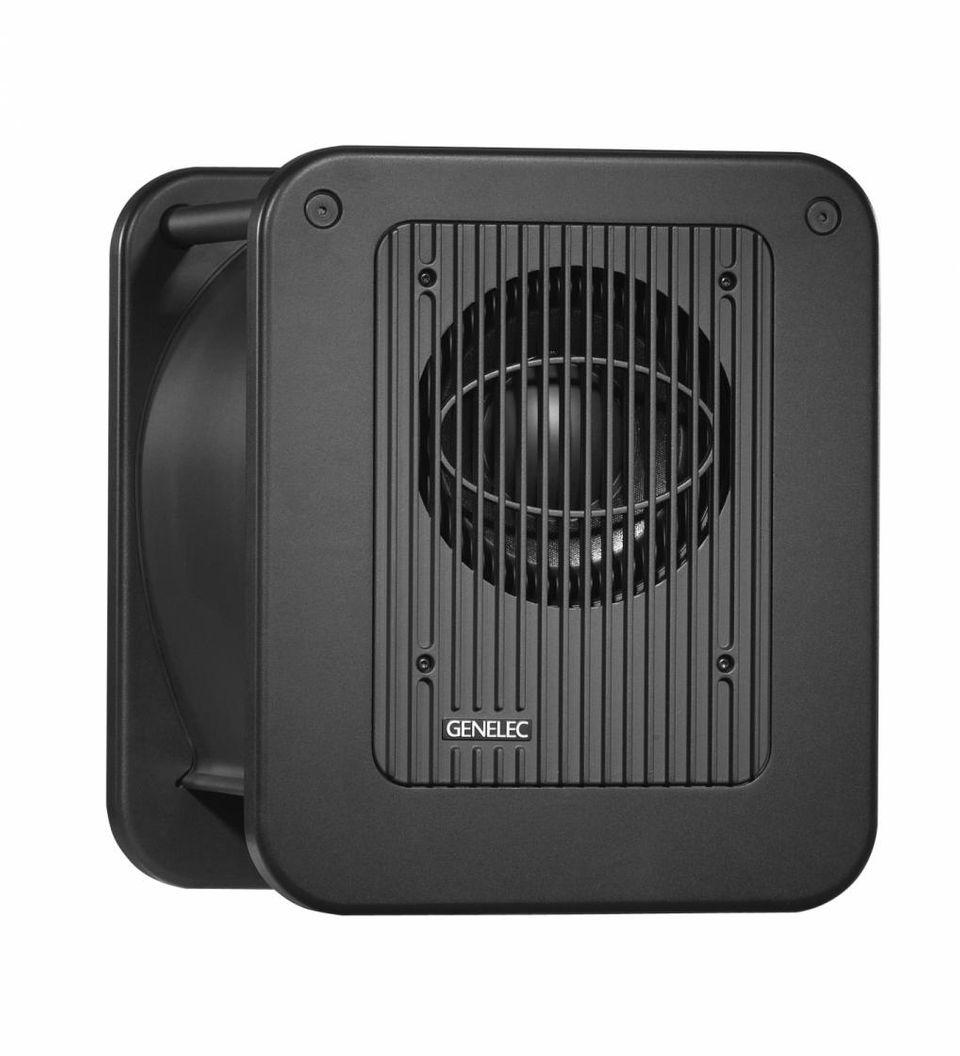 GENELEC 7050 ACTIVE SUBWOOFER
The Genelec 7050 Active Studio Subwoofer is a compact low frequency loudspeaker designed to extend the bass reproduction of active monitors in stereo applications — featuring LSE™ Power efficient port/enclosure design and minimal port turbulence noise.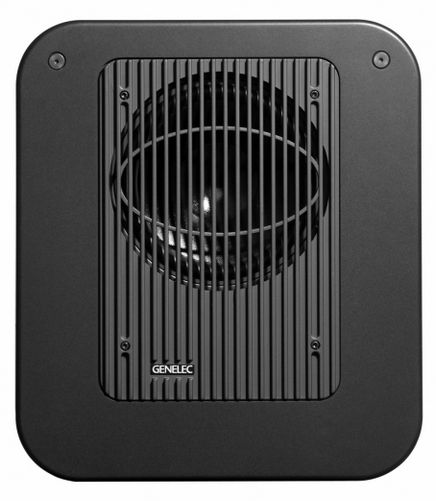 GENELEC SE7261A ACTIVE DSP SUBWOOFER
The Genelec SE7261A Self-powered Subwoofer features DSP technology that brings flexibility and accuracy of room response EQ to small production environments; 8 AES/EBU highpassed channels, GLM.SE software.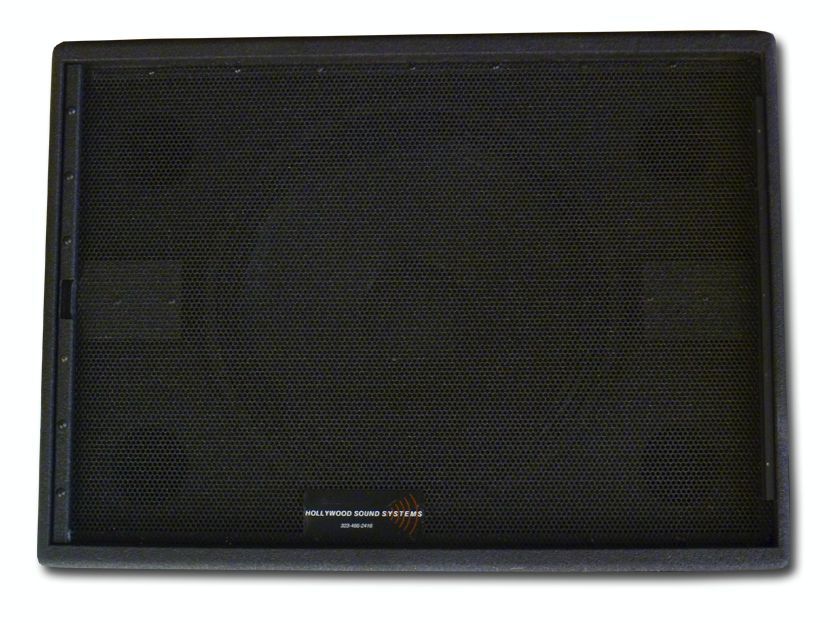 JENKINS NS1812 STUDIO SUBWOOFER
The Jenkins NS1812 single 18" studio subwoofer provides exceptional sound performance specifically designed to handle modern recording trends making it extremely popular with hip-hop artists in the studio.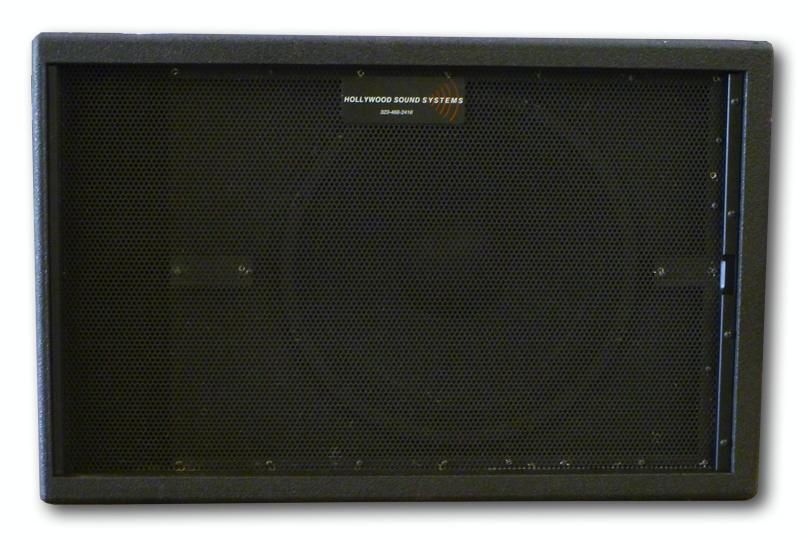 JENKINS NS-2111 SUBWOOFER
The Jenkins NS2111 single 21" subwoofer is designed to handle new recording trends and enjoys "cult" status among hip-hop artists in the studio.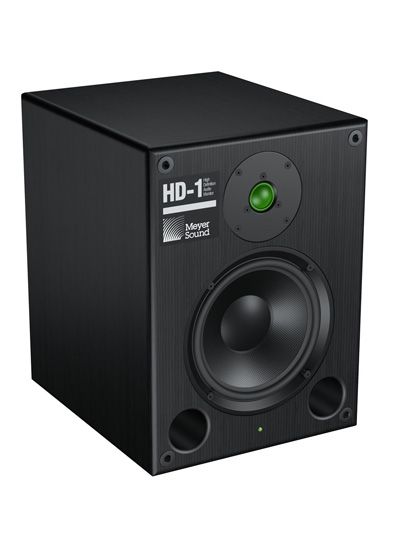 MEYER SOUND HD-1 HIGH DEFINITION AUDIO MONITOR
The Meyer Sound HD-1 High Definition Audio Monitor is a self-powered loudspeaker designed for ultra-precise near-field monitoring with exceptionally broad directivity and a generous "sweet spot" – features flat low-frequency response to 32 Hz without subwoofers, available as 5.1.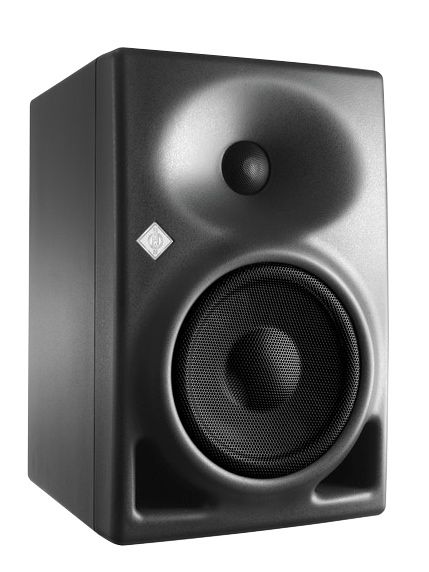 NEUMANN KH120 A ACTIVE STUDIO MONITOR
The Neumann KH120 A Active Studio Monitor is designed for use as a near-field loudspeaker or as a rear loudspeaker in larger multi-channel systems.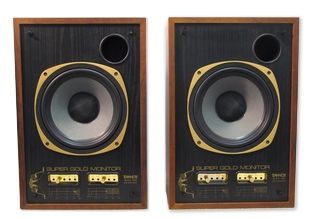 TANNOY SGM-10B REFERENCE STUDIO MONITORS
The Tannoy SGM-10B 10" Super Gold Reference Studio Monitor offers unique features like the waveguide high frequency unit and the mastering lab crossover design which allows higher amplifier powers to be used with wide dynamic range material.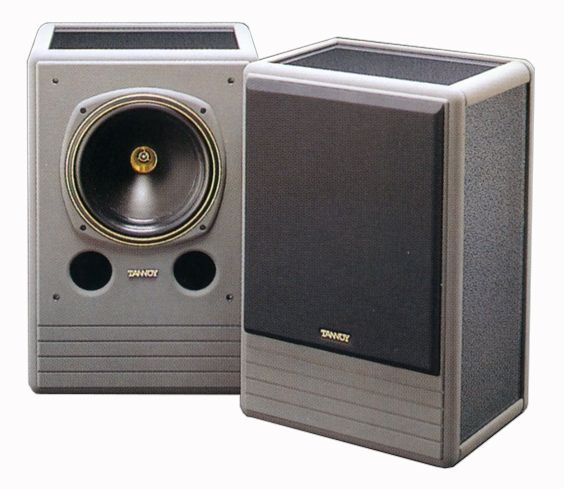 TANNOY SYSTEM 10 DMT STUDIO MONITOR
The Tannoy System 10 Studio Monitor Speakers handle up to 250 watts peak with a frequency response of 46Hz-25kHz.

ULTIMATE SUPPORT STUDIO MONITOR STAND
The Ultimate Support Studio Monitor Stand is a column monitor stand featuring cabinet quality top plates and cable management from top to bottom with the ability to add shot or sand internally and available in various sizes.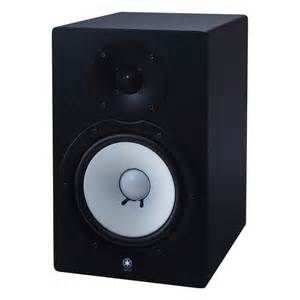 YAMAHA HS80 POWERED STUDIO MONITOR
The Yamaha HS80M Powered Studio Monitor is a 2-way bass reflex bi-amplified near-field studio monitor that features an 8" cone woofer and 1" dome high-frequency unit and delivers exceptionally smooth response with dynamic capability over a wider frequency range; (available as 5.1).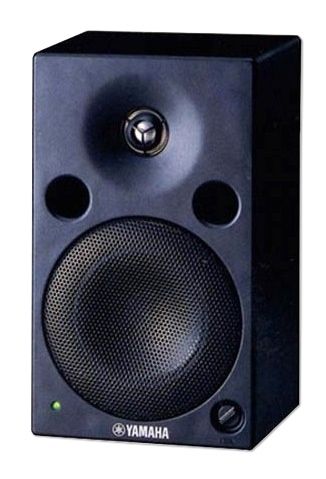 YAMAHA MSP5 ACTIVE STUDIO MONITOR
The Yamaha MSP5 Active Studio Monitor is a two-way professional quality bass-reflex bi-amplified nearfield studio monitor designed to handle any combination of digital and analog sources in stereo or surround formats – magnetically shielded and available as 5.1.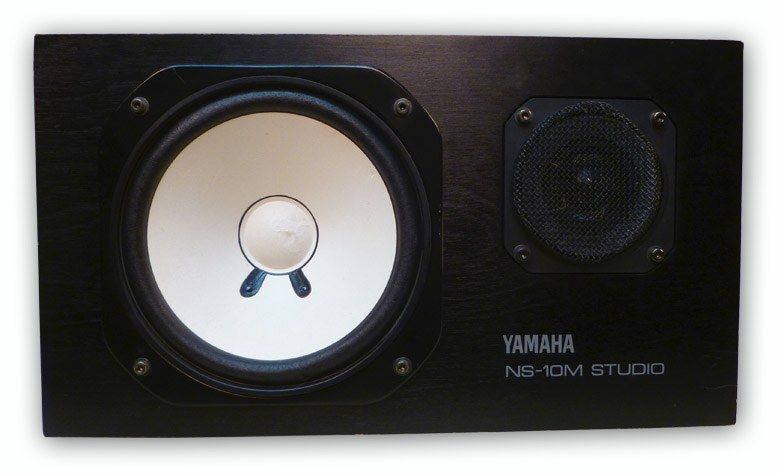 YAMAHA NS-10M STUDIO MONITOR SPEAKER
The Yamaha NS-10M Studio Monitor Speaker is designed specifically for nearfield studio monitor applications with features like optimum woofer / tweeter matching and crossover design and the configuration to facilitate horizontal on-console placement – a well-known music industry standard nearfield studio monitor – 60 Hz to 20 kHz, 60 watts (program), 120 watts (max).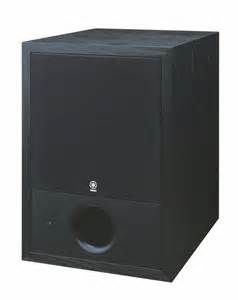 YAMAHA SW10 POWERED SUBWOOFER
The Yamaha SW10 Studio Powered Subwoofer is a nearfield 10" bass-reflex subwoofer that delivers solid 25Hz - 150 Hz frequency response and features adjustable crossover and full magnetic shielding for consistent quality and performance – it easily handles digital and analog sources as well as stereo and surround formats.
CALIFORNIA PROPOSITION 65 -